Shenzhen Bao'an International Airport is awarded the prestigious 5-Star Airport Rating
Shenzhen Bao'an International Airport has been Certified with the prestigious 5-Star Airport Rating by international air transport rating agency Skytrax. The airport becomes one of just nine major, 5-Star Hub Airports in the world.
The other major hub 5-Star Airports in November 2021 are ★ Hamad International Airport Doha ★ Hong Kong International Airport ★ Istanbul Airport, ★ Munich Airport ★ Incheon International Airport ★ Shanghai Hongqiao International Airport ★ Singapore Changi Airport and ★ Tokyo Haneda Airport.
Mr Fanhua Chen, Chairman of Shenzhen Airport Co., Ltd said:  "Shenzhen Bao'an International Airport is striving to build itself into a high-quality and innovative international aviation hub, aiming to provide passengers with the best service experience. SKYTRAX conducted comprehensive Audit studies of Shenzhen Airport's service quality and Shenzhen Airport has laid emphasis on improving the terminal environment, service facilities and personnel services. Now, Shenzhen Airport receives the global 5-star Airport Rating, which marks significant progress in matching advanced international standards. The Shenzhen Airport satellite hall will soon go into operation recently and two new terminals will be built in the future. Shenzhen Airport will strengthen cooperation to continuously improve service quality and provide Shenzhen Airport passengers with a more comfortable 5-star service experience."
The fifth busiest airport in China, Terminal 3 was opened in November 2013. Primarily a domestic airport, Shenzhen Bao'an International Airport was handling over 50 million passengers annually before COVID-19 with a growing the number of international routes and airlines.  In 2022, the Terminal 3 satellite hall of ​​235,000 m2 will open, adding a further 22 million passenger capacity to the airport.
Edward Plaisted of Skytrax said: "We are delighted to welcome Shenzhen Bao'an International Airport to this exclusive group of 5-Star Airports, which is a clear recognition of the major investment the airport has made throughout 2020 and 2021 to meet the highest requirements. The airport now provides an impressive range of passenger facilities, and access around the different terminal areas is well planned and quite easy. Many improvements have been made to the terminal facilities during the last year, and this has resulted in the upgrade to 5-Star Airport status. Whilst currently only operating domestic flights, the standards in the international section of the terminal have been enhanced to meet 5-Star requirements in preparation for the opening of borders, and resumption of international operations."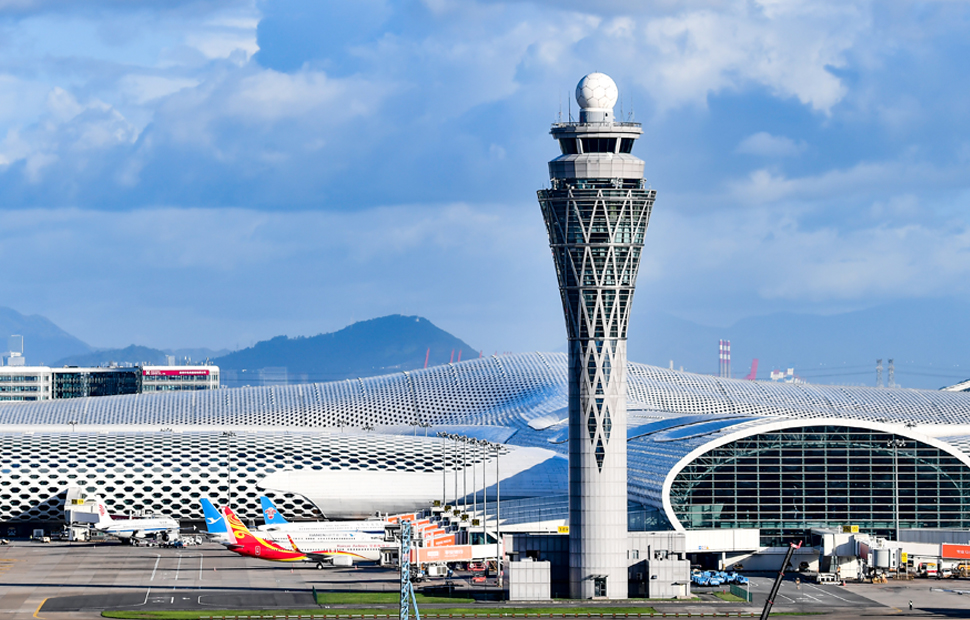 Designed by Italian architects, Massimiliano & Doriana Fuksas, the dramatic looking airport terminal is dominated by a honeycomb-like facade which permits indirect light to enter the interior through 25,000 openings. Depending on the sun's position, rays of sunlight also enter the building directly, offering unusual continuously changing lighting effects throughout the day.
ABOUT THE 5-STAR AIRPORT RATING
The 5-Star Airport Rating is the most prestigious and unique mark of Quality Achievement and a global benchmark of Airport Excellence, which is awarded following detailed audit analysis and assessment of each airport's product and front-line service standards. The World Airport Star Rating was introduced by Skytrax in 1999 and is a premier evaluation system grading airports on their quality standards.
The 5-Star Airport rating recognises those airports that are providing exceptional standards of facilities and staff service to customers across all front-line areas of the airport environment. To achieve the top 5-Star Airport rating, the staff service or product standards must be either meeting or setting global best practice for the item under evaluation.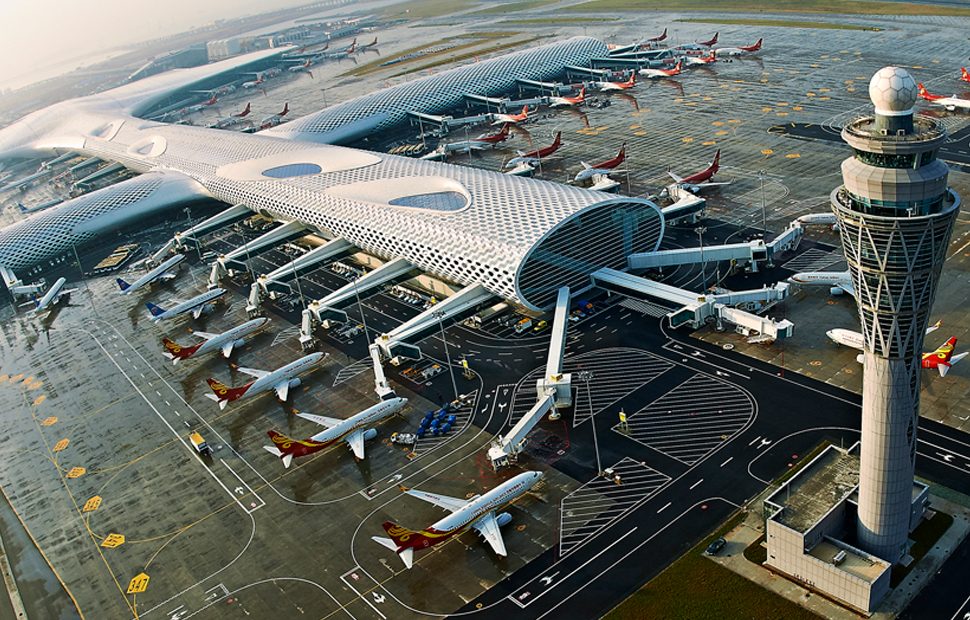 ABOUT SHENZHEN BAO'AN INTERNATIONAL AIRPORT
Shenzhen Bao'an International Airport has advanced facilities. At present, the total airfield is 7,700,000 square meters, the terminal building is 451,000 square meters, and the cargo facility is 1,660,000 square meters. Terminal 3, which integrates architectural aesthetics, green energy conservation, and functional utility elements, was officially opened in November 2013. This terminal building is divided into three parts: the main terminal building, the cross concourse departure hall, and the satellite concourse. The building covers a land area of 195,000 square meters, with a length of 1,128 meters from north to south, a width of 640 meters from east to west, and a total floor area of 451,000 square meters. It provides 62 bridge stands and 14 remote stands that are close to the terminal. The terminal can handle 45 million annual passengers. The airport currently has two runways. The second runway, with a length of 3,800 meters and a width of 60 meters, was officially put into operation in 2011.
The "13th Five-Year Plan" outlined and positioned Shenzhen Airport as an international aviation hub. Located in the Pearl River Delta, Shenzhen Bao'an Airport is situated among several world-class cities and takes advantage of being in the "special zone, bay area, and pilot free trade zone" of Shenzhen. The airport insist on assisting Shenzhen development, developing passenger and cargo traffic simultaneously, and establishing an efficient "sea, land, air, and railway transport" system. The airport is committed to establishing a route network that facing the Asia-pacific and connecting Europe and America, which develops itself into an essential airport in the Pearl River Delta world-class airport cluster and strengthens its connectivity as an important international aviation hub integrating into the "Belt and Road" strategic initiative.
ABOUT SKYTRAX
Skytrax, the International air transport rating organisation, was established in 1989, and is based in London, United Kingdom. The World Airport Rating programme is a leading international Rating system operating since 1999, which classifies airports by the quality of product and staff service.
Airport Star Rating applies quality assessment across all customer-facing items of product and service that an airport provides. Product rating includes terminal layout, design, comfort, maintenance and cleanliness, including features such as seating, washrooms, WiFi, shopping, food and beverages. Service rating includes help counters, service ambassadors, staff in shops, restaurants, cafes, and official staff such as immigration, police, security and customs. Service assessment looks at efficiency, consistency, staff attitudes, service hospitality / friendliness and language skills.