The World's 5-Star Airports
The World's 5-Star Airports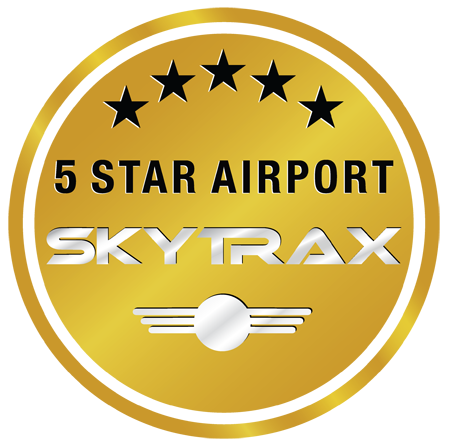 The 5-Star Airport Rating is the prestigious and unique mark of Quality Achievement and a global benchmark of Airport Excellence, which is awarded following detailed audit analysis and assessment of each airport's product and front-line service standards. The World Airport Star Rating was introduced by Skytrax in 1999 and is a premier evaluation system grading airports on their quality standards.
In 2023, there are currently just eleven hub 5-Star Airports and seven 5-Star Regional Airports, together with some airports having 5-Star Terminals.
5-STAR AIRPORTS
★ Bahrain International Airport
★ Hamad International Airport
★ Hong Kong International Airport
★ Istanbul Airport
★ Munich Airport
★ Rome Fiumicino Airport
★ Seoul Incheon International Airport
★ Shanghai Hongqiao International Airport
★ Shenzhen Bao'an International Airport
★ Singapore Changi Airport
★ Tokyo Haneda International Airport
5-STAR REGIONAL AIRPORTS
★ Baku Heydar Aliyev International Airport
★ Chengdu Tianfu International Airport
★ Chubu Centrair Airport
★ Haikou Meilan International Airport
★ Houston William P. Hobby Airport
★ Quito Mariscal Sucre International Airport
★ Salalah International Airport
5-STAR AIRPORT TERMINALS
★ Terminal B, LaGuardia Airport
★ Terminal 3, Paris CDG Airport
★ Terminal 2, Guangzhou Baiyun Airport
The 5-Star Airport rating recognises those airports that are providing exceptional standards of facilities and staff service to customers across all front-line areas of the airport environment.
To achieve the top 5-Star Airport Rating the staff service or product standards must be either meeting or setting global best practice for the item under evaluation. For the product analysis this is a tangible item, and for service assessment we look for all aspects of excellence support by true consistency. (It is not necessary for an airport to achieve 5-Star for every element of the rating criteria)
» Explaining the Star Rating Levels
Skytrax apply ratings for up to 800 customer-facing areas of airport product and service, and this spans over 30 different customer contact points from the airport website to terminal / airport hotel quality.
The Star Rating methodology is unified and consistent for the industry, and all airports from the largest hubs to small regional facilities are assessed using the same base rating criteria. Ratings are based on the front-line customer experience on the end-to-end journey through an airport.
Final ratings are applied either when an Airport Audit is completed, or our audit team have gathered enough data to undertake a full airport rating.
» Explaining Star Rating levels