Vietnam Airlines Certified as a 4-Star Airline
By Peter Miller, Skytrax
Vietnam Airlines has been Certified as a 4-Star Airline by Skytrax, the international air transport rating organisation.
In a presentation ceremony at the World Airline Awards held at Farnborough Airshow on 12th July 2016, Skytrax presented the 4-star Airline Certification to Vietnam Airlines President and CEO, Mr Duong Tri Thanh.
Vietnam Airlines President and CEO, Mr Duong Tri Thanh said: "I am honoured to accept this highly prestigious accolade on behalf of Vietnam Airlines. This fantastic achievement is testament to the hard work of all of Vietnam Airlines dedicated employees, and an important indicator of the excellent progress we are making towards our goal of becoming one of the best-regarded airlines in Asia-Pacific."
"I am honoured to accept this highly prestigious accolade"
Mr Edward Plaisted, CEO of Skytrax said "This 4-Star Airline rating is an excellent achievement for Vietnam Airlines and the result of their hard work across a range of product and service areas. Introducing two brand new aircraft types into the fleet in such a short space of time is a difficult task, but the reward for Vietnam Airlines is a fabulous new product in their core long haul market. We acknowledge the considerable change and improvement they have achieved, with a new service concept rolled out in Business Class and an overhaul of cabin staff training procedures – all which will further strengthen Vietnam Airlines position as a 4-Star Airline."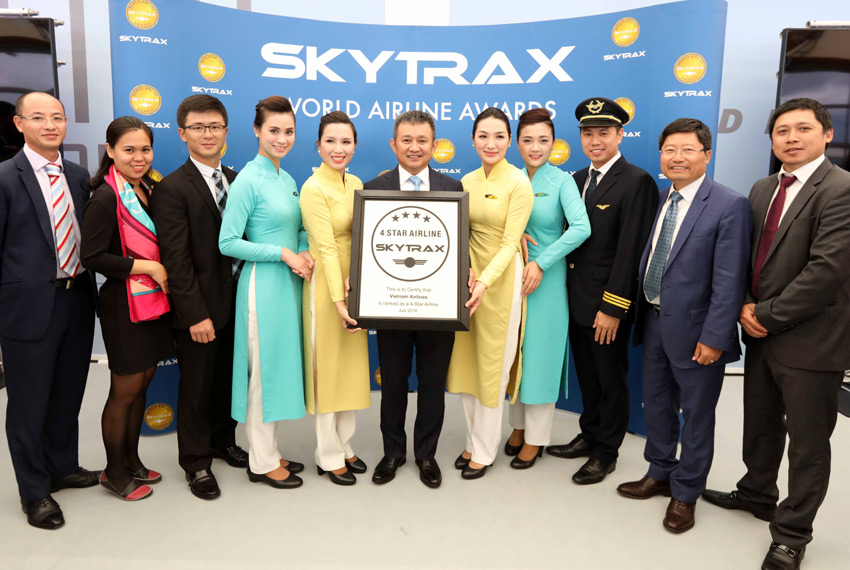 Achieving the 4-Star Rating
The Vietnam Airlines passenger experience has undergone a great deal of quality change during the last 18 months – a key feature of this being the fleet upgrade with the introduction of both Boeing 787 and Airbus A350 next generation aircraft. By the end of 2016, Vietnam Airlines long haul route network of routes into Europe and Australia will all be serviced by these new aircraft. Currently, Vietnam Airlines has taken delivery of 11 of these new aircraft, and by the end of 2017 another 9 will be delivered.
IFE content has more than doubled
On-board Vietnam Airlines Boeing 787 and A350 aircraft, flatbed seats are offered in Business Class and Economy Class customers have access to personal IFE and power supply facilities. IFE content has more than doubled and customers can expect further improvements in this area in the next few months.
The 4-Star Certified Airline status for Vietnam Airlines has been helped by their move to a brand new terminal in Hanoi, offering a new Business Class lounge product and upgrade check-in facilities, with a new Business Class lounge opening in Ho Chi Minh City for September 2016.
» Visit Vietnam Airlines website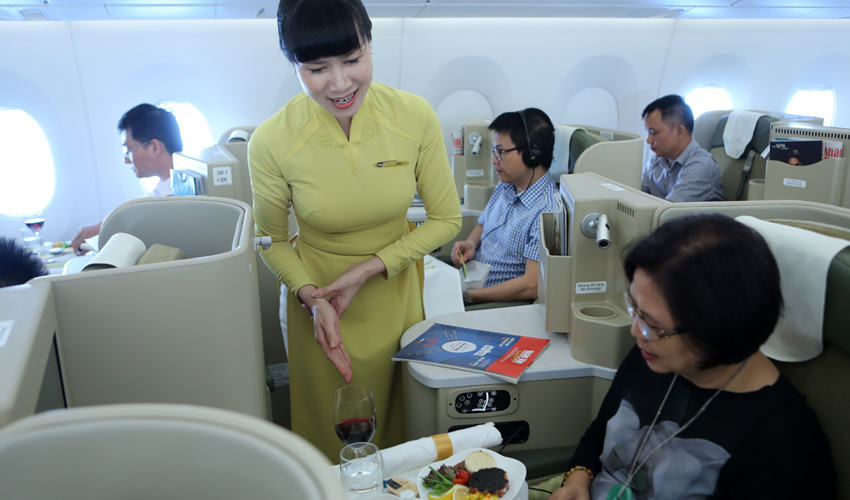 About Skytrax Airline Rating
World Airline Rating is the global airline quality ranking programme operated by Skytrax, the international air transport rating organisation and a leading authority on airline quality standards. Certified Airline Ratings classify airlines by the quality of front-line product and staff service they provide to customers, and are recognised as a global benchmark of airline standards. Established in 1989, Skytrax is based in London, United Kingdom.
Using an internationally recognised evaluation system to assess quality, Skytrax provide the world airline industry with a professional, unified Quality classification system that is an established and respected symbol of airline standards.
Certified Airline Rating is based on in-depth quality analysis of an airline's customer-facing Product and Service standards, with a well-established approach providing accuracy, and an objective ranking system using global quality measurements.
As part of the process to determine and award an Airline Star Rating, Skytrax carry out detailed Quality analysis across up to 800 different areas of airline product and service delivery for the on-board and home-base Airport environments. Certified Airline Ratings are not related to any type of customer reviews or passenger surveys.