Amsterdam Schiphol Airport safety is failing customers during COVID-19
By Peter Miller, Skytrax – London, UK
Amsterdam Airport Schiphol is failing to keep customers safe during COVID-19, with overcrowding and a lack of social distancing. The photograph above is at the airside transfer passport control to EFGH Gates/T4-9, at 09.05 hrs on December 5th. There were no airport staff, marshalls or other personnel trying to organise the queues or control the flow into this bottleneck, resulting in customers pushing through shoulder to shoulder.
Skytrax audited the COVID-19 Safety procedures at Amsterdam Airport Schiphol in September 2020 and awarded a 4-Star COVID-19 Airport Safety Rating at that time. Recent inspections of the airport have come at a time when passenger traffic has increased substantially in the intervening 3 months, and the Amsterdam Airport Schiphol COVID-19 Safety Rating is now under review.
Edward Plaisted of Skytrax said: "This overcrowding of customers at Schiphol Airport is nothing short of disgraceful and in this era of heightened health and safety measures, it is equally shocking that there were no visible attempts by airport staff to control the situation. Customers are crammed in, shoulder to shoulder, with absolutely no social distancing applied or possible. There is no acceptable excuse for an airport endangering customer's lives in this way. During the coronavirus pandemic, some countries dramatically reduced their immigration officer headcount and failed to increase it now that passenger numbers are slowly growing, and this contributes to the unacceptable chaos at Schiphol Airport. The situation has been made worse by the automatic passport gates being decommissioned in a number of airports.
As a part of Schiphol Airport measures, social distancing is a very clearly stated policy: "As you know, you must maintain a distance of 1.5 metres in the Netherlands, and at Schiphol it's no different. We will be reminding you of this rule using announcements, screens and markings on the floor, in the queue and wherever else you come into contact with other travellers. There are also Schiphol employees walking around who will tell you when you are not maintaining the required distance from others."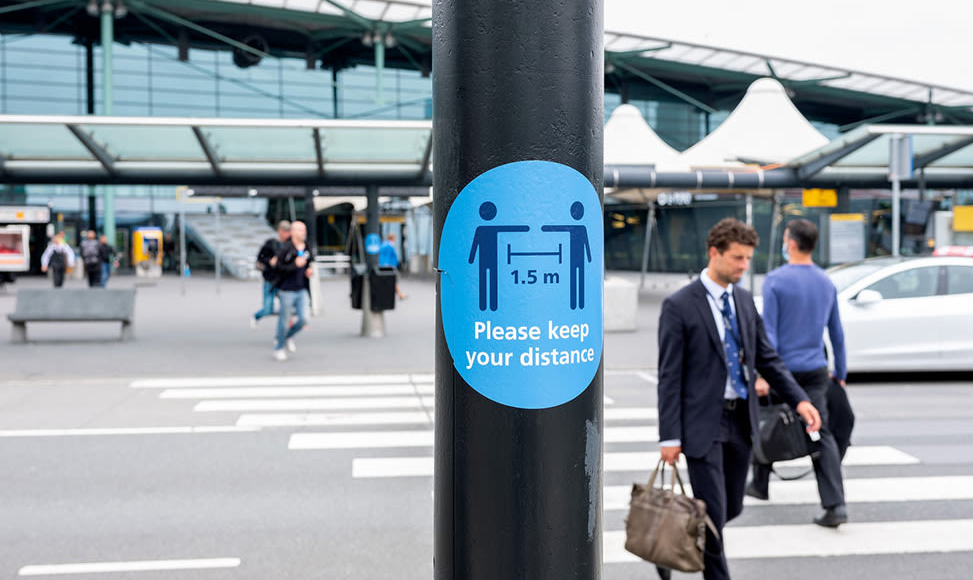 Photo: Amsterdam Airport Schiphol website
The WHO states clearly that physical distancing helps limit the spread of COVID-19, and whilst the social distance recommendation varies by country, it is generally between 1 and 2 metres. Schiphol Airport uses the 1.5 metre recommendation and use this on their signage.
On December 14, the Dutch Prime Minister Mark Rutte asked the public not to travel internationally unless essential travel, not to take holidays until mid-March 2021 and announced the Netherlands would go into its strictest lockdown yet from 15 December until at least 19 January 2021.
Whilst this might limit the number of travellers departing from the Netherlands, Skytrax point out that the horrendous scenes evidenced on this recent inspection of Amsterdam Airport Schiphol are at the airside transfer (customers transferring through Schiphol Airport), and unless dramatic changes are introduced this will remain what can only be classified as a potentially unsafe airport for travellers to transfer through.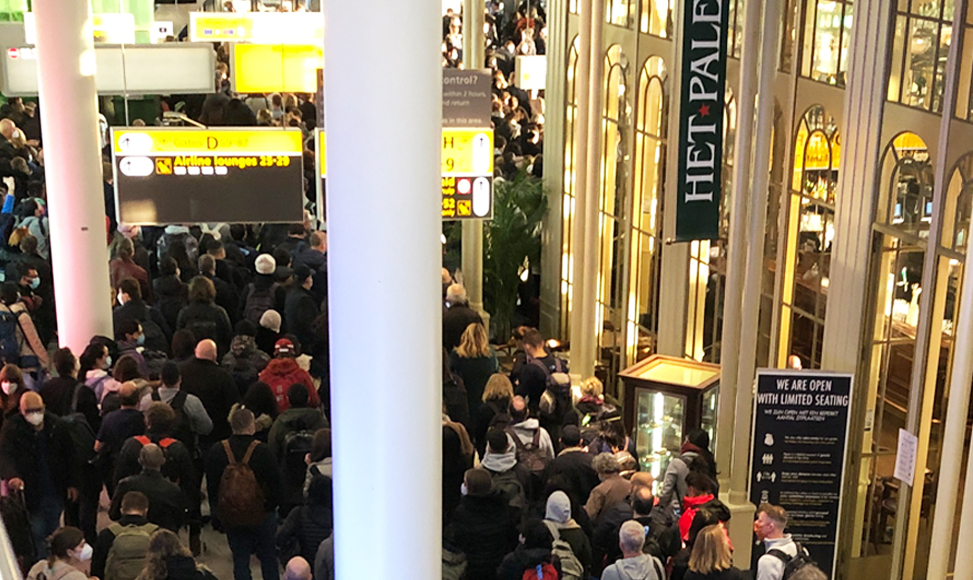 Further back in the same queue at Amsterdam Airport Schiphol