ANA All Nippon Airways receives the 5-Star COVID-19 Airline Safety Rating
by Skytrax: London, UK
ANA All Nippon Airways is the first airline in Asia to be Certified with the highest level 5-Star COVID-19 Airline Safety Rating, and the fourth airline worldwide to achieve this top recognition.
The Skytrax COVID-19 Safety Rating is the world's first and only assessment and certification of airline health and safety measures during the coronavirus pandemic that is based on professional and scientific investigation of the standards being provided by an airline at the airport and onboard flights.
"ANA is honored to be recognized by SKYTRAX for our efforts to improve passenger and employee safety during this time of great uncertainty," said Yuji Hirako, President and CEO of ANA. "With advice from scientists and medical professionals guiding our approach, the implementation of the 'ANA Care Promise' has allowed us to deliver hygiene and safety at the highest possible standards across the entire passenger experience, significantly helping reduce the risks posed by COVID-19. We are very honored by this latest recognition, and ANA will further strengthen our commitment to advancing the well-being of our passengers and our employees."
» About the COVID-19 Airline Safety Ratings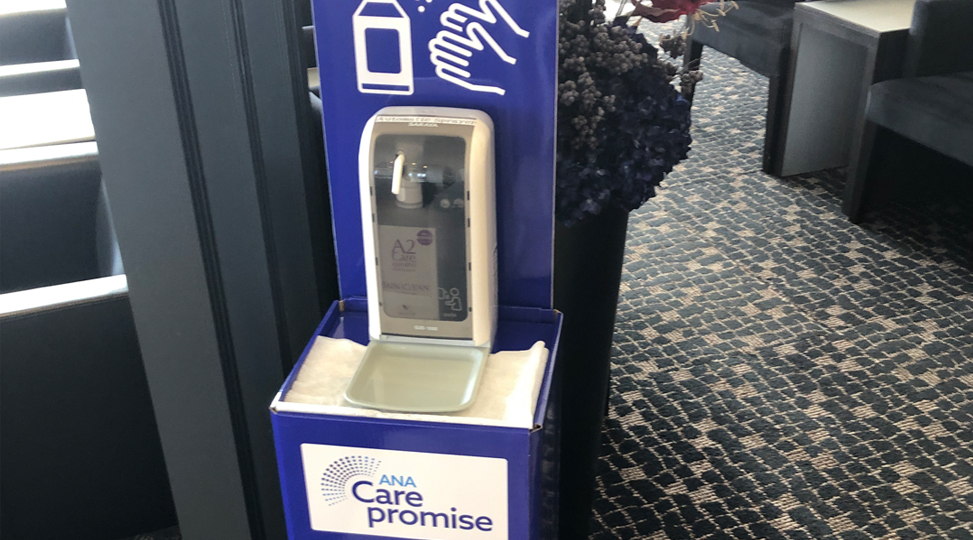 ANA Care Promise is the airline's commitment to a clean, safe travel experience
ANA All Nippon Airways has implemented a comprehensive range of protocols to reduce the risks associated with COVID-19 through the ANA Care Promise, which is the airline's commitment to delivering a clean and safe travel experience.  Key areas of social distancing, face mask usage and hand hygiene are very clearly enforced across all key front line customer service positions in the airport and onboard, and this is very well controlled by ANA staff.
Edward Plaisted of Skytrax said: "ANA has for many years been ranked as one of the world's best airlines for cleanliness standards, and with the challenges of the current global pandemic they introduced the ANA Care Promise which provides an outstanding level of hygiene and safety protocols to keep customers and staff safe. The standards of hygiene and cleanliness in Japan are world-renowned, and as the world learns to cope during the current pandemic, ANA is certainly delivering at a very high level with their COVID-19 Safety standards. As the pace of vaccinations ramps up around the world, airlines will restore more services throughout 2021, and with this highest COVID-19 Safety Rating ANA provides further assurance to customers of a safe travel experience, which is essential to restoring confidence in air travel."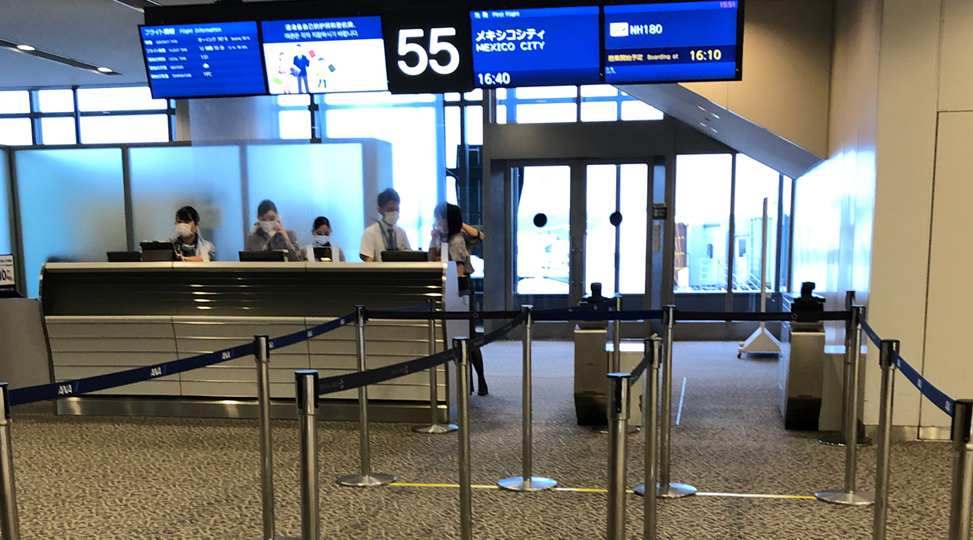 Boarding gate at Terminal 3, Tokyo Haneda Airport
ANA has amended boarding procedures to begin with passengers seated at window seats from the rear of the cabin and disembarking done from the front, centre, to the back of the plane. Assessment of the revised boarding process during the audit indicated that this works efficiently and in a timely manner.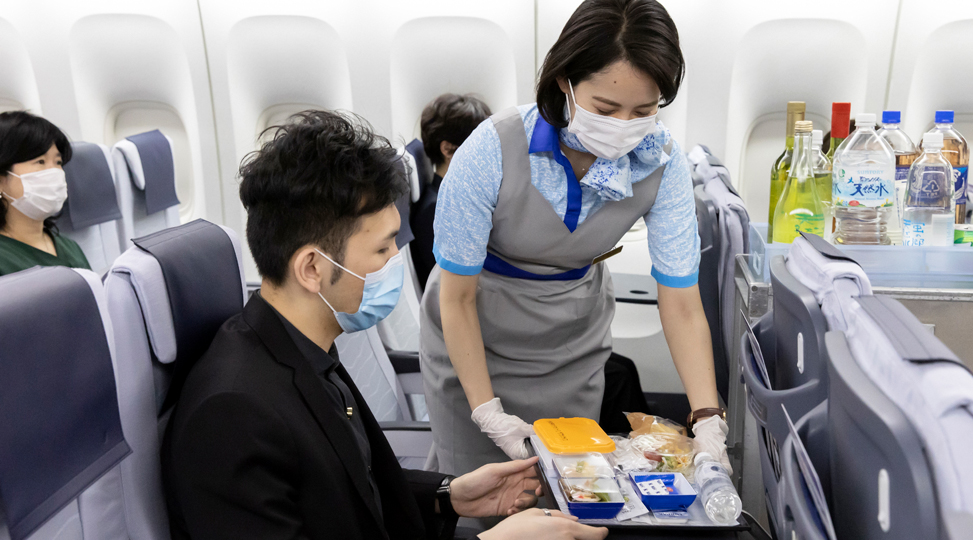 On selected routes, it is possible to order your in-flight meal service in advance. On international flights, meals are served on a tray, with the lid on as much as possible.
» View the ANA 5-Star COVID-19 Airline Safety Rating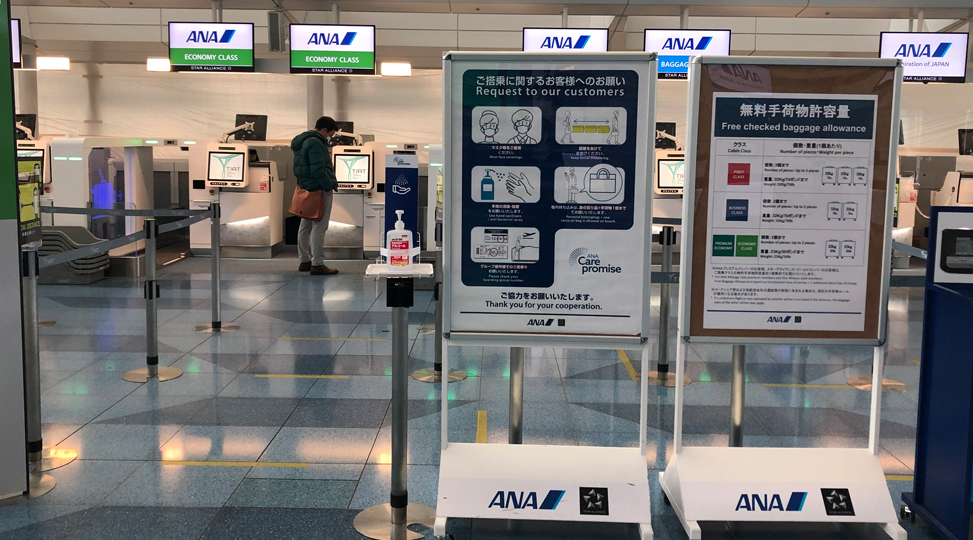 Check-in at Terminal 3, Tokyo Haneda Airport
"ANA Care Promise is the airline's commitment to ensuring the comfort and safety of all its valued passengers and employees by providing clean and hygienic environments in airports, lounges and onboard aircraft. The promise to ANA customers is to create a comfortable and enjoyable experience with an emphasis on safety and peace of mind, synonymous with flying ANA. A new standard for air travel starts with ANA."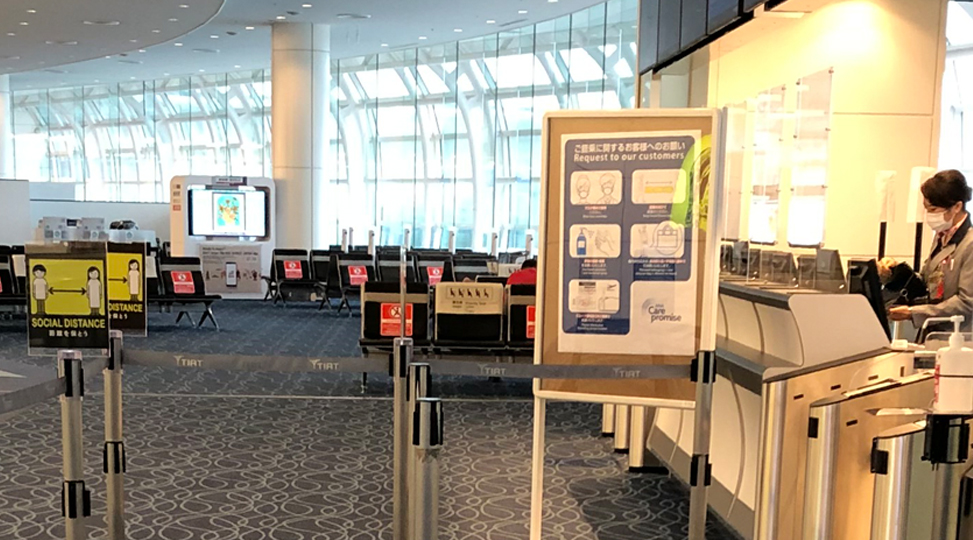 Boarding gate at Terminal 3, Tokyo Haneda Airport
Skytrax COVID-19 analysis incorporates relevant areas from the IATA Health Safety Standards Checklist, ICAO CART Take-off guidance and WHO recommendations. The audit evaluates the scale and efficiency of an airline's enhanced health and safety protocols introduced during the global pandemic, to determine standards of social distancing, cleaning systems and standards across both airport and onboard environments, and all associated measures to enhance customer and staff safety (e.g. face mask usage, service systems in the airport and onboard flights).
The COVID-19 Safety Audit of ANA All Nippon Airways was completed in March 2021, and for the home base airport standards, ANA was assessed for its domestic and international operations at Terminal 2 and Terminal 3 of Tokyo Haneda Airport.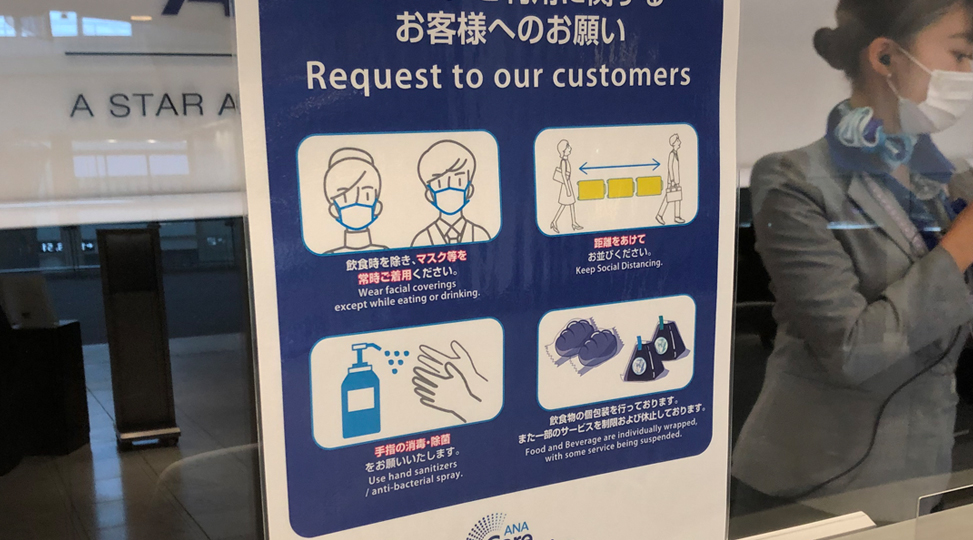 A 5-Star COVID-19 Airline Safety Rating confirms excellent airport processing standards that considers all practical elements of contactless technology, customer handling, and social distancing protocols for check-in, boarding, and arrival. Airline lounges meet a high standard of cleanliness procedures and consistency, with good measures in place that facilitate social distancing, and safe delivery systems for food and beverages. Onboard cleanliness and cabin presentation is at an excellent quality level and may use new techniques for UV sanitisation, and mass disinfectant treatments. The onboard service systems for catering are adapted for COVID-19 times, with reduced contact delivery and enhanced food safety measures for meal presentation.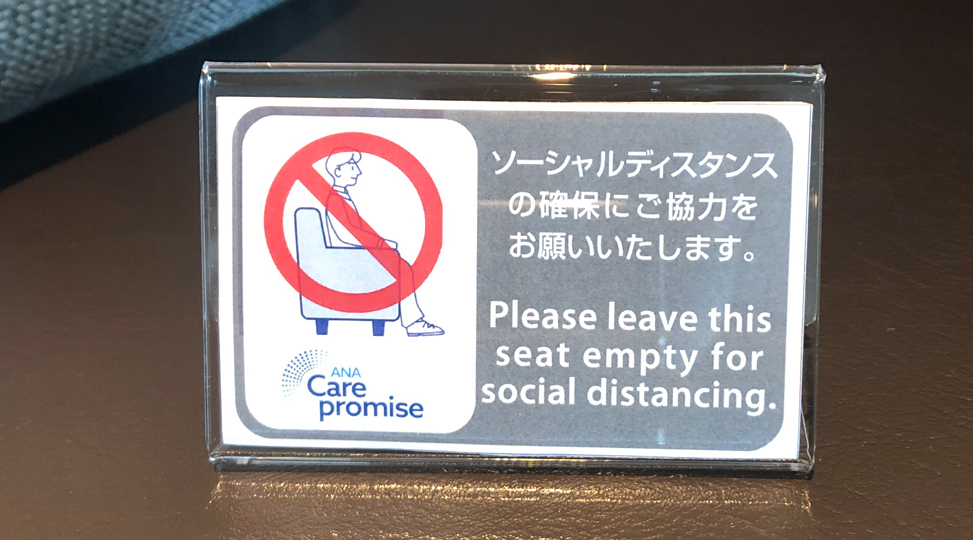 ANA lounge at Tokyo Haneda Airport
The airport audit assessment covers check-in facilities, airline lounges, boarding procedures, deplaning procedures, baggage claim, arrival, and transfer options. The airport service elements include all airline provided options, not areas under direct control of the airport operator. Aside from the cleanliness objective, this evaluates the airline service processes for reducing customer and staff contact wherever practically possible.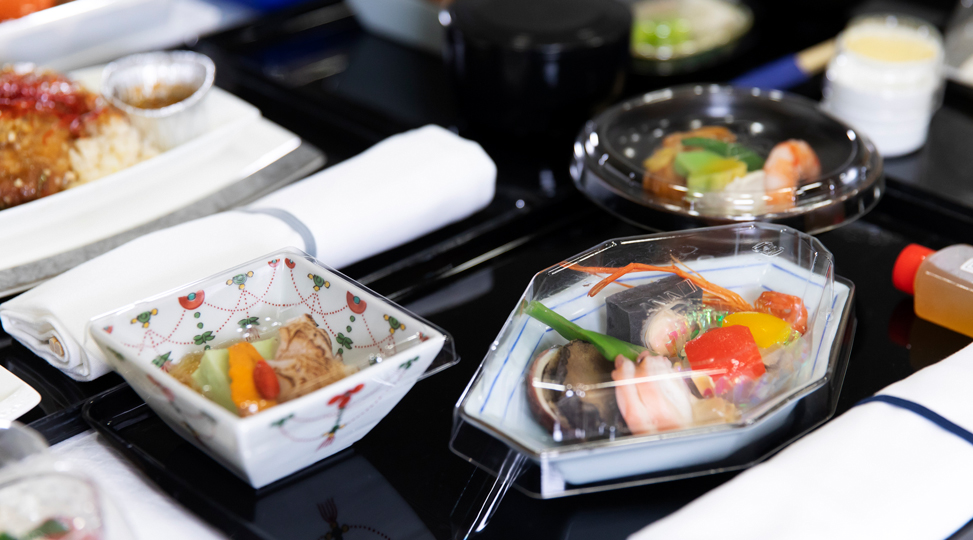 Business Class meal tray
Onboard flights, cabin cleanliness includes systems and techniques for cleaning common surface contact areas, customer and staff use of face masks and PPE, and protocols to control this, adapted cabin service procedures including catering, in addition to assessing amenities and cleanliness of essential comfort items.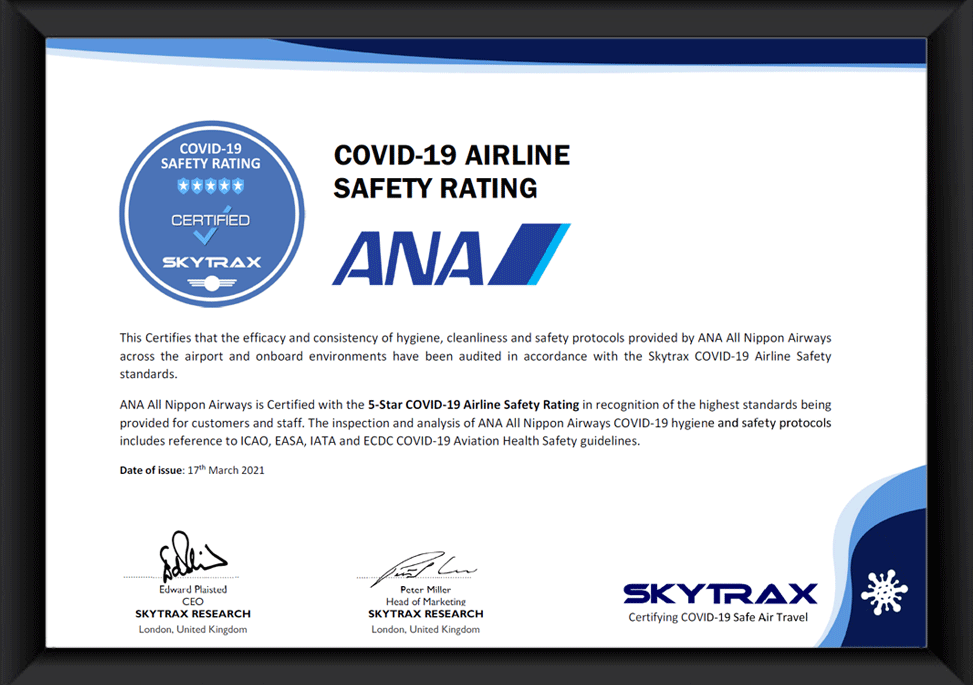 ABOUT ANA ALL NIPPON AIRWAYS
ANA was founded in 1952 with two helicopters and has become the largest airline in Japan, as well as one of the most significant airlines in Asia, operating 82 international routes and 118 domestic routes (as of December 2019). ANA offers a unique dual hub model which enables passengers to travel to Tokyo and connect through the two airports in the metropolitan Tokyo, NARITA and HANEDA, to various destinations throughout Japan, and also offers same-day connections between various North American, Asian and Chinese cities.
ANA has been a member of Star Alliance since 1999 and has joint venture partnerships with United Airlines, Lufthansa German Airlines, Swiss International Airlines and Austrian Airlines.