Chubu Centrair Airport certified as 5-Star Regional Airport
By Peter Miller, Skytrax
London, UK: Chubu Centrair International Airport in Nagoya, Japan has been awarded the global 5-Star Regional Airport for the second consecutive year by SKYTRAX, the international air transport rating organisation.
The 5-Star Airport rating is a mark of quality distinction for an airport, and honours very high standards of Product and Staff service across the different assessment categories in the Airport environment. The 5-Star Airport rating confirms that Chubu Centrair International Airport is a leader in terms of service quality and consistency, together with product standards in the airport, and is meeting many global Best Practice levels for the airport industry.
A primary focus of the 5-Star criteria is that an airport must offer an easy and pleasant travel experience to customers, including items such as wayfinding and signage, seating and comfort, food and beverages to security and immigration processing, and these are all rated at a very high standard at Centrair. Chubu Centrair International Airport has in recent years been named the World's Best Regional Airport.
The Centrair rating recognises high standards of Product and Staff service across different assessment categories in the Airport environment, and the Audit noted that Chubu Centrair International Airport is at the forefront in terms of service quality and consistency, and product and service innovation in the airport.
Airport terminal cleanliness and presentation is a key item the Skytrax Audit focusses on, with the need for an airport's mass processing of customers to provide an assurance of hygiene. All terminal areas including washrooms, seating areas, and other front line facilities were subjected to rigorous tests at Centrair, and Skytrax report that these items meet global Best Practice standards. Chubu Centrair International Airport enjoys excellent ground transport links, with its Access Plaza located just 30 metres from the arrival and departure halls, which links trains, buses, cars, high-speed boats, and public transport with the Passenger Terminal.
For customers with a little longer to linger at the airport, the Sky Deck is at the top level of the Centrair terminal, and extends outwards towards the runway, with a 300 metre long upper is lined with wooden flooring. Many people praise this deck for having the closest observation point to the airplanes in Japan. The farthest end of the Sky Deck is 300 metres from the runway and just 50 metres from the taxiway that airplanes take when taxiing to the runway, making it possible for visitors to see the airplanes close up.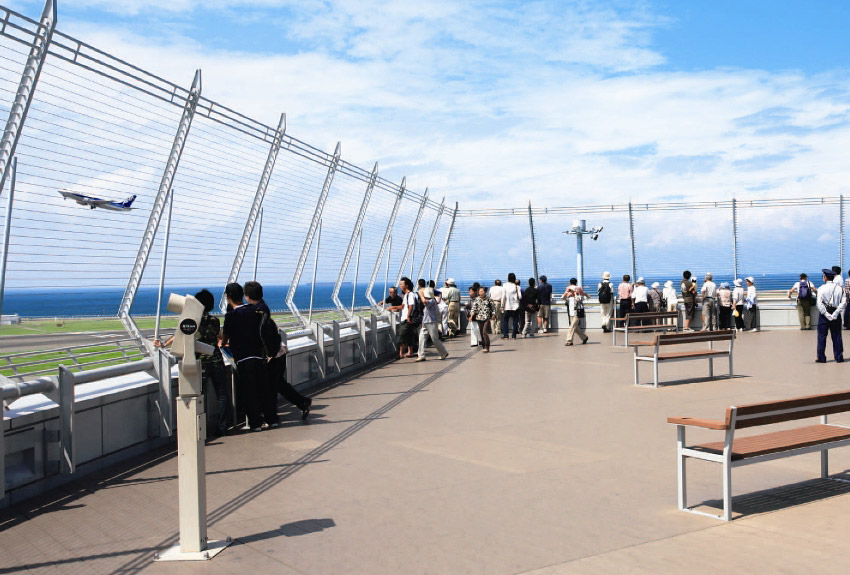 Centrair offers travellers the chance to experience its bathhouse with a view (Fu No Yu), where they can enjoy a relaxing soak in this bathhouse, while viewing the airplanes and watching the sun as it sets.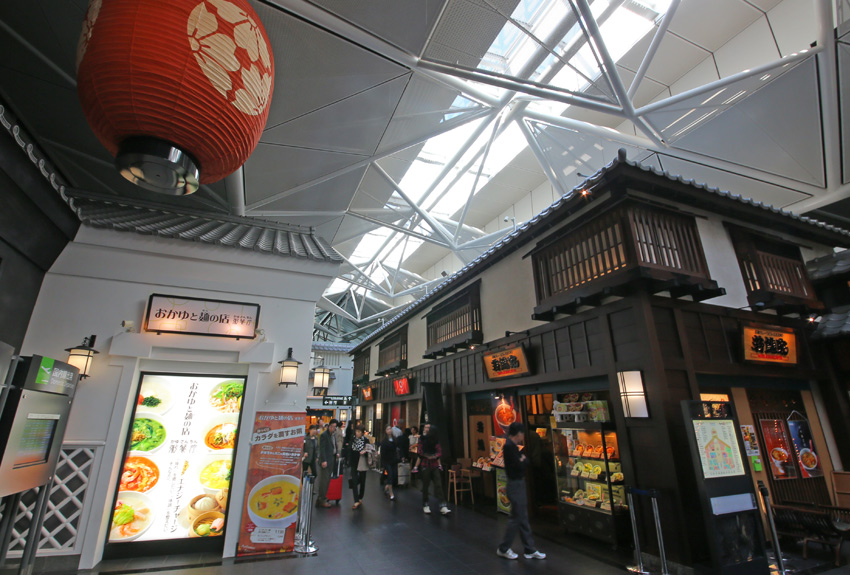 Customers can enjoy a comprehensive choice of food and beverages throughout the landside Sky Town area, restaurants offering Japanese, Western, Italian, French, Chinese, Korean, and other World cuisine including the Ramen and Noodle Restaurants.
The highly rated Centrair Hotel is directly connected to the airport facilities, being located close to the Central Japan International Airport Station ticket gate (100 m) and airport check-in counters (130 m), offering true 5-Star levels of convenience.
In October 2018, Chubu Centrair International Airport opened the Flight of Dreams at Chubu Centrair Airport, where the world's first Boeing 787 has gone on display. Situated opposite the passenger terminal, Flight of Dreams comprises a four-storey building which includes shops and restaurants, including a Boeing store selling merchandise, and outlets themed on Seattle. Visitors pay an admission fee of 1,200 yen (about $11) to gain access to the Flight Park exhibition area on the first floor.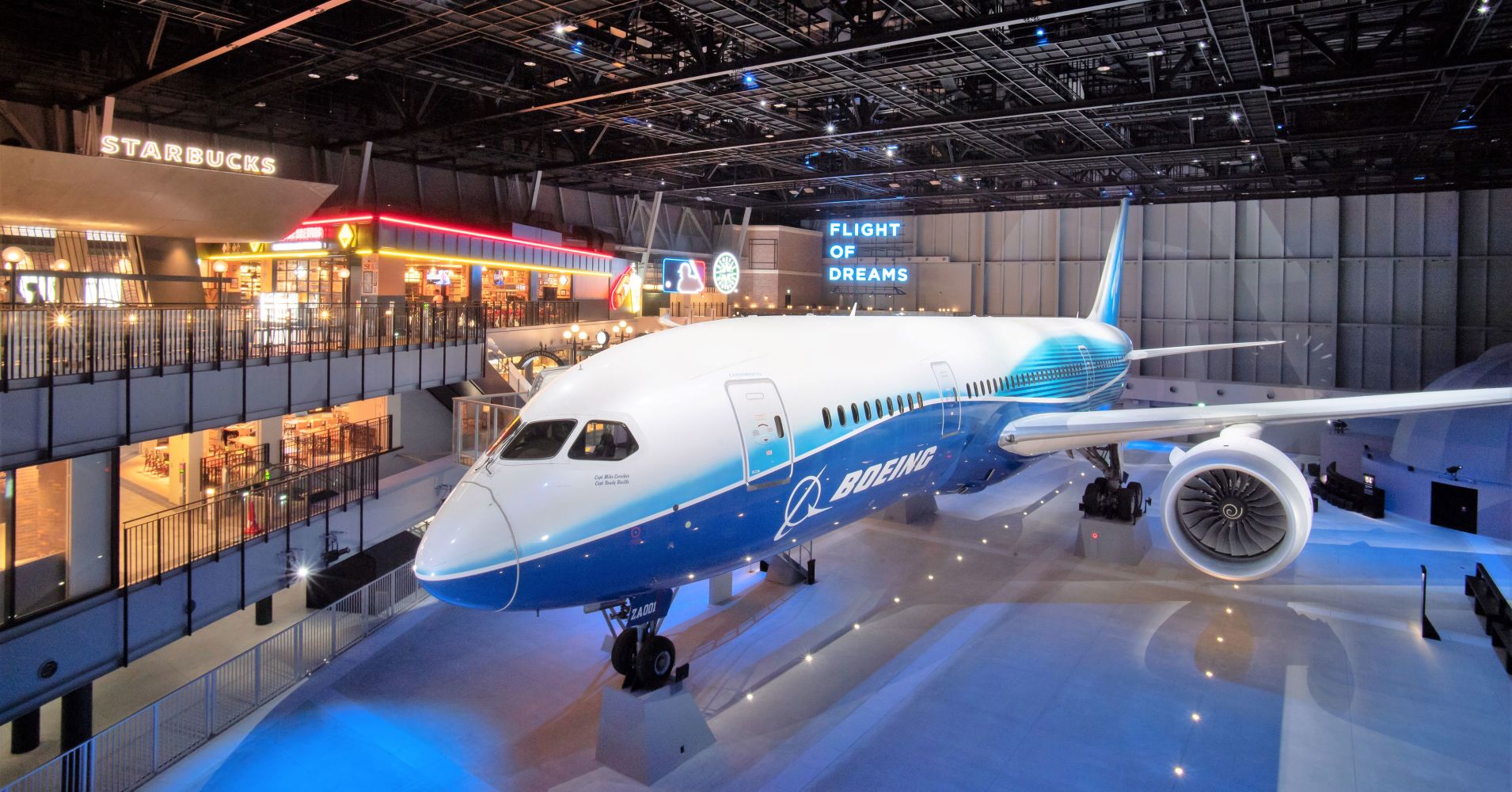 Activities here include a walk-through, animated virtual tour of Boeing's Everett assembly plant, a space to fold and fly paper airplanes that trigger sound and light depending on how far they fly, and a look inside the world's first Boeing 787 cockpit.
There's also an app-powered scavenger hunt to spot all the parts of the 787 airplane, a chance to draw and scan an airplane and then fly it in a 3D dome, a "pretend you work in the airline cabin" experience, and a twice-an-hour colored light show that projects onto the Boeing 787 and across the floor of the hall.
The Boeing 787 simulator is also in the Flight Park, but this activity requires an advance reservation and an extra fee. The first Boeing Store outside the United States is here and is stocked with around 500 aviation-related items.
World Airport Rating
Skytrax World Airport Star Rating is a leading, professional Quality Benchmarking system evaluating standards of front-line Product and Service quality for airports worldwide. Airports are Rated on the basis of a complex, multi-faceted Product and Service quality assessment system.
Airport Ratings are based on a comprehensive study of front-line airport product and service items. Criteria includes key items of process efficiency, terminal comfort and cleanliness, passenger facilities and staff service. Service ratings covers both official staff (immigration, police, security and customs), as well as more general airport staff (shops, restaurants and cafes, help counters etc.).