Edinburgh Airport is the first airport in the UK to achieve 4-Star COVID-19 Safety Rating
Edinburgh Airport has been Certified with the COVID-19 4-Star Airport Safety Rating, becoming the first airport in the UK to achieve this status.
The Skytrax COVID-19 Airport Safety Rating is the world's only assessment and certification of airport health and safety measures during the coronavirus pandemic that is based on professional and scientific investigation of the actual standards being provided at the airport.
The rating includes cleaning and disinfection procedures, social distancing policies and control, face mask usage, sanitiser availability, standard and use of PPE by staff in the airport, and other hygiene applications being used. The audit investigates and evaluates over 175 safety protocols introduced by airports during COVID-19, to determine how effectively the procedures are being implemented at Edinburgh Airport to help reduce the spread of coronavirus and protect the well-being of customers and staff. The audit was conducted in November and December 2020 and is based on a combination of procedural efficiency checks, visual observation analysis and cleanliness checks using ATP tests, with the consistency of standards being a key determinant in the final rating applied.
Edinburgh Airport delivers clear public information regarding the policies and passenger behaviour required when departing or arriving. The guidance is effective and interceptive, and the airport management has developed a clearly published brand and initiative for passenger safety called "FlySafe".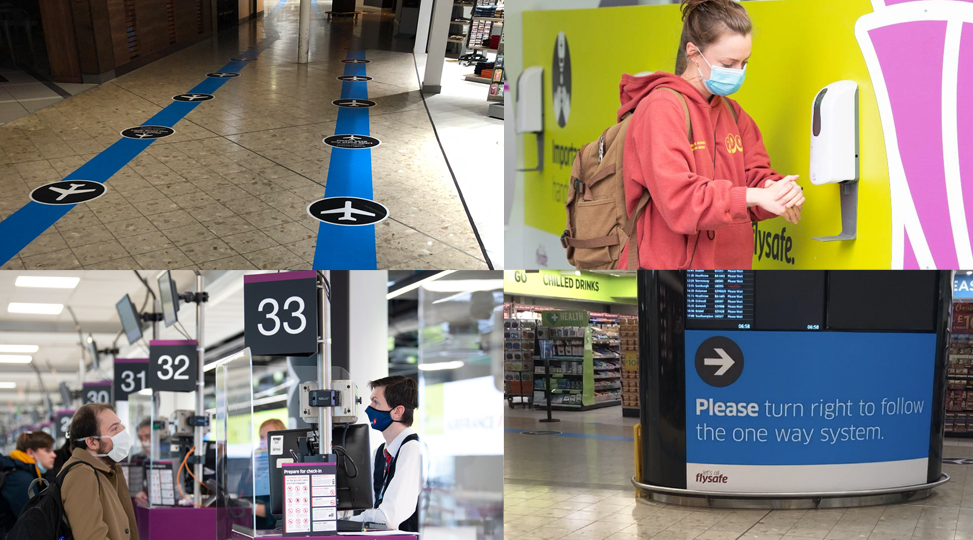 There has been significant investment in floor-path signage and one-way systems which are obvious and intuitive for the end-user with well-marked hand sanitising points before entering the terminal. Appropriate passenger flow markings ensure that customers without check-in luggage can navigate directly to security.
Edward Plaisted of Skytrax said: "We are delighted to confirm this 4-Star COVID-19 Airport Safety Rating for Edinburgh Airport, which confirms the very robust procedures and protocols in place to ensure the health and safety of their customers and staff during the coronavirus pandemic. Skytrax Airport Safety Rating is the world's only Certification of COVID-19 procedures that is based on physical inspections, testing and evaluation of airport standards, and we congratulate Edinburgh Airport on becoming the first airport in the United Kingdom to achieve this 4-Star COVID-19 Airport Safety Rating."
The thematic colour systems ensure appropriate spacing between passengers, whilst additional infrastructure already established at the airport ensures a streamlined bag-drop and self-service approach to check-in procedures. This has been bolstered with screens at customer touch-points and help desks.
Staff discipline and adherence to PPE requirements are rated at a high standard, whilst retail and dining outlets have taken appropriate precautions to ensure social distancing and encouraging contactless payment.
Entrance into the terminals for non-flying members of the public is currently based on clear advice from the airport but not proactively checked by staff. However, signage is clear on the rules relating to this.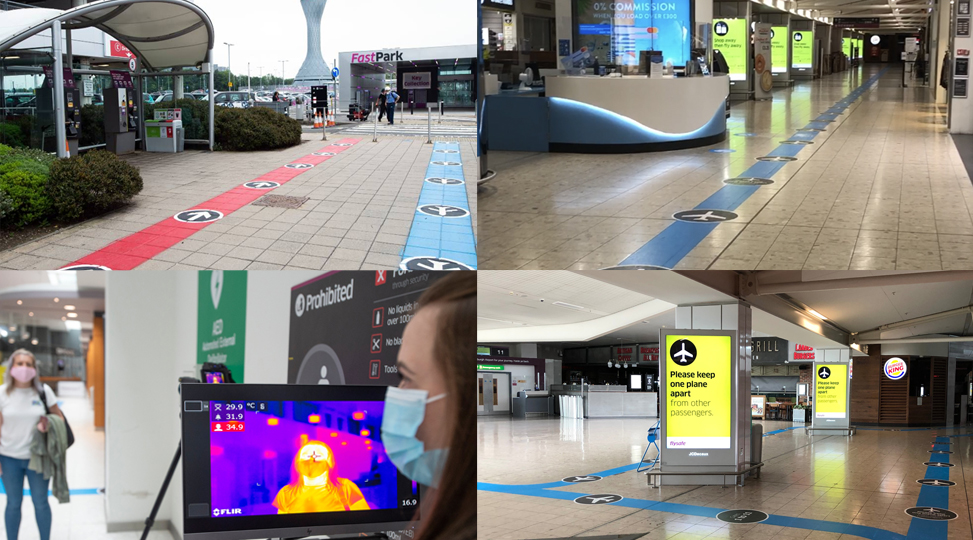 Due to reduced passenger numbers, social distancing factors are managed properly and this is in addition to the use of floor and seat markers to guide customers. Arrivals channels are directed away from the flow of departure passengers ensuring no cross-over.
The airport has an adjacent Fit to Fly PCR testing facility for additional convenience to passengers who require this to fly. Test results are returned typically within 24 hours and this is a drive-through service.
Security trays are sanitised regularly and have an innovative coating to reduce the presence of contamination between uses. In addition, hand sanitiser points are clearly marked immediately after security.  The terminal cleanliness, maintenance and wiping down of key touchpoints throughout the airport is being maintained at a good standard, with well-monitored cleaning processes.
The COVID-19 safety rating places high importance on the implementation of face mask regulations and monitoring of social distance adherence amongst staff and customers, and how the airport applies these measures.
» A-Z Index of COVID-19 Airport safety Ratings
» About COVID-19 Airport Safety Rating