Dusseldorf and Hamburg Airports receive 4-Star COVID-19 Airport rating
By Peter Miller, Skytrax – London, UK
International air transport rating agency Skytrax today certified Dusseldorf Airport and Hamburg Airport as COVID-19 4-Star Airports. The rating certifies how effectively COVID-19 procedures are being implemented to help reduce the spread of coronavirus and provide a proper level of assurance of health and safety standards to airport customers and staff. COVID-19 rating includes cleaning and disinfection procedures, social distancing policies and control, face mask usage, sanitiser availability, standard and use of PPE by staff in the airport, and other hygiene applications.
Skytrax completed the COVID-19 audit evaluations at Dusseldorf and Hamburg airports in September, which are based on a combination of procedural efficiency checks, visual observation analysis and ATP sampling tests, with consistency of standards being a key determinant in the final rating applied.
HAMBURG AIRPORT
Hamburg Airport has a very consistent provision of general COVID-19 policy information for arriving and departing customers, and social distancing guidance and marking is achieving a good standard for queuing areas, and customer seating. What is also impressive is the extent of hand sanitiser and other hand hygiene facilities through the departure and arrival processes.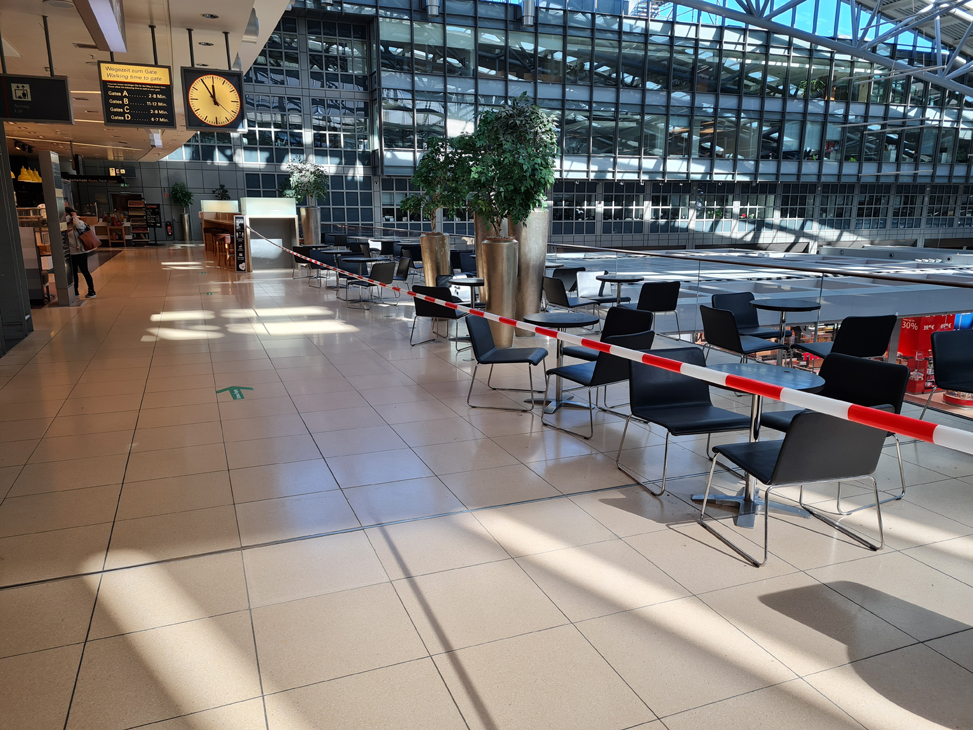 Hamburg Airport during COVID-19
While these core areas of social distancing and hand hygiene are being professionally managed, overall terminal cleanliness was highlighted as an area that has potential for improvement. Visual assessment of different terminal areas found they can be quite littered around seats, and in toilets. There were some ATP test fails relating to seats, F&B tables and washrooms that would seem easily rectifiable with more care and attention. The number of cleaning staff available did not seem enhanced for the current COVID-19 situation.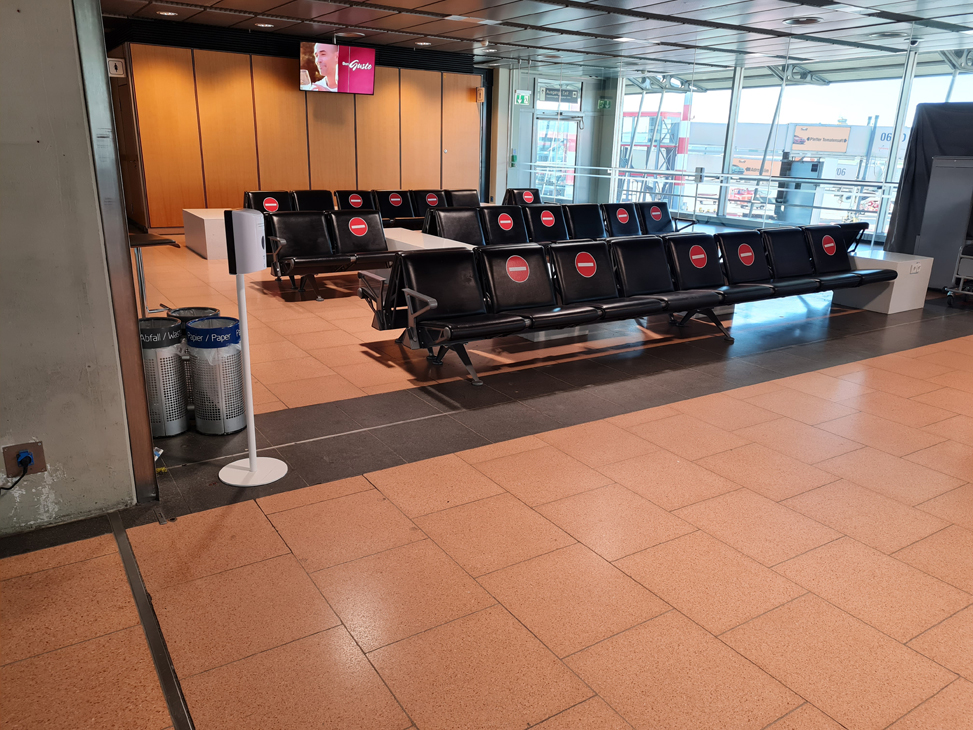 Hamburg Airport during COVID-19
Germany is a leading nation for air travel related COVID-19 testing which is available free-of-charge for customers arriving from high-risk countries, and this is well advertised in Hamburg. The primary consequence of this policy is the absence of customer temperature testing which is being used at some other European airports.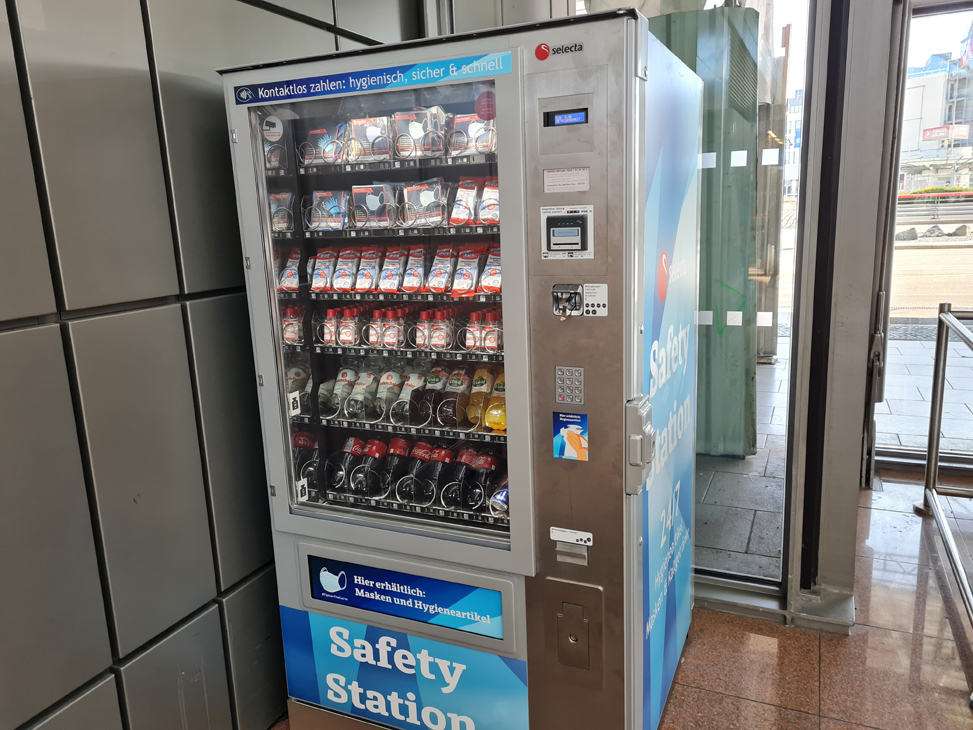 Hamburg Airport during COVID-19
There are no local regulations regarding the entry of non-passengers into the terminal buildings which is a policy advertised by some airports, but this may be in consideration of the generally high usage of German airports by non-aviation related customers for shopping and dining facilities.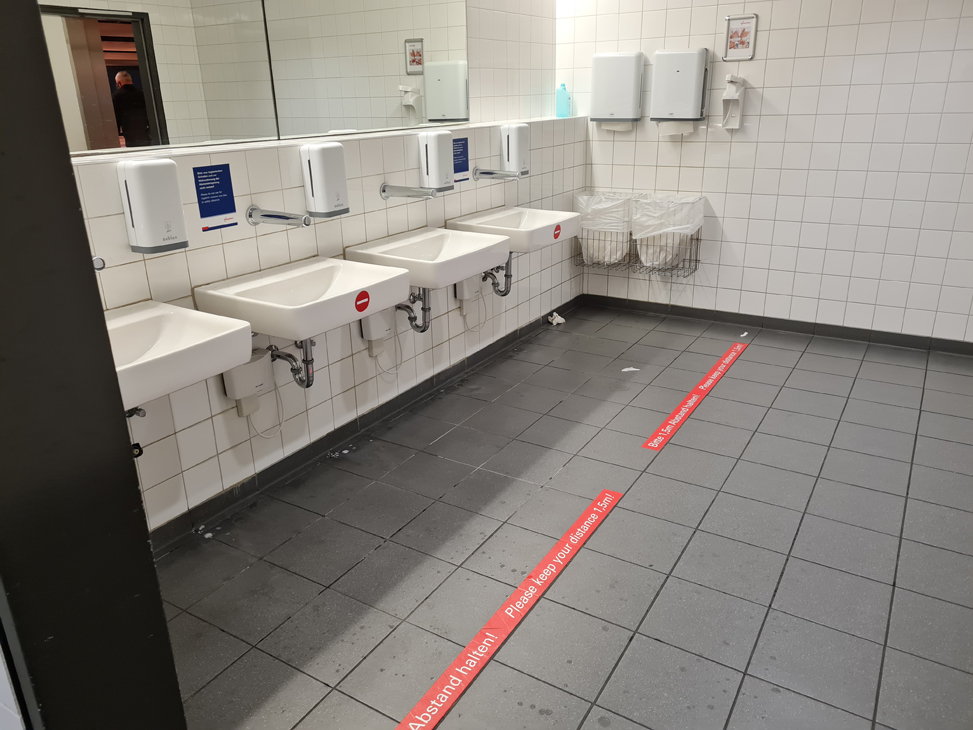 Hamburg Airport during COVID-19
While there are good UV sanitisation systems for security trays during processing, a key service failure at screening points is the lack of hand hygiene procedures following manual checks, and staff are not regularly changing or sanitising gloves between customers.
DUSSELDORF AIRPORT
Dusseldorf Airport has introduced a reasonable concept of COVID-19 information resources and hand sanitising systems, and this is particularly robust in check-in and arrival areas. Skytrax also observed a consistent policy of social distancing indicators in seating areas, and in the main queuing points for check-in and security. However, the concept of physical distancing could be more defined at the point where customers are loading and unloading belongings at security per the Best Practice standards observed at other airports.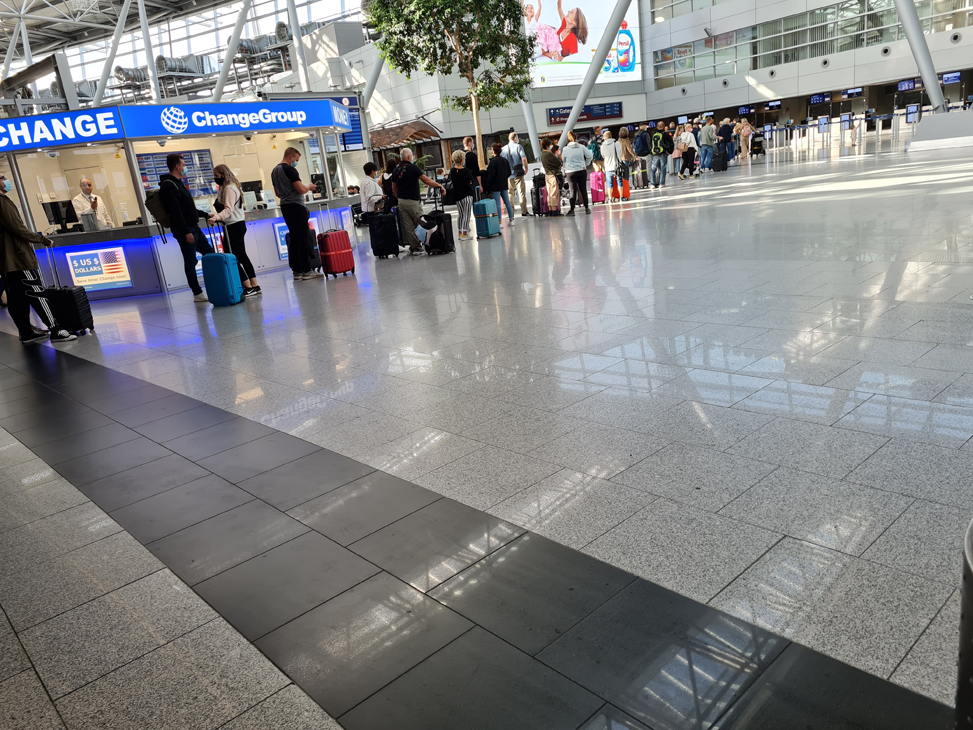 Dusseldorf Airport during COVID-19
Contact tracing and seat capacity monitoring is being professionally managed at most sit-down dining outlets – although this is not always equating to consistent table clearance and sanitisation between customers, which is a clear improvement area.The airport has good systems of COVID-19 testing, which are well sign-posted and easily accessible for customers.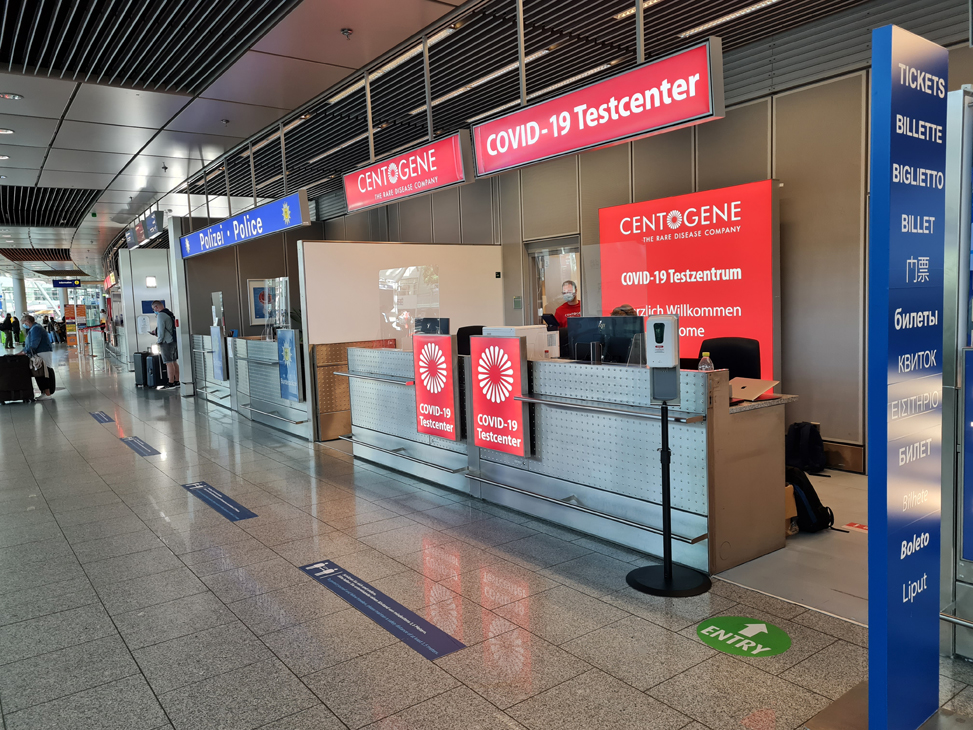 Dusseldorf Airport during COVID-19
The key reason for the 3.5 to 4-star performance at Dusseldorf Airport in many rating areas is the lack of continuity for information systems and hand sanitisers in the gate departure areas, and COVID-19 guidance is mainly being reinforced by third-parties such as retail and dining outlets. We also see much more potential for airport and airline staff to properly managed the social distancing of customers which is not always being correctly enforced in high-movement areas of the terminal.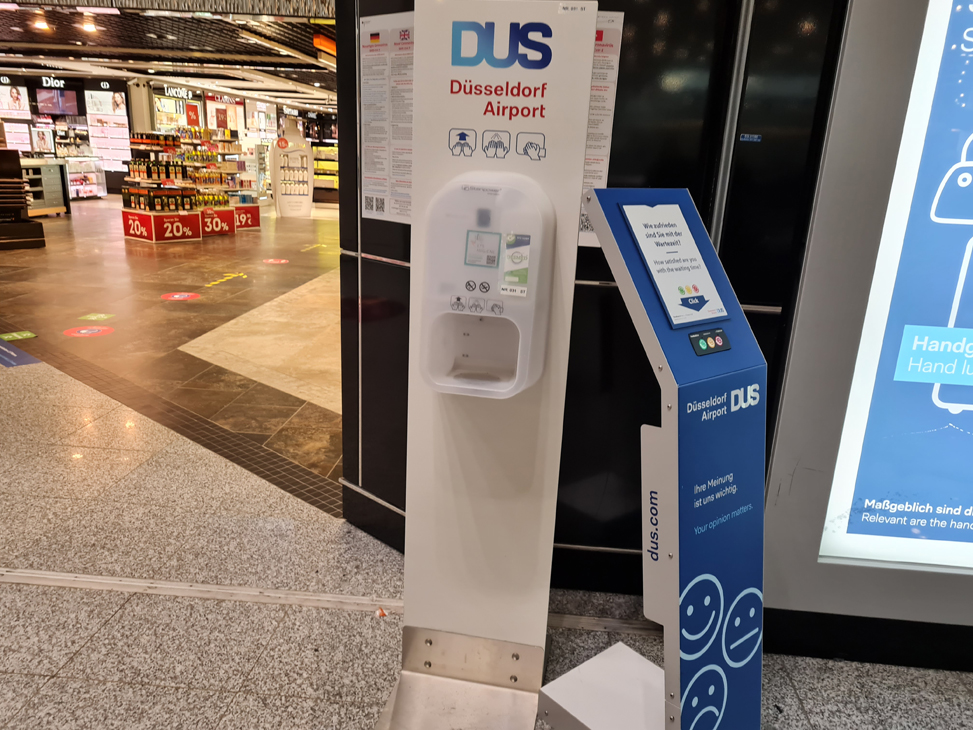 Dusseldorf Airport during COVID-19
COVID-19 Airport Ratings are based on scientific study and analysis by Skytrax and involve no element of self-testing or evaluation by an airport – this is not simply a virtual analysis of procedures an airport hopes to be implemented.
The analysis of hygiene protocols includes reference to ICAO, EASA and ECDC COVID-19 Aviation Health Safety guidelines.
» A-Z Index of COVID-19 Airport Ratings
» COVID-19 Airport Rating levels explained
ABOUT THE COVID-19 AIRPORT RATING
The 4-Star COVID-19 Airport Safety Rating indicates a good standard of airport cleanliness and maintenance procedures. Airports achieving 4-Star deliver some Best Practice systems of cleanliness and hygiene monitoring, but these may be applied inconsistently. 4-Star rated airports deliver good visual cleanliness and terminal presentation standards, in addition to robust disinfection and hygiene measures which have been scientifically evaluated.
All COVID-19 Airport Rating requires Skytrax audit teams to physically visit each airport and carry out the hygiene analysis, and airports in the Middle East, Asia and North America are expected to be covered from October 2020, subject to border opening regulations.
For more details about the COVID-19 Airport Rating, use our Contact Us form.