Japan Airlines is certified with the 5-Star COVID-19 Airline Safety Rating
by Skytrax: London, UK
Japan Airlines has today been Certified with the highest level 5-Star COVID-19 Airline Safety Rating, becoming one of the few airlines worldwide to achieve this recognition for COVID-19 safety standards.
The Skytrax COVID-19 Rating is the world's first and only assessment and certification of airline health and safety measures during the coronavirus pandemic that is based on professional and scientific investigation of the standards being provided by an airline at the airport and onboard flights.
Mr Yuji Akasaka, President and CEO of Japan Airlines said: "Since the early stages of the COVID-19 pandemic, the JAL Group has taken proactive steps to implement and strengthen key measures against COVID-19 to provide customers a safe and secure travel experience. Through the efforts of our dedicated staff at the JAL Group, it is certainly an honor to be certified and receive the highest 5-Star COVID-19 Airline Safety Rating by Skytrax. The JAL Group will continue to strengthen our COVID-19 measures and look forward to the day when people around the world can travel safely."
» A-Z Index COVID-19 Safety Ratings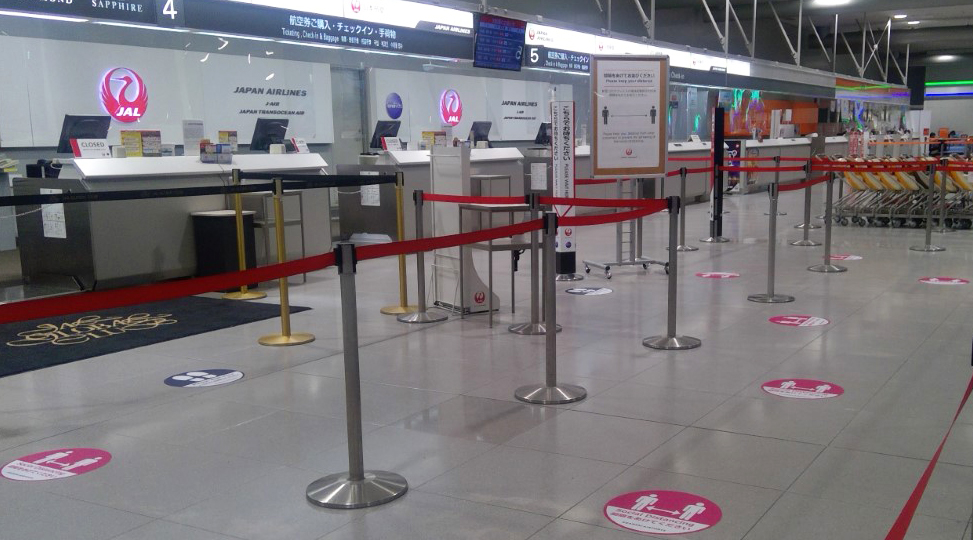 Japan Airlines has introduced a well-measured portfolio of safety practices to reduce the risks related to the spread of COVID-19, and this includes all elements of enhanced physical distancing, hand hygiene, and increased disinfection and cleaning protocols in the airport and onboard flights.
As part of the "FlySafe" commitment, Japan Airlines has expedited the rollout of touchless technologies for domestic check-in and bag-drop and recently launched robot customer service assistants to help customers with flight information.
Contactless check-in kiosks: Tokyo Haneda Airport
Edward Plaisted of Skytrax said: "Japan Airlines is a consistent industry leader in matters of cleanliness and hygiene, and we are delighted to see that the airline has reinforced these already robust protocols to lower the risks of coronavirus transmission. The airline has applied a great deal of Japanese logic and efficiency in the setup of high-movement areas such as check-in, boarding, and arrival, and has introduced practical and genuinely useful technologies to assist customers on their journey. The combination of factors here is vital to reinforce confidence in air travel."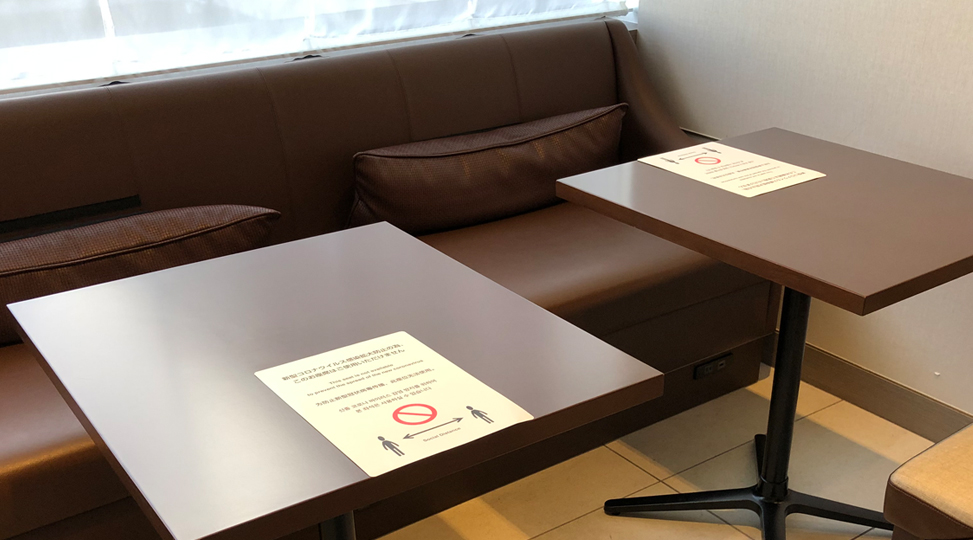 Premium passengers will find new low-contact procedures in the First-Class lounge as JAL has launched electronic a la carte dining ordering and table service and shower booking system. The airline also provides guests with a novel anti-viral wallet for storing face masks when dining.
Onboard flights, JAL has made small but important changes to service delivery to reduce contamination risks, and this includes adapted handling for meal trays and bar items, use of food covers, revised systems for mid-flight dining, and increased inflight sanitisation of high-contact areas such as washroom fixtures and fittings. In addition to this, PPE disposal bags are given, and customers can request spare face masks and sanitiser wipes throughout the flight.
The COVID-19 Safety Audit of Japan Airlines was completed in March 2021, and for the home base airport standards, Japan Airlines was evaluated for it's domestic and international operations at Terminal 1 and Terminal 3 of Tokyo Haneda Airport. The COVID-19 analysis incorporates relevant areas from the IATA Health Safety Standards Checklist, ICAO CART Take-off guidance and WHO recommendations. The audit evaluates the scale and efficiency of an airline's enhanced health and safety protocols introduced during the global pandemic, to determine standards of social distancing, cleaning systems and standards across both airport and onboard environments, and all associated measures to enhance customer and staff safety (eg. face mask usage, service systems in the airport and onboard flights).
» View Japan Airlines COVID-19 Safety Rating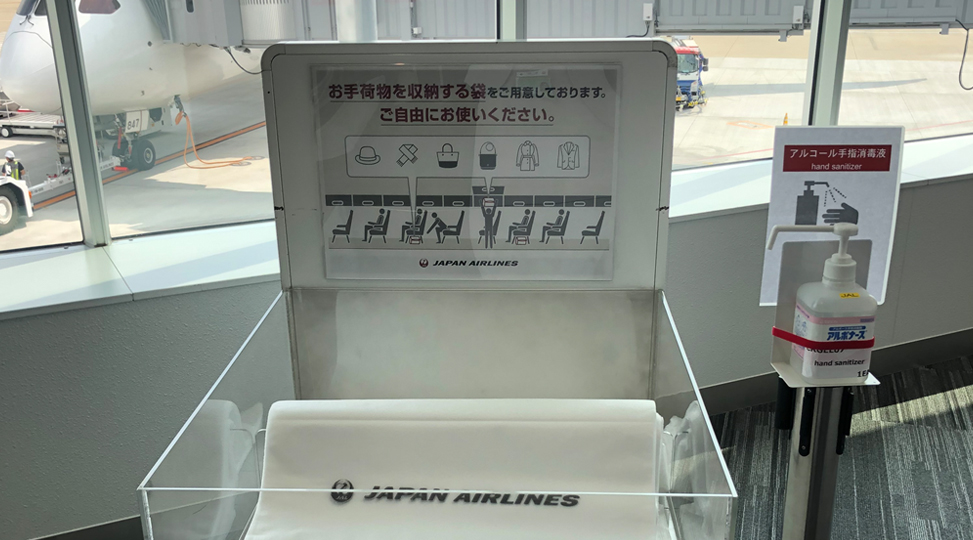 Complimentary bag cover offered to customers at the boarding gate
The airport audit assessment covers check-in facilities, airline lounges, boarding procedures, deplaning procedures, baggage claim, arrival, and transfer options at Tokyo Haneda Airport. The airport service elements include all airline provided options, not areas under direct control of the airport operator. Aside from the cleanliness objective, this evaluates the airline service processes for reducing customer and staff contact wherever practically possible.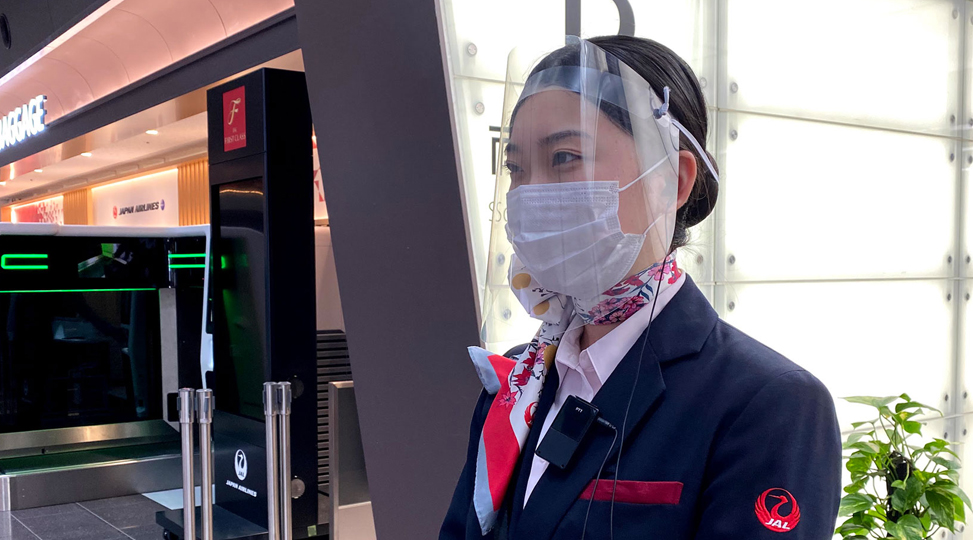 Onboard flights, cabin cleanliness includes systems and techniques for cleaning common surface contact areas, customer and staff use of face masks and PPE, and protocols to control this, adapted cabin service procedures including catering, in addition to assessing amenities and cleanliness of essential comfort items.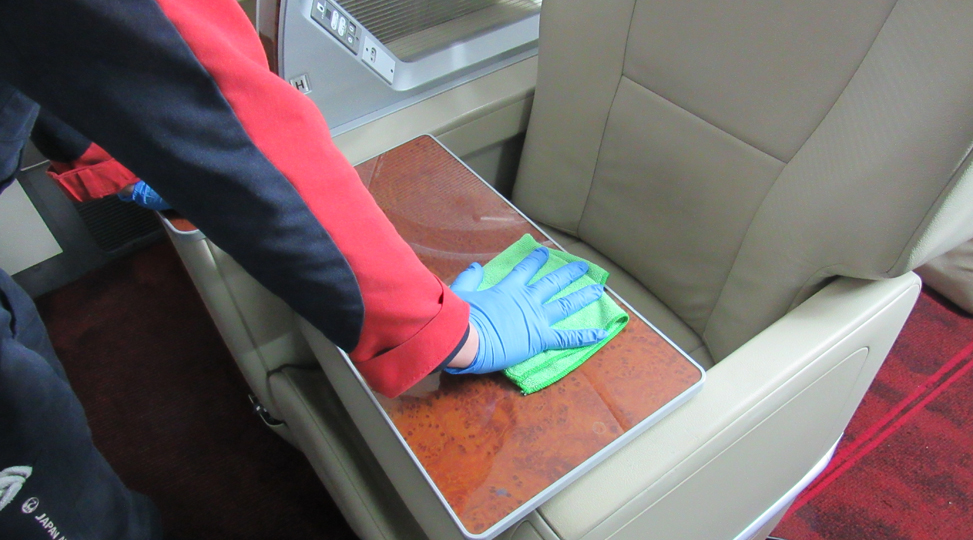 Japan Airlines: aircraft seat-table cleaning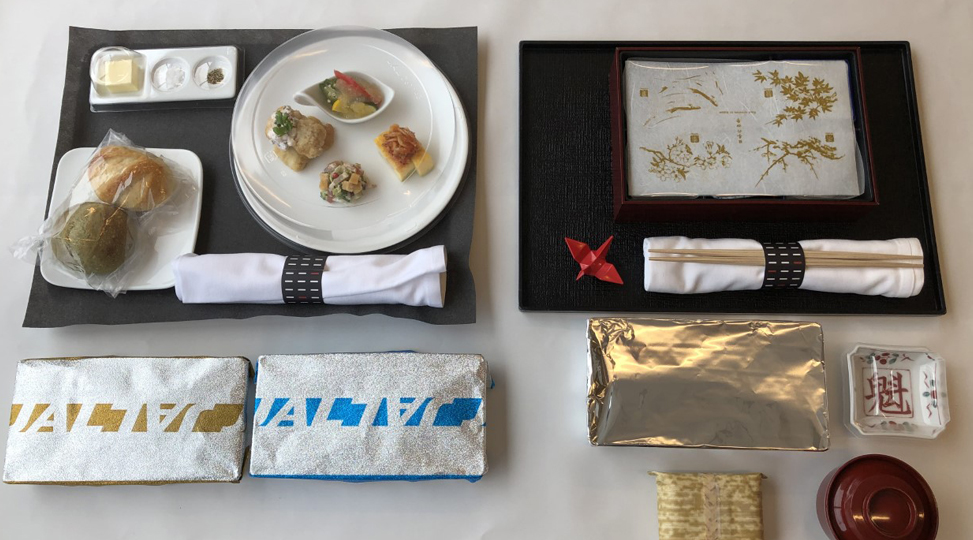 Business Class meal presentation
A 5-Star COVID-19 Airline Safety Rating confirms excellent airport processing standards that considers all practical elements of contactless technology, customer handling, and social distancing protocols for check-in, boarding, and arrival. Airline lounges meet a high standard of cleanliness procedures and consistency, with good measures in place that facilitate social distancing, and safe delivery systems for food and beverages. Onboard cleanliness and cabin presentation is at an excellent quality level and may use new techniques for UV sanitisation, and mass disinfectant treatments which are scientifically evaluated. The onboard service systems for catering are adapted for COVID-19 times, with reduced contact delivery and enhanced food safety measures for meal presentation.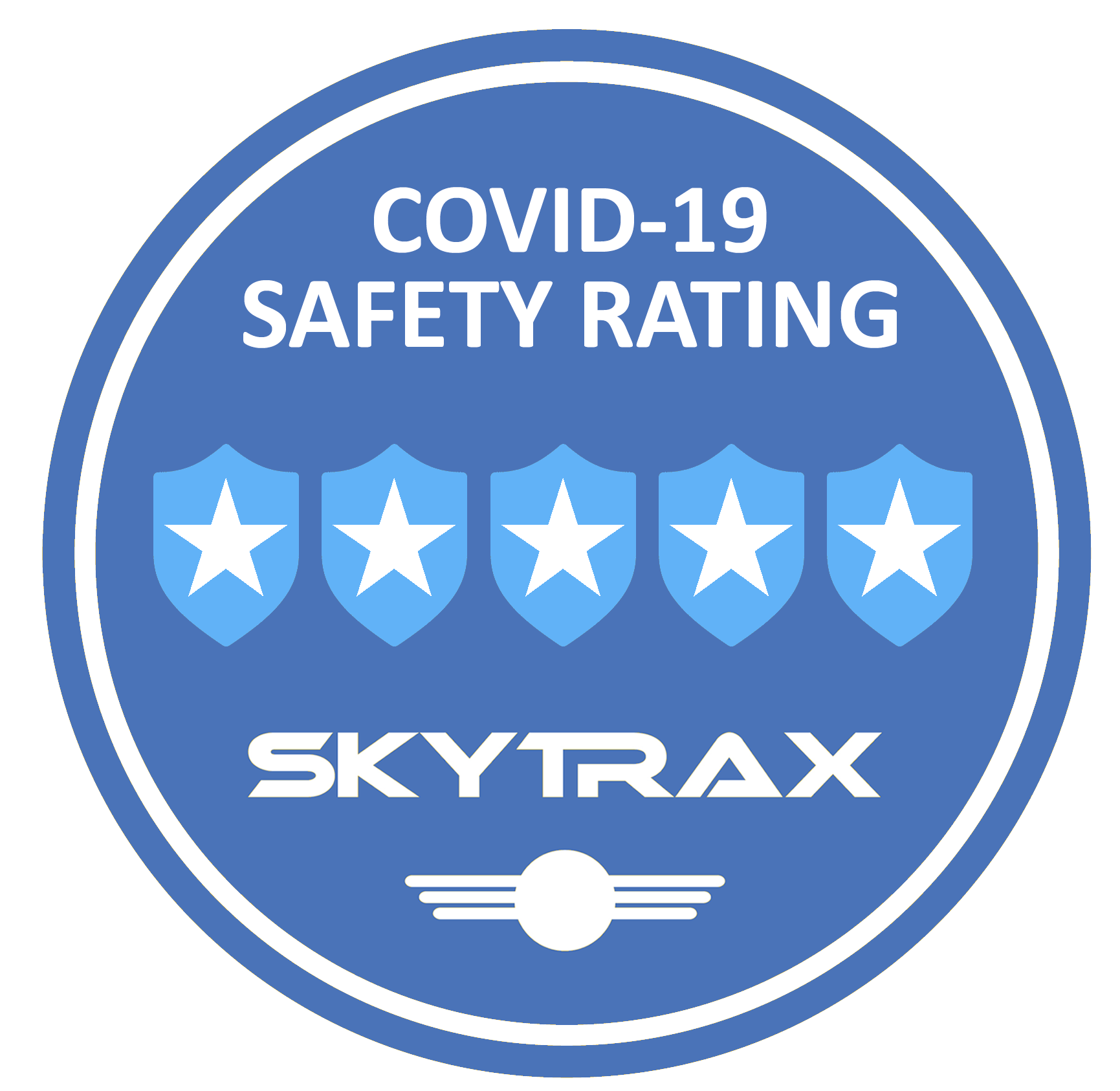 ABOUT JAPAN AIRLINES
Japan Airlines was founded in 1951 and became the first international airline in Japan. A member of the oneworld alliance, the airline now reaches 430 airports in 66 countries and regions together with its codeshare partners. Awarded as one of the most punctual major international airlines and a certified 5-Star Airline by Skytrax, JAL is committed to providing customers with the highest levels of flight safety and quality in every aspect of its service and aims to become one of the most preferred and valued airlines in the world.
ABOUT SKYTRAX
Skytrax, the International air transport rating organisation, was established in 1989 and is based in London, United Kingdom. The World Airline Rating programme is a leading international Rating system operating since 1999, which classifies airlines by the quality of product and staff service. In 2020, Skytrax launched the COVID-19 Safety Ratings covering airlines and airports across the world, providing independent, expert evaluation and certification of airline and airport COVID-19 hygiene and safety measures.