How clean is your airport?
The SKYTRAX Airport Hygiene Rating accreditation programme certifies the airports we believe are providing a safe airport experience for customers by delivering robust hygiene and cleanliness measures that meet industry best practices.
As most of the world resumes a more normal approach to travel after the impact of COVID-19 during the last two years, whilst some COVID-19 safety protocols (eg. social distancing, airport terminal access) have been lifted in many countries, the long term priority of maintaining the highest hygiene and cleanliness standards across the airport environment remains critical for all airport operators.

A critical feature of the Airport Hygiene Rating is that all evaluations and analysis are based on physical inspections, testing and assessment of cleanliness and hygiene standards, before the final Rating is awarded. For the airport (and their customers) to have trust in such accreditation, we believe it is important that the Airport Hygiene methodology uses physical testing of actual standards.
The hygiene checks are conducted across customer facing facilities in the airport for landside and airside areas, and includes ATP testing of key areas. This includes areas such as customer seating, waiting areas, security / immigration processing, toilet facilities, food and beverage outlets, contact surfaces for escalators, elevators, travelators, ATM's, vending machines, airline lounges.
The Hygiene and Cleanliness inspections, testing and evaluations are conducted by Skytrax Hygiene Safety teams. Applying a unified subject listing, auditors carry out physical examination and assessment of standards across the airport environment.
Edward Plaisted of Skytrax said: "The Airport Hygiene Rating was developed to try and ensure that the hygiene, safety and cleanliness improvements introduced by airports during the COVID-19 pandemic are maintained long into the future. Customers now have a heightened awareness of hygiene and sanitisation standards in many walks of life, and in the airport environment their expectations for the highest standards of cleanliness and hygiene have been pushed much higher up the agenda. The highest 5-Star Airport Hygiene Rating is a symbol of excellence that enables airports to demonstrate their ongoing achievements."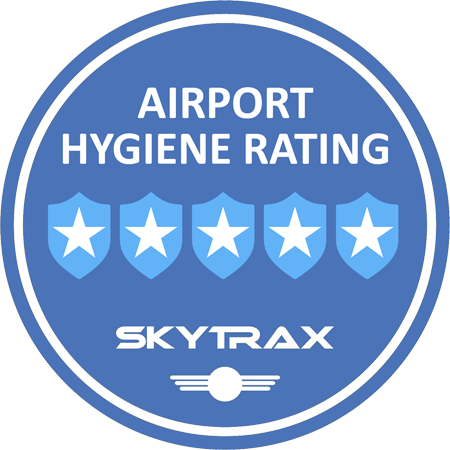 Skytrax expertise for Airport Hygiene Rating
Since 1992 Skytrax have conducted airport audits worldwide with a dedicated focus on cleanliness and hygiene standards. With the outbreak of COVID-19 in 2020, our teams underwent additional training on airport hygiene standards to enable the successful introduction of the Airport Hygiene Ratings.
Continuous improvement and development
As the world moves forward in tackling the global pandemic, it is critical for the airport industry to ensure that all lessons learnt to improve cleanliness and hygiene standards are maintained, and that the enhanced levels remain an item of continuous improvement and development. A trust in cleanliness and safety will remain a foremost concern for customers as air travel continues to build back to pre-pandemic demand levels.
How clean and hygienic is your airport?
For more information on the SKYTRAX Airport Hygiene Rating accreditation programme, please contact:

Peter Miller
Head of Marketing
SKYTRAX
---