Airport Star Rating Levels
Explaining Airport Star Rating levels
Skytrax World Airport Star Rating was introduced 20 years ago, and has become a global benchmark of quality evaluation for the airport industry.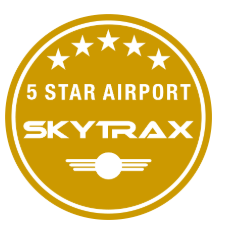 Skytrax apply ratings between 1-Star and 5-Star for up to 800 customer-facing areas of airport product and service, and this spans 30 different customer contact points from the airport website to terminal hotel quality. The rating methodology is unified and consistent for the industry, and all airports from largest hubs to small regional facilities are assessed using the same base criteria. Ratings are based on the front-line customer experience on the end-to-end journey through an airport. Final ratings are applied either when an Airport Audit is completed, or our audit team have gathered enough data to undertake a full airport rating.
Product ratings include the airport website, wayfinding, terminal design / décor, maintenance and cleanliness, passenger flows and efficiencies, and features such as seating, washrooms, family facilities, accessible travel, leisure and entertainment, WiFi, shopping and dining.
For assessment of front-line service standards, all airports are subject to the same quality expectations for staff attitude and courtesy, efficiency and service assistance, but within the evaluation, the measures are adapted per role (eg. immigration and customs staff are not required to deliver the same type of customer service as the information assistance counters).
Service ratings at an airport includes airport operated options (eg: help counters, service ambassadors), staff working in shops, restaurants, and cafes, and official staff such as immigration, police, security and customs. The service assessment looks at standards of efficiency, consistency of service, staff attitudes, hospitality / friendliness, and language skills.
---
A brief explanation of the Star Rating levels is shown below:

To achieve a top 5-Star rating, the staff service or product standards must be either meeting or setting global best practice for the item under evaluation. For the product analysis this is a tangible item, and for service assessment we look for all aspects of excellence support by true consistency. (It is not necessary for an airport to achieve 5-Star for every element of the rating criteria)

The 4-Star rating represents where the staff service or product standards are meeting a good quality level (but not the best) for the relevant rating topic item. In some instances, a potential 5-Star rating may be lowered to 4-Star if the consistency is not being delivered.

The 3-Star rating is applied where staff service standards or the product facilities are fair or average. This may reflect inconsistency or weakness in service systems (eg. poor cleanliness), a lack of choice in areas such as food & beverages, poor standards of seating / power provision etc.

The 2-Star rating is used where the standard or choice of airport amenities / facilities are poor, and not suited to the typical demographic expectation of the airport. For front-line staff service, a 2-Star rating exemplifies where service is poor, inconsistent and/or unfriendly.

The 1-Star rating is rarely applied, but it signifies that a product or service standard is totally unacceptable (ie. very poor). In some cases where a specific product or service item is an international expectation, but an airport operator does not provide this, we may apply the 1-Star rating.
---

Skytrax is the international air transport rating organisation based in London, United Kingdom. Established in 1989, Skytrax certified airport ratings are recognised and respected throughout the world.
Airport Star Ratings are known as a global benchmark of airport standards, developed through many years of professional experience and Skytrax specialist, qualitative knowledge of the airport industry.
The World Airport Audit that may be used as part of a rating analysis delivers a complex quality analysis of all areas of Product and Service that passengers experience across the airport environment, with rating accuracy supported by the Skytrax unified and global approach.