ANA All Nippon Airways awarded 5-Star Rating for eighth consecutive year
By Peter Miller, Skytrax
London, UK: All Nippon Airways (ANA), Japan's largest airline, has been awarded the prestigious 5-Star rating under the World Airline Star Rating by UK-based international air transport rating organisation SKYTRAX for the eighth consecutive year since 2013.
All Nippon Airways (ANA), Japan's largest airline has received the prestigious 5-Star designation from SKYTRAX for the eighth consecutive year. Only 10 airlines received the 5-Star rating from SKYTRAX, so to receive this honor for eight years in a row is a testament to the hard work, dedication and hospitality shown by ANA employees on a daily basis.
"ANA seeks to set the global standard for comfort, convenience and service for passengers across the globe and the decision by SKYTRAX to present us with a 5-Star rating for the eighth year in a row confirms that we are meeting our goals," said Hideki Kunugi, Executive Vice President of ANA. "We pledge to continue looking for ways to improve and offer our unique 'Omotenashi' hospitality to an ever wider range of passengers."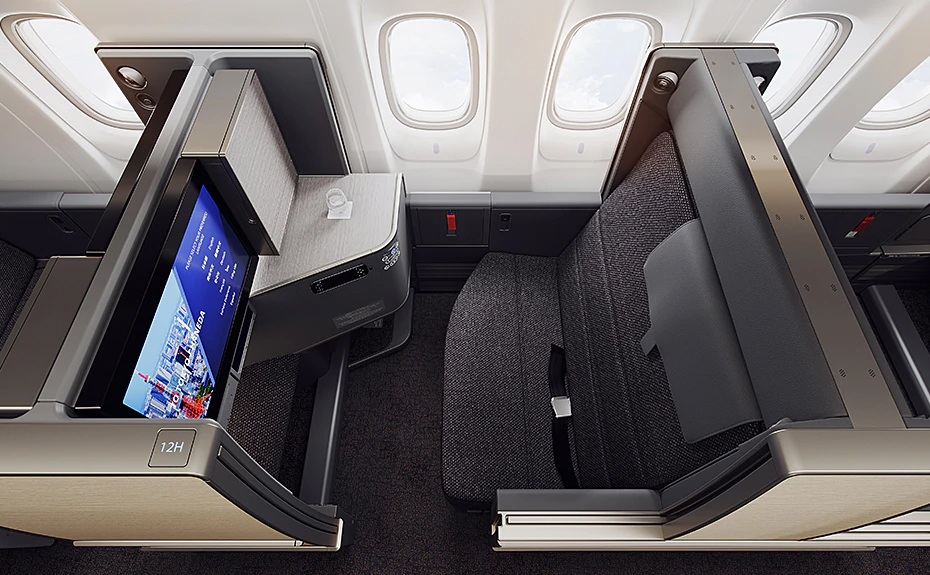 The Room – Business Class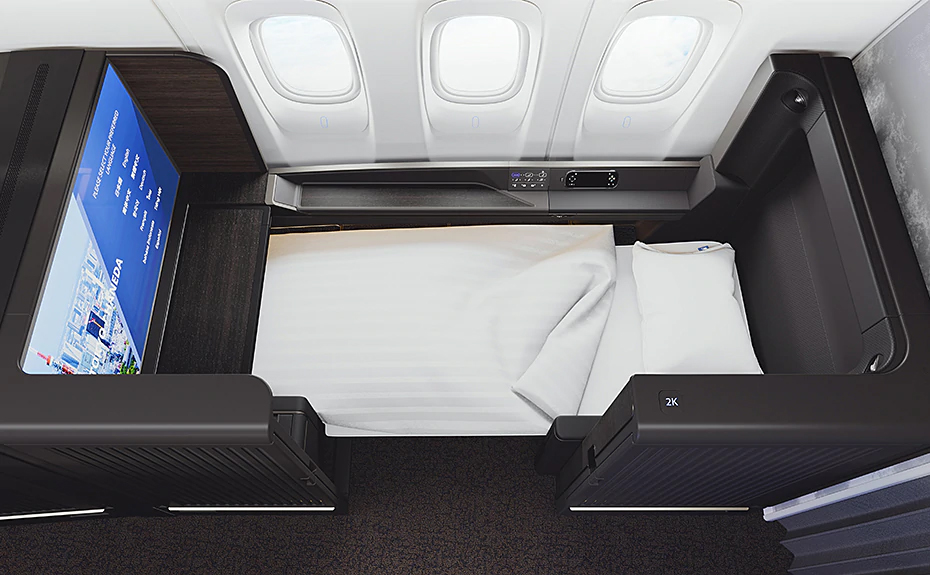 The Suite – First Class
In an effort to build upon its 5-Star SKYTRAX rating from 2018 and improve service, ANA undertook a number of prominent efforts throughout 2019 that led to it being recognized yet again. Some of these activities include:
INTRODUCTION OF A380 AIRCRAFT ON HONOLULU ROUTE
ANA became the first Japanese airline to receive an Airbus A380. Destined for the Narita-Honolulu route, these "FLYING HONU" aircraft sport special livery, a sea turtle motif that references Hawaiian folklore. The First Class cabins on these aircraft featured a newly designed seat for greater passenger comfort, and the Economy Class saw the introduction of ANA COUCHii – the very first couch seat to be offered by a Japanese airline. On this route, ANA also began offering specialized in-flight meals exclusively for Economy Class passengers on the Narita-Honolulu route. Premium Economy passengers were treated to their own special menu on the Honolulu route as well, offering a touch of luxury while in the air. Prior to boarding, passengers can unwind at a new lounge (both ANA SUITE LOUNGE and ANA LOUNGE) which opened at Daniel K. Inouye International Airport to accommodate the influx of new travelers.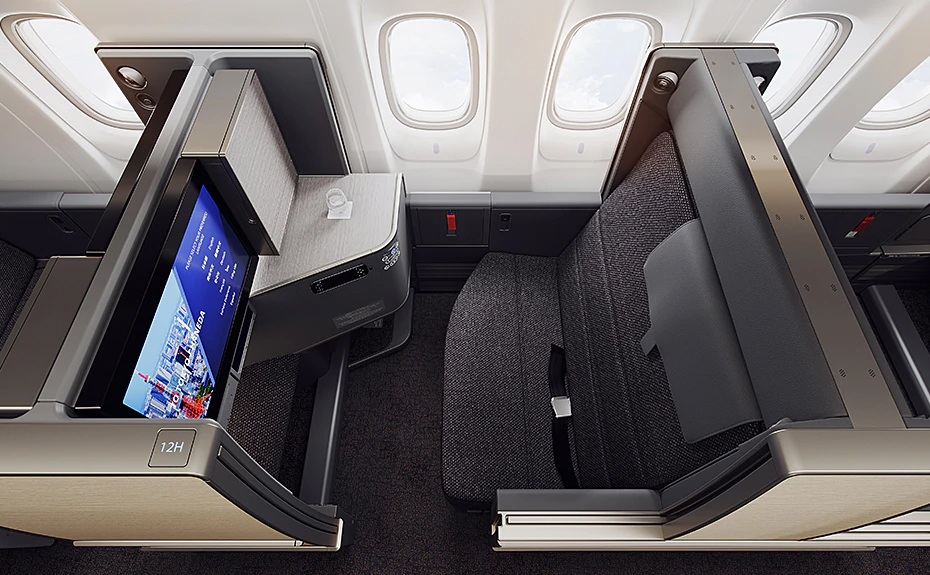 The Room – Business Class
AIRPORT SERVICE
Designed under the supervision of famed Japanese architect Kengo Kuma, the ANA LOUNGE at Naha Airport has been renovated and reopened to the public. Following their inclusion at domestic terminals of Haneda Airport, Sapporo Airport and Fukuoka Airport, ANA introduced self- service baggage drops at Naha Airport. This service allows passengers departing from these airports to check-in their bags quickly and efficiently.
Boarding procedures as well as accompanying signage and equipment were also standardized for domestic and international flights according to group number so that passengers can board more easily.
The functionality of ANA's apps were also expanded to improve customer convenience by improving the online check-in function for international flights via the "ANA SKY Mobile App" service and the launch of the service for distributing flight information via push notifications.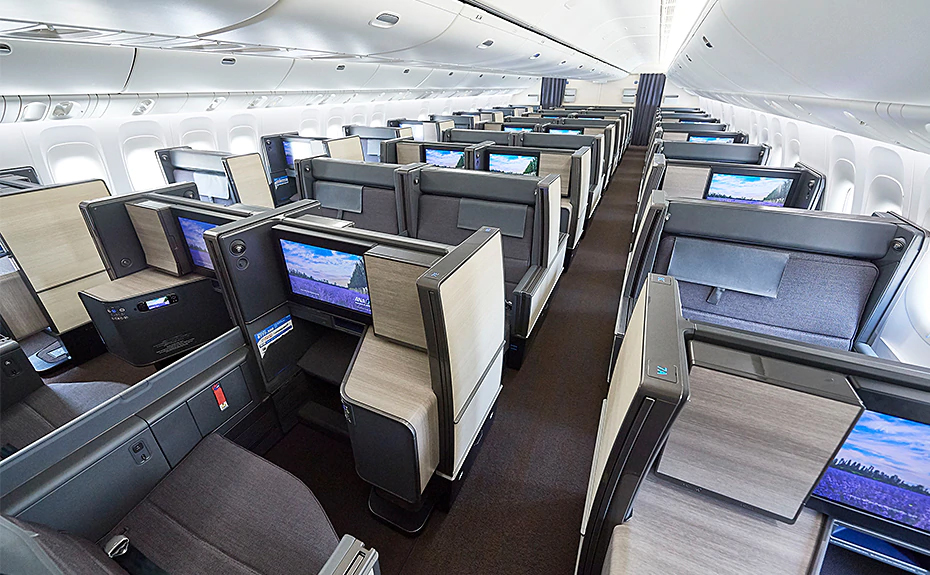 The Room – Business Class
INFLIGHT SERVICE
"THE Suite" and "THE Room" First Class and Business Class seats were newly introduced on select aircraft. The new products were born out of five years of design development and collaboration between Kengo Kuma and leading British designers Acumen. In addition to the enhanced comfort and privacy of these new seats, THE Suite also features the world's largest 4K resolution monitor in First Class.
The introduction of the "Paid Exclusive Dining" service will allow for passengers travelling in Premium Economy or Economy Class on international flights departing from Japan, can now choose their in-flight meal in advance from a wide range of options under the premium in-flight meal menu (including Japanese and Western Cuisine).
ANA introduced larger 15.6 inch touch panel personal seat monitors in Premium Class on domestic flights. In addition, ANA worked closely with Toyota Boshoku (the top automotive seat designer in Japan) to introduce new seats equipped with touch panel personal seat monitors for Economy Class on main domestic aircraft.
STAFF EDUCATION
ANA Group opened a new state-of-the-art training center named "ANA Blue Base." Here, ANA employees can experience "Omotenashi" at the facility's new Japanese tearoom as they learn how to offer the airline's famed service to passengers. In addition to advanced mixed reality and virtual reality flight simulation technology, the facility is home to an innovative motion mock-up for cabin attendants and interactive firefighting training – both a first in Japan. The facility will serve as an educational hub and will be open to the public around June 2020.
For cabin attendants and airport ground staff, ANA conducted annual internal contests designed to ensure that everyone at ANA Group can enhance their service skills.
ANA also further enhanced the lounge staff's training program so that the airline could continue to lead in customer service.
Edward Plaisted of SKYTRAX said: "It is a great achievement for All Nippon Airways (ANA)  to achieve this 5-Star Airline accolade for an eighth consecutive year, and this recognises their dedication to continuous quality improvement that the airline provides to its customers. A stand out point for All Nippon Airways (ANA) achieving this latest 5-Star recognition is the very high and consistent standards of service efficiency and the ANA dedication to provide the best product to customers."
About Airline Star Rating
Introduced in 1999, a leading international Airline Rating system that classifies airlines by the Quality of front-line product and staff service standards. Airline Star Ratings are recognised as a global Benchmark of airline standards, managed by SKYTRAX, the international air transport rating organisation.
About ANA
Following the "Inspiration of Japan" high quality of service, ANA has been awarded the respected 5-Star rating every year since 2013 from SKYTRAX. ANA is the only Japanese airline to win this prestigious designation seven years in a row. Additionally, ANA has been recognized by Air Transport World as "Airline of the Year" three times in the past 10 years – 2007, 2013 and 2018, becoming one of the few airlines winning this prestigious award for multiple times.
ANA was founded in 1952 with two helicopters and has become the largest airline in Japan, as well as one of the most significant airlines in Asia, operating 77 international routes and 118 domestic routes. ANA offers a unique dual hub model which enables passengers to travel to Tokyo and connect through the two airports in the metropolitan Tokyo, NARITA and HANEDA, to various destinations throughout Japan, and also offers same day connections between various North American, Asian and Chinese cities.
ANA has been a member of Star Alliance since 1999 and has joint venture partnerships with United Airlines, Lufthansa German Airlines, Swiss International Airlines and Austrian Airlines.
In addition to the full service and award-winning record of ANA, the ANA Group's subsidiary Peach Aviation Limited is the leading LCC in Japan, and has expanded following the integration of Vanilla Air Inc. in late 2019. The ANA Group carried 54.4 million passengers in FY2018, has approximately 43,000 employees and a fleet of 260 aircraft. ANA is a proud launch customer and the biggest operator of the Boeing 787 Dreamliner.