EVA Air Certified as a 5-Star Airline
By Peter Miller, Skytrax
EVA Air has been Certified as a 5-Star Airline by Skytrax, the international air transport rating organisation.
In an Award ceremony at the Taipei Marriot Hotel on 15th June 2016, Skytrax presented the 5-star Airline Certification to EVA Air.
Speaking at the 5-Star Airline Certification, Mr Steve Lin, Chairman of EVA Air said: "All of us at EVA Air are deeply humbled by this important award. Skytrax 5-Star Rating is a great honour and also a great responsibility. It is extremely gratifying that all of our hard work to keep quality service and safety as our top priorities is recognized. The Skytrax 5-Star Rating is truly an award shared by every single EVA staff member and employee. At the same time, this prestigious rating reminds us all that we must never lose sight of our commitment to being the best or falter in our quest to continually improve and innovate."
"Skytrax 5-Star Rating is a great honour and also a great responsibility"
Mr Edward Plaisted of Skytrax said: "In being Certified as the eighth 5-Star Airline in the world, EVA Air is today joining a very esteemed and exclusive group of world leading airlines. EVA Air has achieved this success through their outstanding 5-Star staff service in both the airport and on-board environments, supported by a very high quality product standard for all customers to enjoy. A 5-Star Airline rating is awarded to an airline with exceptional front-line quality performance, and EVA Air is now providing some of the highest quality service in the industry. We place a lot of responsibility and trust on EVA Air to maintain standards to deliver this 5-Star Airline experience, and we have every confidence that EVA Air customers will be able to enjoy the highest quality travel experiences."
Background to EVA Air
EVA Air was established in 1989 and is based at Taiwan Taoyuan International Airport, Taipei, Taiwan. The airline's network now spans the globe, stretching from Asia and China to Europe, North America and Oceania, and links more than 60 cities. In June 2013, EVA Air became a Star Alliance member.
EVA Air established core values that include safe, punctual flights, friendly professional services and efficient, innovative operations. EVA Air led the airline industry in 1992 by introducing one of the very first premium economy services.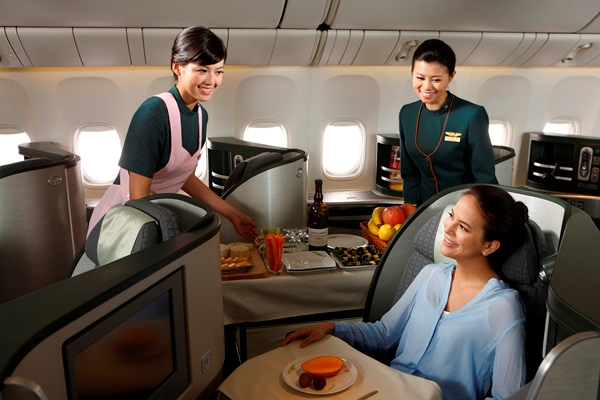 EVA Air emphasizes quality service and safety throughout all of its operations, both on the ground and in the air. Over the past few years, the airline's Hello Kitty Jet program has proven to be a very successful tactic for promoting EVA and its products. This creative concept uses the iconic Hello Kitty and her friends to make flying fun inside and outside the airplanes. Last year, EVA Air introduced its new-generation Boeing 777-300ERs with SKY Wi-Fi capabilities and the latest Panasonic eX3 inflight entertainment system.
EVA Air has one of the world's most modern fleets, including 23 x Boeing 777-300ER, 5 x A330-300, 7 x A330-200 and 22 x A321-200 aircraft. In late 2015, EVA Air signed agreements for up to 24 Boeing 787-10 and two additional Boeing 777-300ERs, scheduled for delivery from 2017 through to 2022.
5-Star Certified Airlines
The Certified 5-Star Airline rating is a global Quality recognition that is awarded to an airline providing exceptional front-line Quality performance to its customers. The current Certified 5-Star Airlines are ANA All Nippon Airways, Asiana Airlines, Cathay Pacific Airways, EVA Air, Garuda Indonesia, Hainan Airlines, Qatar Airways and Singapore Airlines.
The 5-Star Airline rating recognises high standards of Airport and on-board product provided by an airline to customers, together with consistent and high standards of front-line staff service across the airport and on-board service environments.
About Skytrax Airline Rating
World Airline Rating is the global airline quality ranking programme operated by Skytrax, the international air transport rating organisation and a leading authority on airline quality standards. Certified Airline Ratings classify airlines by the quality of front-line product and staff service they provide to customers, and are recognised as a global benchmark of airline standards. Established in 1989, Skytrax is based in London, United Kingdom.
Using an internationally recognised evaluation system to assess quality, Skytrax provide the world airline industry with a professional, unified Quality classification system that is an established and respected symbol of airline standards.
Certified Airline Rating is based on in-depth quality analysis of an airline's customer-facing Product and Service standards, with a well-established approach providing accuracy, and an objective ranking system using global quality measurements.
As part of the process to determine and award an Airline Star Rating, Skytrax carry out detailed Quality analysis across up to 800 different areas of airline product and service delivery for the on-board and home-base Airport environments. Certified Airline Ratings are not related to any type of customer reviews or passenger surveys.