London Heathrow Airport is certified with the 3-Star COVID-19 Airport Rating
By Peter Miller, Skytrax – London, UK
London Heathrow Airport has been certified as a COVID-19 3-Star Airport, by international air transport rating agency Skytrax.
The COVID-19 audit by Skytrax was conducted in early September and is based on a combination of procedural efficiency checks, visual observation analysis and ATP sampling tests, with the consistency of standards being a key determinant in the final rating applied. The COVID-19 audit assessed terminals currently in use at Heathrow, Terminal 2 and Terminal 5.
There were some good measures relating to the thoroughness of information signage, availability of hand sanitiser, and adherence to face mask usage. However, there were too many inconsistent areas of the COVID-19 criteria to warrant a rating higher than 3-Star based on the latest audit analysis.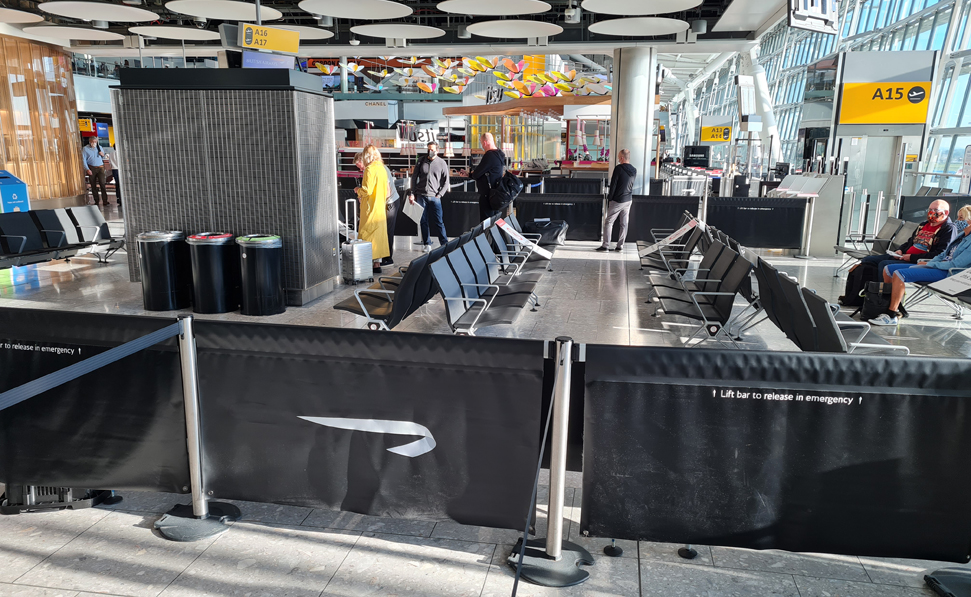 Heathrow Airport during COVID-19
Edward Plaisted of Skytrax said: "Heathrow Airport set out a comprehensive range of COVID-19 hygiene procedures and systems to deliver a safer environment for customers and staff. Whilst many aspects are meeting a good standard, we found a lack of consistency across different areas, both for cleanliness and expected control of social distancing."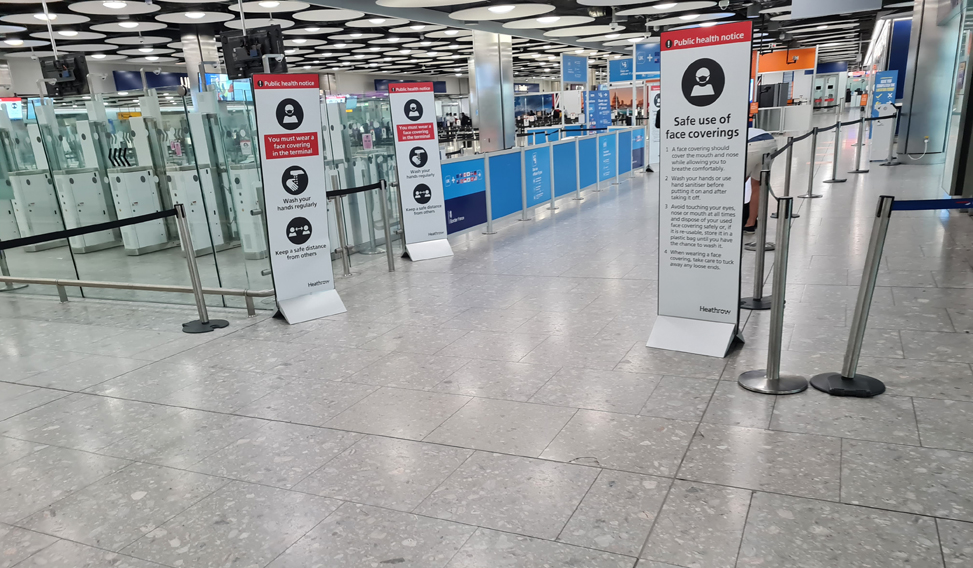 Heathrow Airport during COVID-19
Heathrow Airport state that passenger access is for passengers only, but this is not being enforced, with well-wishers noted at the entrance to departures security. There are no systems in place to validate eligibility for terminal access as has been seen at some airports.
Social distancing markers are not as abundant as one might expect in some high movement points, and there is limited control of social distancing in busy queues from either airline or airport staff. While there are some social distancing seat markers in place, these are not provided consistently around the airport.
The total number of cleaning staff observed during audit periods appears quite modest for the number of customers, and the ATP testing conducted in toilets, seating and dining outlets indicates the regularity of sanitisation and cleaning methods could be improved.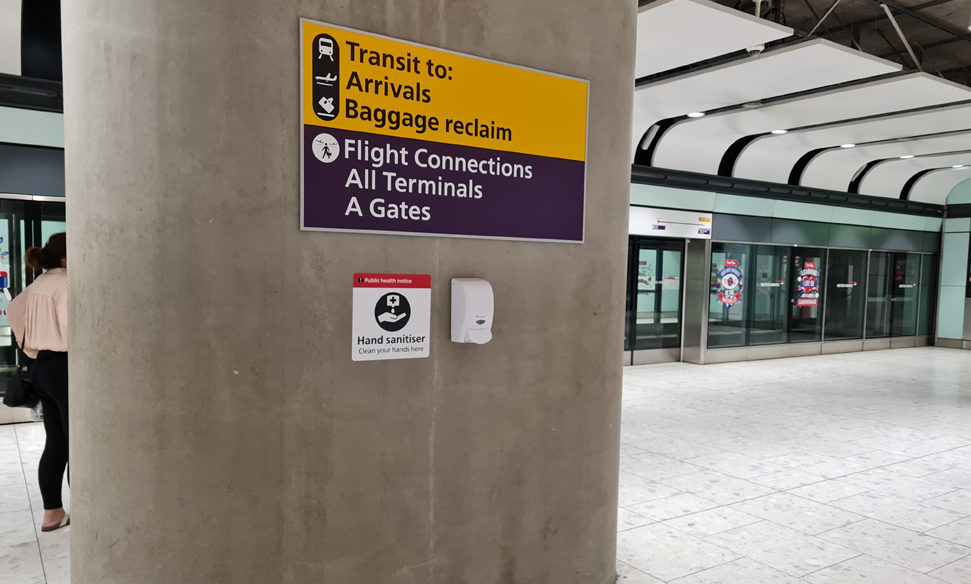 Heathrow Airport during COVID-19
There is concern relating to security hygiene procedures, based on observations that staff are not changing their gloves between secondary bag checks or where customers require pat-down checks. At best some staff are using liquid sanitiser to clean gloves between manual body checks, but this is not regularly observed for bag inspections.
For flight arrivals, most of the information signage relates to border and quarantine requirements for entry into the UK. There is reasonable information regarding contact tracing, however, this is not checked at any point through arrivals as we have observed at some smaller regional, UK airports.
Social distancing markers are fairly good for arrivals and immigration, but an area where this should be reinforced is at the Terminal 5 satellite shuttle train which has no capacity information or social distancing control.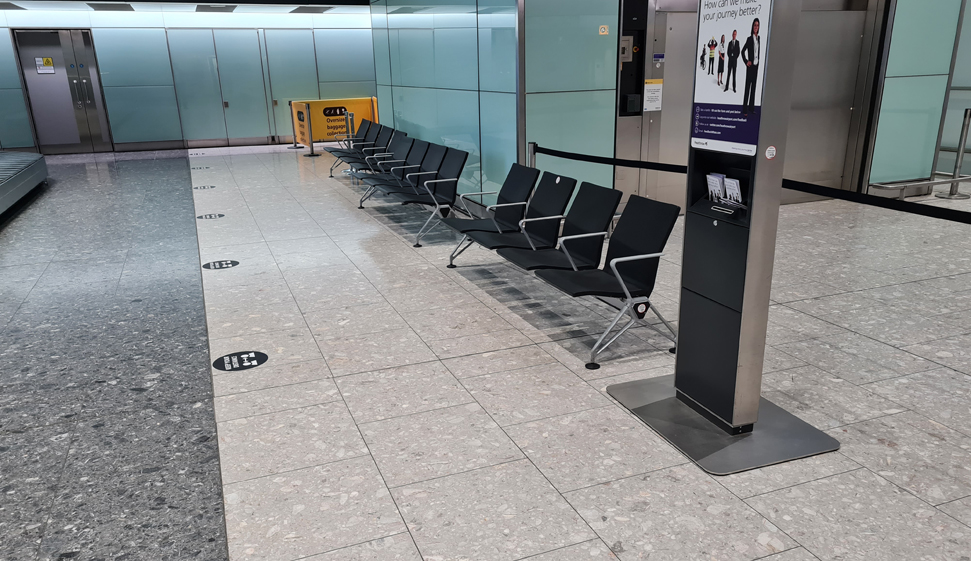 Heathrow Airport during COVID-19
Presently, Heathrow Airport has good theoretical policies and procedures to improve hygiene and customer safety during COVID-19, but these are lacking in scope and consistency to achieve the COVID-19 4-Star rating requirements.
COVID-19 Airport Ratings are based on scientific study and analysis by Skytrax and involve no element of self-testing or evaluation by an airport – this is not simply a virtual analysis of procedures an airport hopes to be implemented. The analysis of hygiene protocols includes reference to ICAO, EASA and ECDC COVID-19 Aviation Health Safety guidelines.
» A-Z Index of COVID-19 Airport Ratings
» COVID-19 Airport Rating levels explained
» London Heathrow Airport 3-Star COVID-19 Airport Rating
ABOUT THE COVID-19 3-STAR AIRPORT RATING
The 3-Star COVID-19 Airport Safety Rating indicates an average standard of airport cleanliness and maintenance procedures. Airports achieving 3-Star have Best Practice systems for cleanliness but do not apply the necessary cleaning and hygiene protocols on a regular or consistent basis. 3-Star rated airports deliver reasonable visual cleanliness and terminal presentation standards, and the disinfection and hygiene measures have been scientifically evaluated.
Skytrax commenced the COVID-19 Airport Rating in August 2020, and airports covered to date are all in Europe. The ratings so far announced include Malaga Airport (3-Star), Nice Cote d'Azur Airport (3-Star) and Rome Fiumicino Airport (5-Star).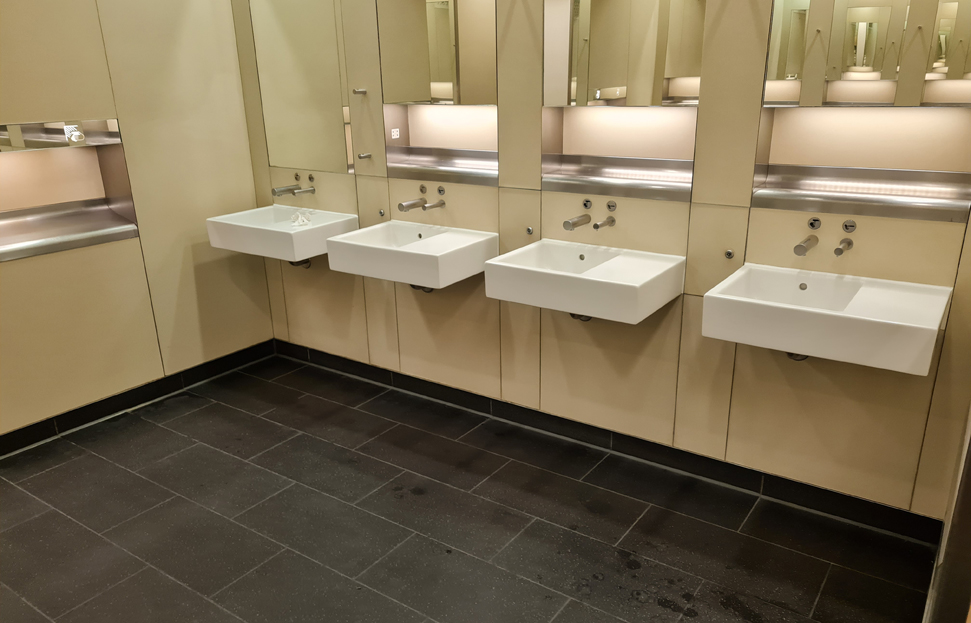 Heathrow Airport during COVID-19
All COVID-19 Airport Rating requires Skytrax audit teams to physically visit each airport and carry out the hygiene analysis, and airports in the Middle East, Asia and North America are expected to be covered from October 2020, this subject to border opening regulations.