Oman Air is awarded the 5-Star COVID-19 Airline Safety Rating
by Skytrax: London, UK
Oman Air has been Certified with the highest level 5-Star COVID-19 Airline Safety Rating. The Skytrax COVID-19 Rating is the world's first and only assessment and certification of airline health and safety measures during the coronavirus pandemic that is based on professional and scientific investigation of the actual standards being provided by an airline at the airport and onboard flights.
Mr Abdul Aziz Al Raisi, CEO of Oman Air said: "Oman Air has always been a safety-first airline and our commitment to passenger health and well-being—not just on board our aircraft but across the entire guest experience from check-in to final destination—plays a leading role in our business priorities. We are honoured to receive this latest recognition from Skytrax, which serves to highlight the tremendous efforts made by our airline to ensure that the highest levels of COVID-19 safety precautions are consistently met on every journey with Oman Air."
» A-Z Index COVID-19 Safety Ratings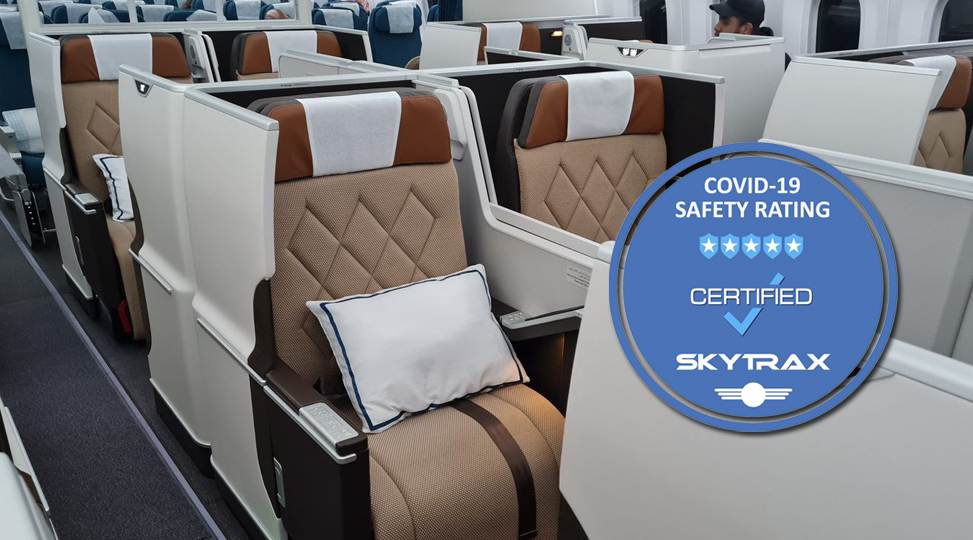 The COVID-19 Safety audit was conducted in January 2021, evaluating a mixture of long haul and regional flights, including the COVID-19 safety standards of the service and facilities at the home base airport of Muscat International Airport. During February 2021, Oman Air has made some additional improvements to their COVID-19 procedures to meet the required 5-Star Rating standards.
Since resuming flights in October 2020 Oman Air has implemented a comprehensive range of protocols to reduce the risks associated with COVID-19, and this is being delivered as part of the airline's "Fly Confidently" promise. The areas of social distancing, face mask usage and hand hygiene are well enforced across all key front line customer service positions in the airport and onboard, and this is being effectively achieved through a range of appealing information signage, and staff intervention and management of passengers.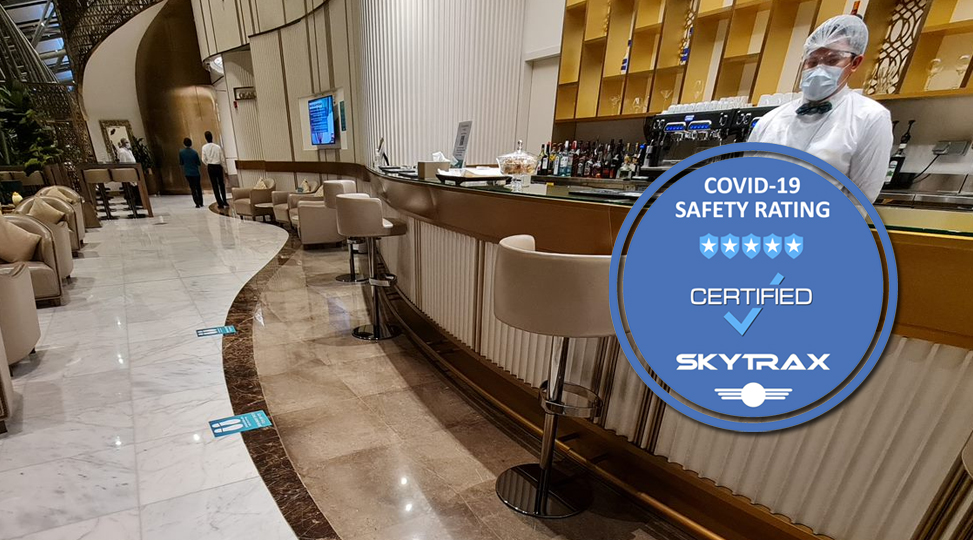 Inside the Oman Air business class lounge at Muscat Airport
Premium customers using the Oman Air lounge will find wide ranging social distancing modifications to seating layouts, prayer facilities, smoking areas, and washroom capacity monitoring. Dining choices are prepared by staff to reduce contact in the buffet area, in addition to frequent hand sanitisation points.
Edward Plaisted of Skytrax said: "Oman Air had an enforced break from flying during 2020 and used this time to effectively map out safe travel systems for both customers and staff. The range and quality of measures observed during the recent COVID-19 audit is commendable for not only facilitating appropriate coronavirus protection measures, but doing this in a way that retains a good customer experience in terms of both product and service standards."
Onboard service has been adapted for Business and Economy Class cabins, and this comprises hygiene covers for all hot and cold food, reduced contact delivery for meals and drinks, and hygiene kits with hand sanitiser, disinfectant wipes, and spare face masks. Staff perform their duties with full PPE including masks, goggles, and disposable gowns.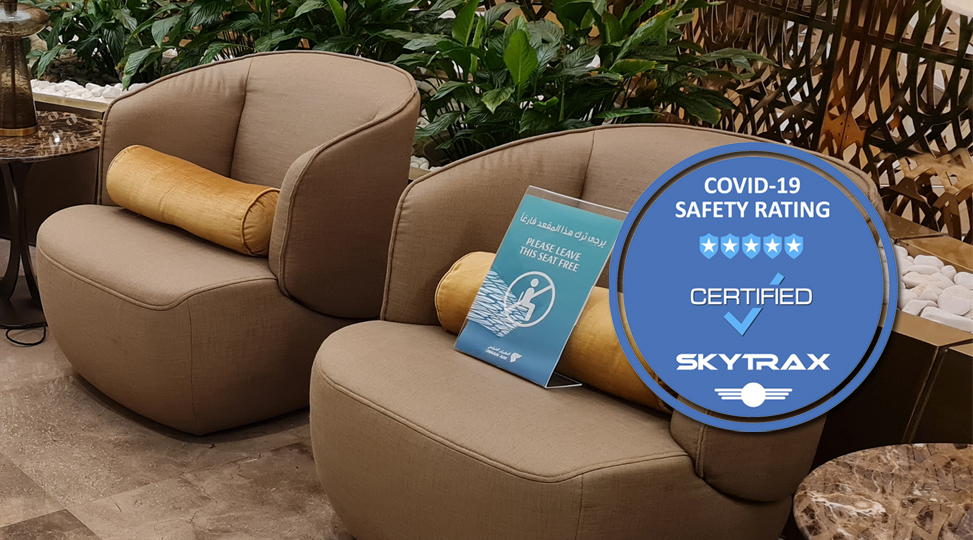 Inside the Oman Air business class lounge at Muscat Airport
Skytrax COVID-19 analysis incorporates relevant areas from the IATA Health Safety Standards Checklist, ICAO CART Take-off guidance and WHO recommendations. The audit included ATP testing to validate the standard of cleaning systems, and to ensure high contact surfaces are sanitised with enough frequency, and that disinfectant products and cleaning techniques are effective.
A broad variety of high contact onboard and airport surface areas were tested for cleanliness throughout the audit. Oman Air achieved a high pass rate indicating that the enhanced attention of the protocols is functioning well.
Onboard with Oman Air
A 5-Star COVID-19 Airline Safety Rating confirms excellent airport processing standards that considers all practical elements of contactless technology, customer handling, and social distancing protocols for check-in, boarding, and arrival. Airline lounges meet a high standard of cleanliness validated visually and through ATP testing, with good measures in place that facilitate social distancing, and safe delivery systems for food and beverages. Onboard cleanliness and cabin presentation is at a excellent quality level, and may use new techniques for UV sanitisation, and mass disinfectant treatments which are scientifically evaluated. Service systems for catering are adapted for COVID-19 times, with reduced contact delivery and enhanced food safety measures for meal presentation.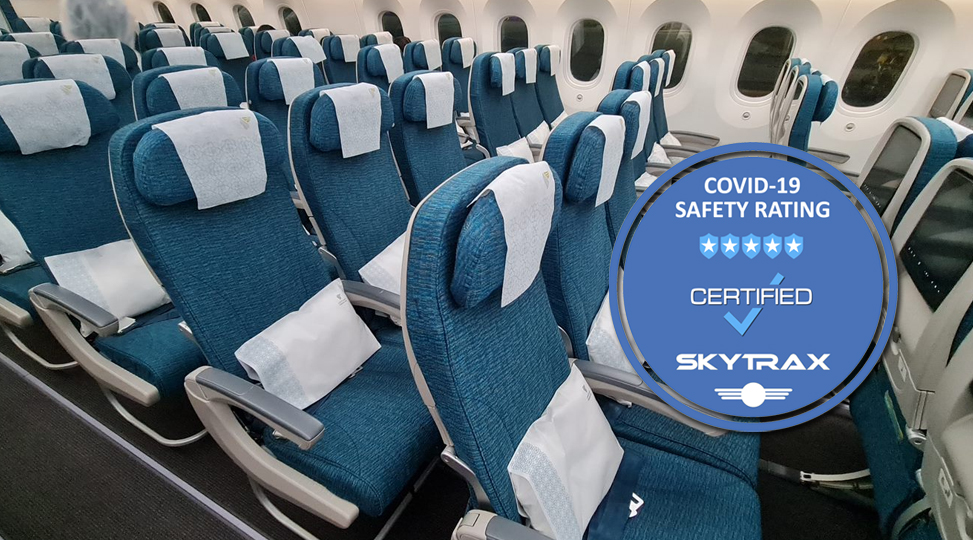 Economy class with Oman Air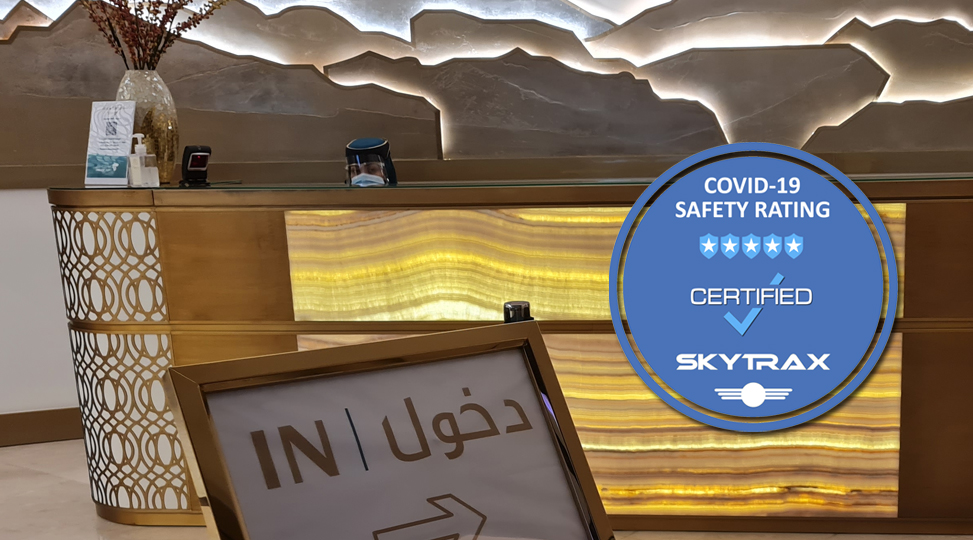 Inside the Oman Air business class lounge at Muscat Airport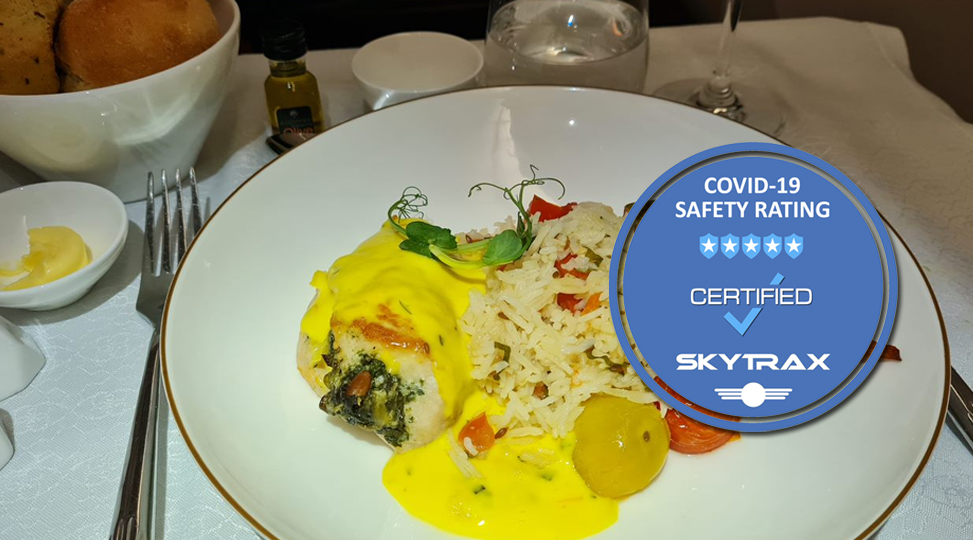 Oman Air: Business class dinner entrée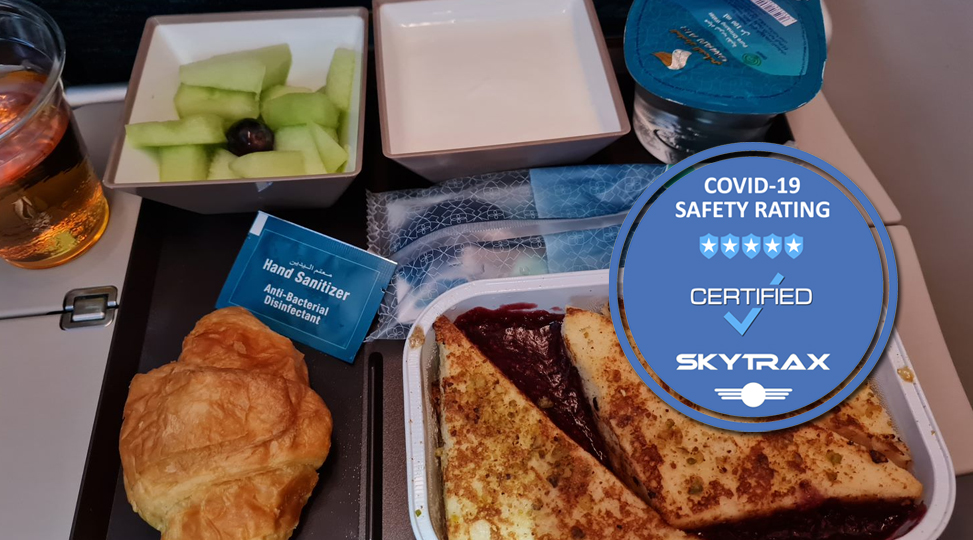 Oman Air: Economy class breakfast
The airport audit assessment covers check-in facilities, airline lounges, boarding procedures, deplaning procedures, baggage claim, arrival, and transfer options. The airport service elements include all airline provided options, not areas under direct control of the airport operator. Aside from the cleanliness objective, this evaluates service processes for reducing customer and staff contact wherever practically possible.
Onboard, cabin cleanliness includes all common surface contact areas, customer and staff use of face masks and PPE, and protocols to control this, adapted cabin service procedures including catering, in addition to assessing amenities and cleanliness of essential comfort items.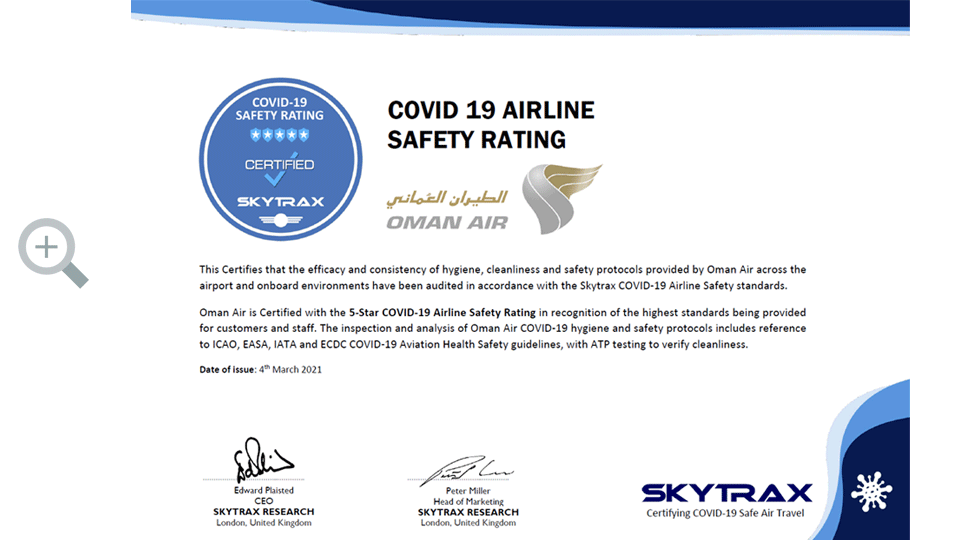 » View the COVID-19 Airline Certifications