A-Z Lounge COVID-19 Ratings
The COVID-19 Airline Lounge Safety Ratings certify the safety and hygiene measures put in place by airlines and airport lounge operators to ensure that the lounges are meeting the highest standards, and delivering enhanced safety levels for customers and staff.
Airline and independent airport lounges are now generally cleaner, but there has been a mixed response in terms of adapting spaces for distancing, removing reading materials and closing areas such as prayer rooms, smoking facilities and children's play equipment. Other key variables are changes to food and beverages in the lounge. In some regions, we have observed severe cutbacks in choice and simplification of the service systems to reduce contact. Similarly, the changes implemented by some lounges to provide online ordering systems and table service are actually increasing service quality. When the world emerges from the coronavirus pandemic, there are aspects of the airline / airport lounge experience we hope will remain improved. Social distancing may gradually disappear, but the enhanced lounge hygiene and cleanliness must continue, and integrate future improvements.
Where are the safest airline lounges during COVID-19?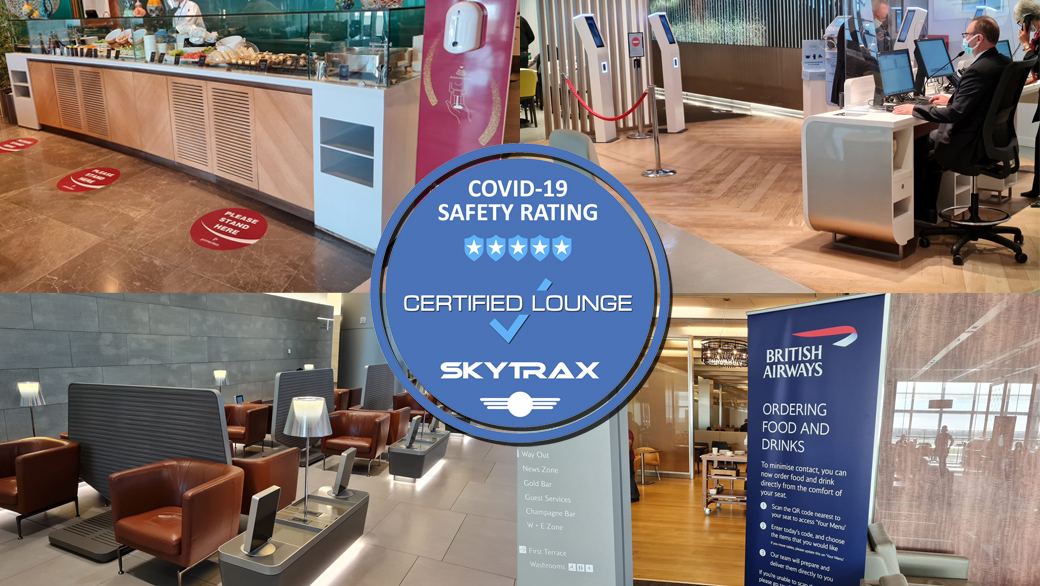 COVID-19 Airline Lounge Safety Certification evaluates over 150 lounge safety protocols including COVID-19 guidance, signage and information, lounge hygiene and cleanliness, social distancing marking and control, seat distancing and food / beverage service systems. Lounge cleanliness analysis includes ATP testing where possible. The staff service and safety protocols consistency are key determinants in the final rating.
COVID-19 AIRLINE LOUNGE SAFETY RATINGS

Air France (CDG)



ANA All Nippon Airways (HND)



British Airways (LHR)



Emirates (DXB)



Fiji Airways (NAN)



Garuda Indonesia (CGK)



Hainan Airlines (HAK)



Iberia (MAD)



Japan Airlines (HND)



KLM Royal Dutch Airlines (AMS)



Korean Air (ICN)



LaValette Club Malta



Lufthansa (LHR)



Lufthansa (FRA)



Oman Air (MCT)



Plaza Premium Lounge (LHR-T2)



Primeclass Lounge (MCT)



Primeclass Lounge (RIX)



Qatar Airways (DOH)



Singapore Airlines (SIN)



TAROM (OTP)



Turkish Airlines (IST)



Vietnam Airlines (HAN)
---
COVID-19 AIRLINE LOUNGE SAFETY RATING CATEGORIES


The 5-Star COVID-19 Airline Lounge Safety Rating is the highest possible Rating for an airline or independent operator lounge, with the facilities and staff service demonstrating consistent and high standards of cleanliness, with efficient procedures and well controlled service.


The 4-Star COVID-19 Airline Lounge Safety Rating represents a good total performance for standards of cleanliness and service procedures / service controls, but some areas are lacking consistency or cleaning technique changes are required.


The 3-Star COVID-19 Airline Lounge Safety Rating demonstrates a mediocre quality achievement during the coronavirus pandemic, when appraising the lounge cleanliness and/or staff service and controls. Changes in efficiency, discipline and cleaning technique changes are required.


= Rating in progress
---
COVID-19 Airline Lounge Safety Certification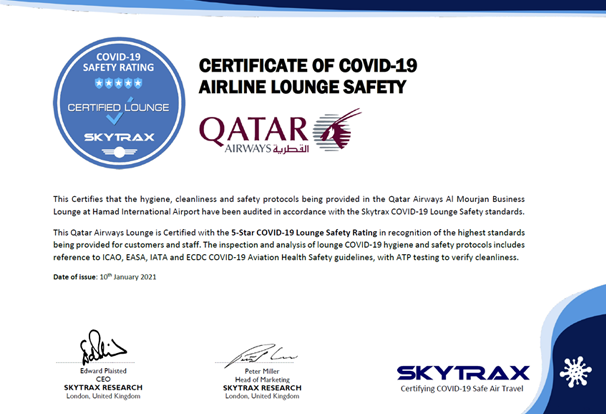 ---


ATP testing of lounge cleanliness is used where possible
MORE DETAILS
For further information about the COVID-19 Airline Lounge Safety Rating projects, please Contact Us.
---