Covid safe air travel must ensure there are no weak links in the travel chain
To plan for, and to experience the safest air travel experience during the coronavirus pandemic, customers require facts about airline and airport COVID-19 safety standards being delivered, not speculative or hypothetical assessments. It can be easy for an airport or airline to say what they plan to achieve in terms of COVID-19 safety, but one can only accurately judge the effectiveness of safety protocols when you have tried, tested and experienced them.
Airlines, airports, and lounge providers across the world have invested time and resources to ensure that the travel experience is safer for customers and staff during the coronavirus pandemic, and since mid-2020 Skytrax audit teams have travelled across the globe to evaluate these new hygiene, cleanliness, and safety protocols. The integrity of the certification process underlines why the programme is regarded as a global benchmark of COVID-19 Safety Rating for the air travel community worldwide.
The COVID-19 safety ratings investigate and evaluate the door-to-door air travel process, and identify any weak links in either the airport or airline health, hygiene and safety procedures.
"we are all only as safe as the weakest link in the chain"
Skytrax COVID-19 Safety Rating is based on professional and scientific investigation of the effectiveness and consistency of actual health and hygiene standards provided by airlines and airports, and the rating is only applied after a broad range of protocols have been observed and assessed for effectiveness and consistency. There are ratings of airport and airline COVID-19 safety standards that lack authority because they do not track real-world standards and simply look at "theoretical" safety protocols. Such checklists do not study the practical and successful implementation of measures and are nearly always self-certified by airlines and airports.
Aside from the simple factors of design, frequency, and placement of safety items such as signage, hand sanitisers and distancing markers, a questionnaire analysis cannot consider passenger behaviour and market demographics, staff behaviour and monitoring, and real aspects of social distancing such as spatial layouts and passenger flows. Across the airline experience, it is the actual application of safety protocols that is relevant, rather than simply considering expected or stated procedures.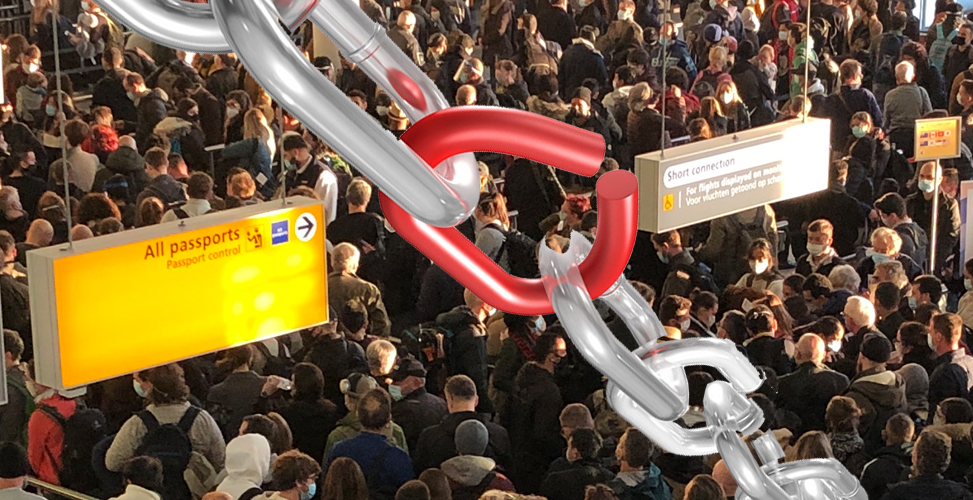 A broken safety link: airport processing at Amsterdam Schiphol
Critically, it is the scale and consistency of measures that are so important to ensure that customers are fully conversant with both the local regulations and accepted international norms of COVID-19 safe behaviour. From the start of the COVID-19 research and analysis, Skytrax have observed that passenger attitudes vary greatly depending on the type of lockdown and restrictions in place in their home country. Airline and airports recognised as delivering some of the highest safety protocols have acknowledged such issues by reinforcing measures to manage passengers and apply more stringent controls, and the needs and importance for this vary from region to region.
"Some airports must improve COVID-19 safety standards"
Edward Plaisted of Skytrax said: "When we award a COVID-19 Safety Certification, we place not only our own reputation on the line, but the trust of air travellers around the world, and this is why we provide factual health, hygiene and safety ratings, and do not assume or speculate. As with any rating assessment that we apply, this does not take a one size fits all approach, and it is absolutely crucial to consider factors such as customer behavioural habits, airport terminal size and infrastructure, airline network and markets, local technology and supply chains, and all other relevant issues to ensure we have thoroughly examined standards."
While vaccination programmes gather pace in some regions, the global inconsistency of the rollout means measures undertaken to reduce the spread of coronavirus are likely to remain in place for at least 12-18 months, and in terms of large scale travel recovery we are all only as safe as the weakest link in the chain in respect to COVID-19. It is therefore critical for air travel providers to be delivering robust, consistent, and enforceable measures to ensure the well-being of customers and staff.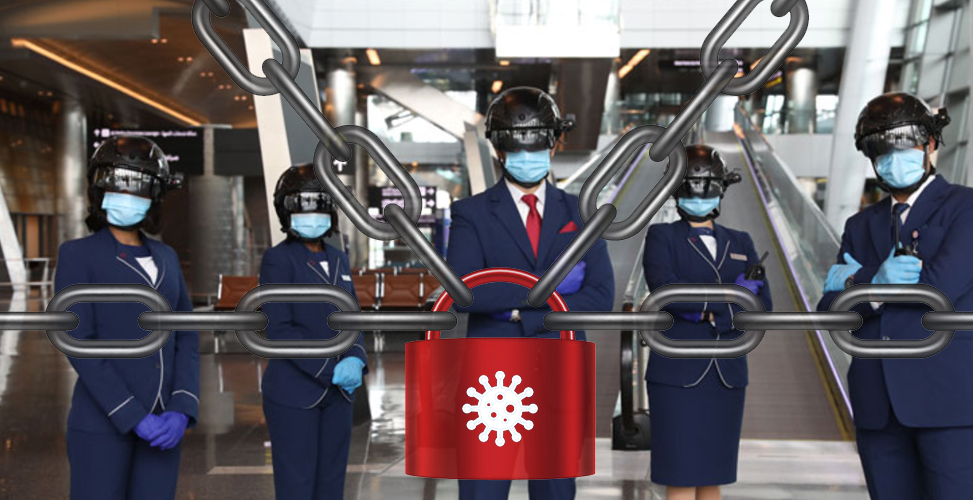 COVID-19 safe environment: Hamad International Airport, Doha
Consistency of safe travel protocols across both the airport and onboard experience is more essential than ever, and this is where Skytrax have seen the greatest variances that need to be improved. The safety assurance benefits in having maximum control of both areas is highlighted by the 5-Star COVID-19 Safety Ratings achieved by Qatar Airways and their hub at Hamad International Airport in Doha, both delivering a safe and seamless travel experience.
During the first stages of COVID-19 airport safety analysis, Skytrax have noted that some airport "stated" safety protocols are not being achieved in the "actual" standards provided to customers, and it is this divide that causes concern about airports failing to deliver upon their health and safety assurances. Discipline, control and consistency are key factors if a recovery in air travel is to truly offer travellers a safe and trustworthy environment. Overpromising and under-delivering can destroy the reputation of the industry in its quest to rebuild customer confidence in air travel, and this is why Skytrax state that it is critical for the necessary hands-on assessment to be applied in COVID-19 safety rating.
Another example where COVID-19 safety procedures are being well enforced is Rome Fiumicino Airport, with effective signage, covid guidance and cleanliness standards. In high movement areas, the airport has an in-house Bio-Safety Team of 40 staff that seek to control social distancing and ensure face mask use compliance.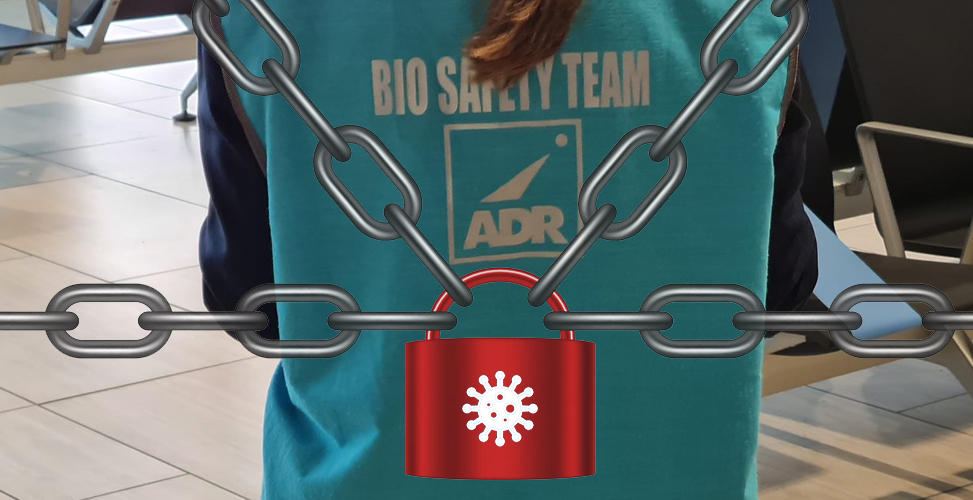 Amongst major airlines, Air France, British Airways, Emirates and Lufthansa are all currently Certified with the 4-Star COVID-19 Safety Rating, and the inclusion of Ryanair in this rating group demonstrates that the higher Covid ratings are not limited to full-service carriers only. The health, hygiene and safety features that Skytrax investigate relate to air travel as a whole and how successful an airline is at delivering Covid safety, whether flying in first-class or with a low-cost airline.
"Accepting that many of the safety protocols and procedures introduced during COVID-19 are going to be with us for years rather than months, we are now seeing further improvements to COVID-19 safety measures by some of these airlines and I hope to see one or two of them upgraded to the highest 5-Star COVID-19 Safety Rating in the next few months," added Edward Plaisted.
The first COVID-19 Safety Ratings for airlines in Asia and North America are expected to be announced by April 2021.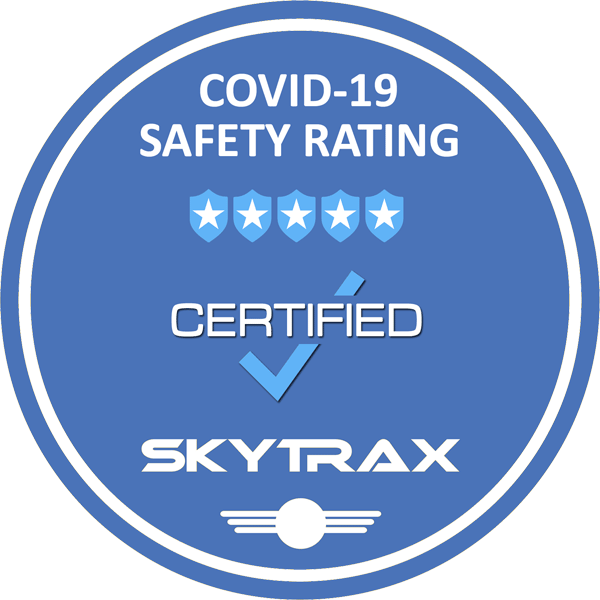 Benchmarking COVID-19 Air Travel Safety

There are currently 2 airlines and 4 airports certified with the very highest 5-Star COVID-19 Safety Rating.
↓ 5-STAR COVID 19 SAFE AIRLINES
1. Qatar Airways
2. airBaltic
↓ 4-STAR COVID 19 SAFE AIRLINES
1. Aegean Airlines
2. Air France
3. British Airways
4. Copa Airlines
5. easyJet
6. Emirates
7. Iberia
8. IndiGo
9. KLM Royal Dutch Airlines
10. Lufthansa
11. Ryanair
12. Turkish Airlines
13. Vueling Airlines
↓ 3-STAR COVID 19 SAFE AIRLINES
1. Air Arabia
2. Anadolujet
3. Blue Air
4. LOT Polish Airlines
5. Pegasus Airlines
6. Wizz Air

↓ 5-STAR COVID 19 SAFE AIRPORTS
1. Bogota El Dorado Airport
2. Hamad International Airport
3. Istanbul Airport
4. Rome Fiumicino Airport
↓ 4-STAR COVID 19 SAFE AIRPORTS
1. Amsterdam Schiphol Airport
2. Athens International Airport
3. Bologna G Marconi Airport
4. Copenhagen Airport
5. Dubai Airport
6. Dusseldorf Airport
7. Edinburgh Airport
8. Frankfurt Airport
9. Hamburg Airport
10. Milan Malpensa Airport
11. Muscat International Airport
12. Oslo Gardermoen Airport
13. Porto Airport
14. Riga Airport
15. Tallinn Airport
16. Vienna Airport
↓ 3-STAR COVID 19 SAFE AIRPORTS
1. Ankara Esenboga Airport
2. Bahrain International Airport
3. Barcelona Airport
4. Birmingham Airport
5. Budapest Airport
6. Buenos Aires Ezeiza Airport
7. Cairo International Airport
8. Cancun International Airport
9. Casablanca International Airport
10. Dar-es-Salaam Airport
11. Exeter Airport
12. Guadalajara International Airport
13. Istanbul Sabiha Gokcen Airport
14. Lisbon Airport
15. London Gatwick Airport
16. London Heathrow Airport
17. London Stansted Airport
18. Málaga Costa del Sol Airport
19. Manchester Airport
20. Mexico City Airport
21. Moscow Domodedovo Airport
22. Nice Côte d'Azur Airport
23. Palma de Mallorca Airport
24. Panama Tocumen Airport
25. Puerto Vallarta Airport
26. Rio de Janeiro Galeão Airport
27. Sao Paulo Guarulhos Airport
28. Sharjah International Airport
29. Stockholm Arlanda Airport
30. Tijuana International Airport
31. Vilnius Airport
32. Warsaw Chopin Airport
↓ 2-STAR COVID 19 SAFE AIRPORTS
1. Zanzibar Airport

↓ 5-STAR COVID 19 SAFE AIRLINE LOUNGES
1. Qatar Airways: Doha
2. Primeclass Lounge: Muscat
3. Primeclass Lounge: Riga
↓ 4-STAR COVID 19 SAFE AIRLINE LOUNGES
1. Air France: Paris CDG
2. British Airways: London Heathrow
3. Lufthansa: London Heathrow
↓ 3-STAR COVID 19 SAFE AIRLINE LOUNGES
1. TAROM: Bucharest

MORE INFORMATION