London Stansted, Warsaw Chopin and Istanbul Sabiha Gokcen Airports receive 3-Star COVID-19 Airport rating
By Peter Miller, Skytrax – London, UK
Three major European airports have been added to the COVID-19 Airport Rating by international air transport rating agency Skytrax, with London Stansted Airport, Warsaw Chopin Airport, and Istanbul Sabiha Gokcen Airport all being classified as 3-Star COVID-19 Airports.
The rating reflects the effectiveness of the COVID-19 measures introduced by these airports to minimise the spread of coronavirus and relates to information policies and signage, social distancing systems and enforcement, face mask usage, staff PPE, hand hygiene facilities, and terminal cleanliness and sanitisation.
The COVID-19 audits include procedural efficiency checks, visual observation, and ATP sampling tests. The consistency of standards being applied in the different evaluation areas is a key determinant in the final COVID-19 rating applied for each airport.
LONDON STANSTED AIRPORT
Stansted Airport provides a clear concept of guidance signage and information for COVID-19 procedures, and although this is relatively consistent between the different terminal areas the design lacks the enhanced presentation and strength of branding observed at other airports. While the airport is making use of some larger banner signs and digital information systems, the size and prominence of the guidance are highlighted as an area that could be improved upon.
Terminal access is suggested for passengers only, but this is not enforced in any way on the departure and arrival level. Temperature checks for customers are currently being trialled, and this is completed discreetly during the departure process.
The allocation of airport provided hand sanitiser points is limited around the check-in, departure gate, and arrival areas. Some restaurant and shopping outlets offer this, but the overall quantity is much less than other airports in the UK and elsewhere in Europe.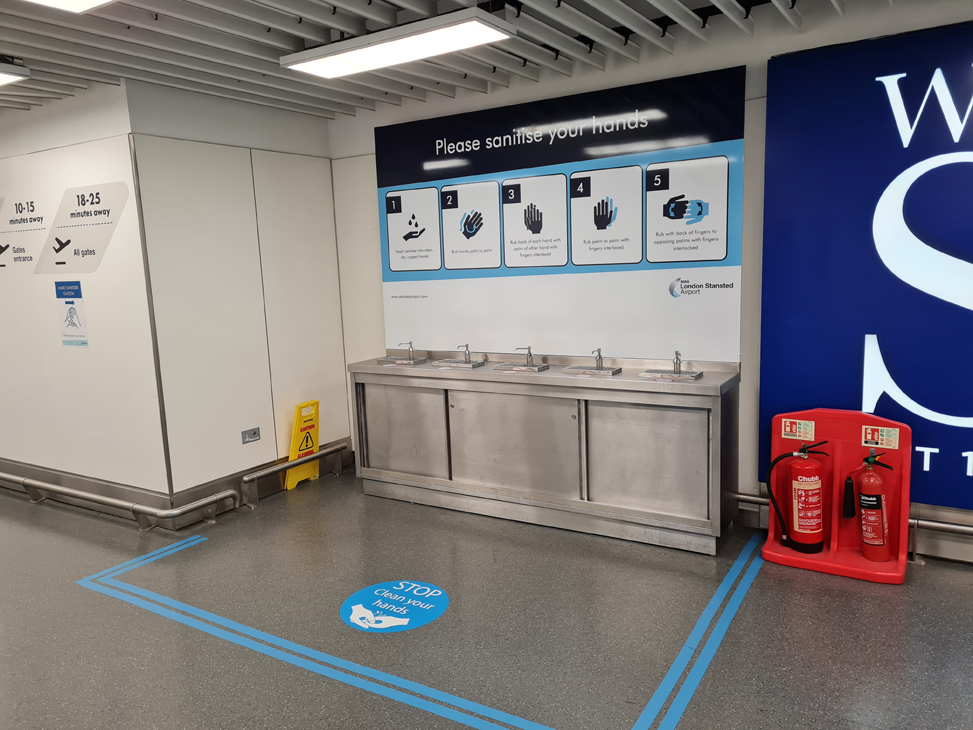 London Stansted Airport during COVID-19
Social distancing advice and markings are available, but this is not to the extent and consistency observed at other European airports. This could be reinforced more by airport and airline staff where there are obvious contraventions.
Stansted Airport has implemented decent distancing separation for security loading points, but this is not managed for the collection of belongings, and we note weak staff hand hygiene protocols for additional bag checks.
Considering the volume of customers during the audit inspection, a lack of cleaning staff available was noticed. In the terminal washrooms, Skytrax observed poor cleanliness and monitoring, and ATP testing returned fail results for some high-contact areas.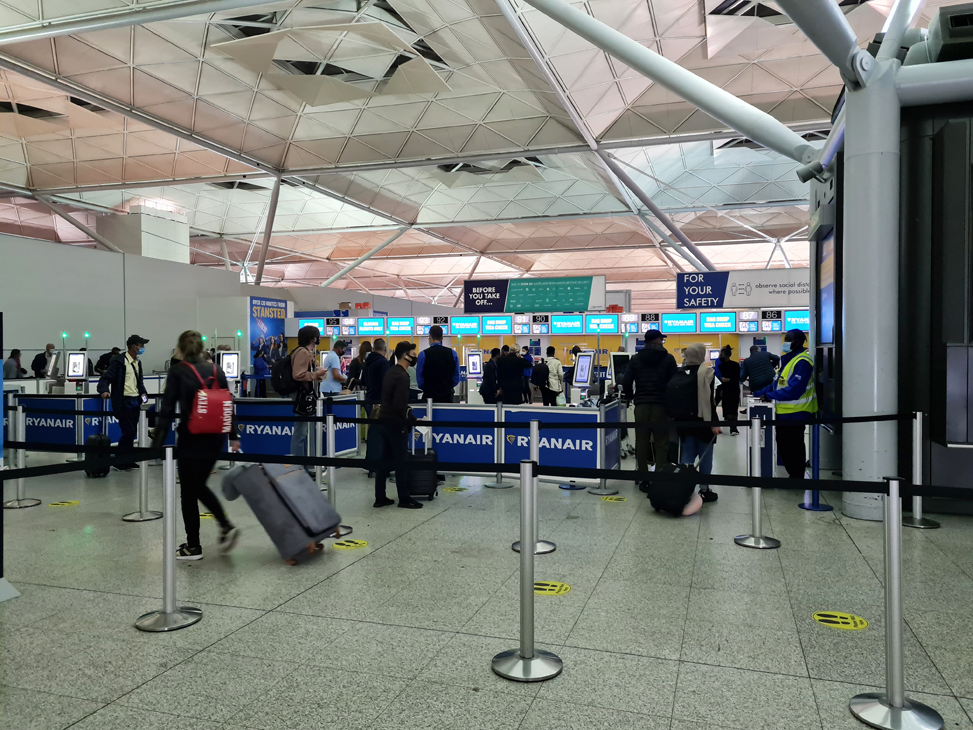 London Stansted Airport during COVID-19
ISTANBUL SABIHA GOKCEN AIRPORT
Istanbul Sabiha Gokcen Airport access is strictly enforced to ensure this is for customers only, and this also applies temperature checks. However, the ticketing checks being used cause crowding. There is a further pinch point at the terminal entrance security screening where there is limited social distancing potential.
Information for COVID-19 policies is provided across the airport, but aside from issues with the size, prominence, and quality of the displays, and there is also a broad range of styles used between the airport operator, dining, and retail outlets which creates a confusing message for customers. Hand sanitisers are quite frequently provided, but the unit appearance does not stand out, and these are of a basic design.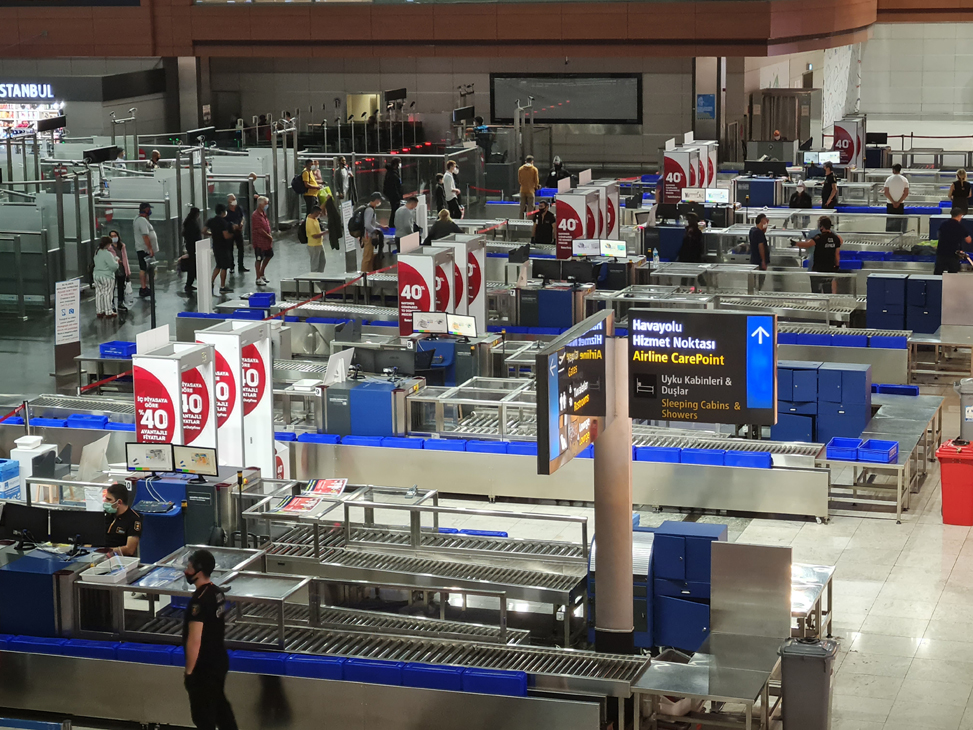 Istanbul Sabiha Gokcen Airport during COVID-19
Social distancing is not enforced robustly enough, and the volume of customers at peak times means there are several points at check-in, security checks, boarding, and in the gate areas where there is not enough space between passengers
Cleanliness standards vary for essential items such as litter clearance and washroom presentation, and ATP testing suggests that the thoroughness of sanitisation can be improved and deliver a more consistent standard. The monitoring of food courts seems particularly weak and haphazard.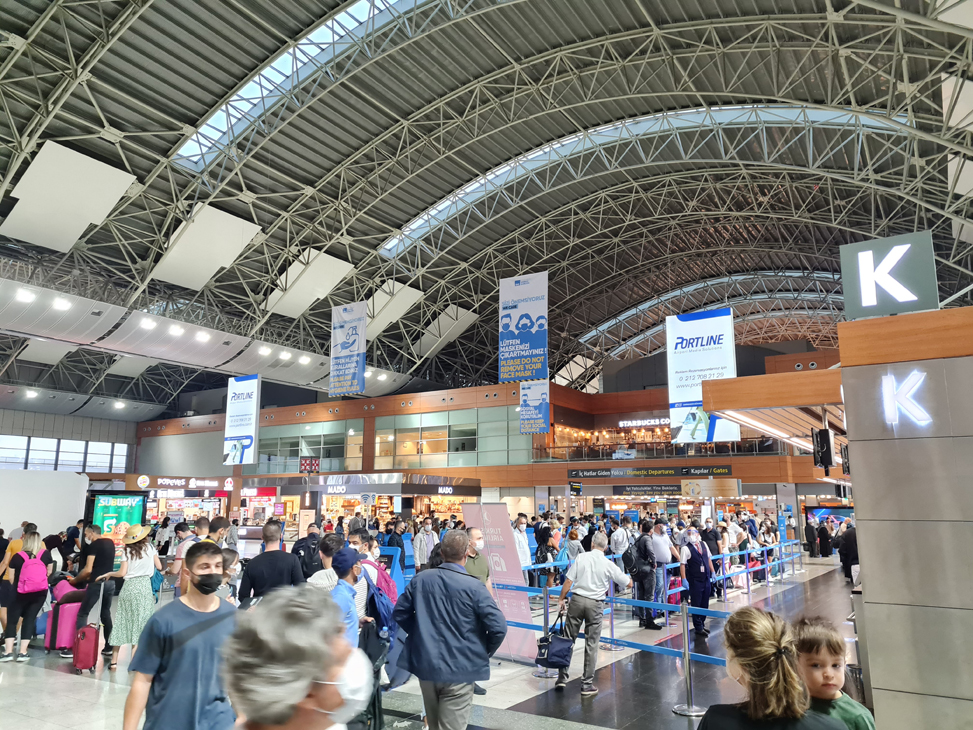 Istanbul Sabiha Gokcen Airport during COVID-19
WARSAW CHOPIN AIRPORT
Warsaw Chopin Airport implements good, consistent checks of customer temperatures at the terminal entrances, but this is causing congestion as staff are occasionally having to stop passengers to register the correct reading.
Internally, there is consistent COVID-19 signage and information, but the size, positioning and design are not as optimised or clear as airports delivering 4 or 5-star. While the airport provides hand sanitiser, the volumes are comparatively low in high-movement and contact areas, and the units provided are of varying design, utility, and prominence.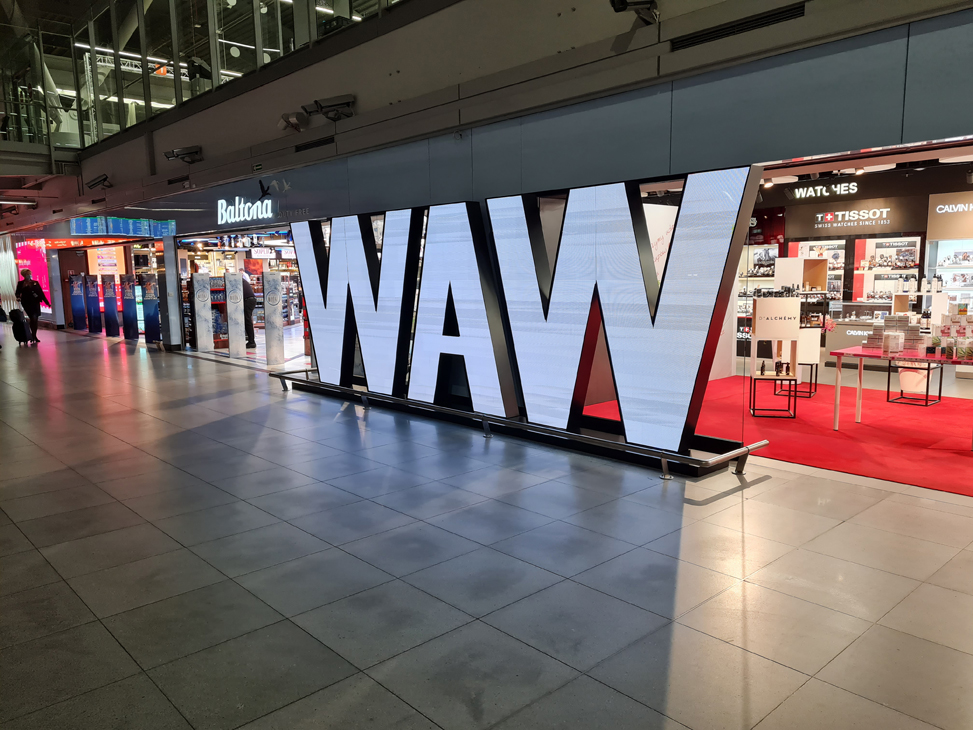 Warsaw Chopin Airport during COVID-19
Social distancing is not actively managed, and this is mainly flagged as an issue at check-in. Social distancing markings are provided in queuing areas and some walkways, but the colouring means that these are not overly prominent. Distance markings are also given on seats, but the format varies slightly around the terminal. Generally, COVID-19 information and markers are given in a range of designs and colours, and this lacks coherence around the airport.
Terminal cleanliness is reasonably good, but ATP testing in toilets, seating areas, and F&B outlets suggest this could be more thorough. There were concerns with the expediency of table clearance and sanitisation of tables in come café outlets with a high-turnover of customers. This is much better monitored for sit-down dining outlets.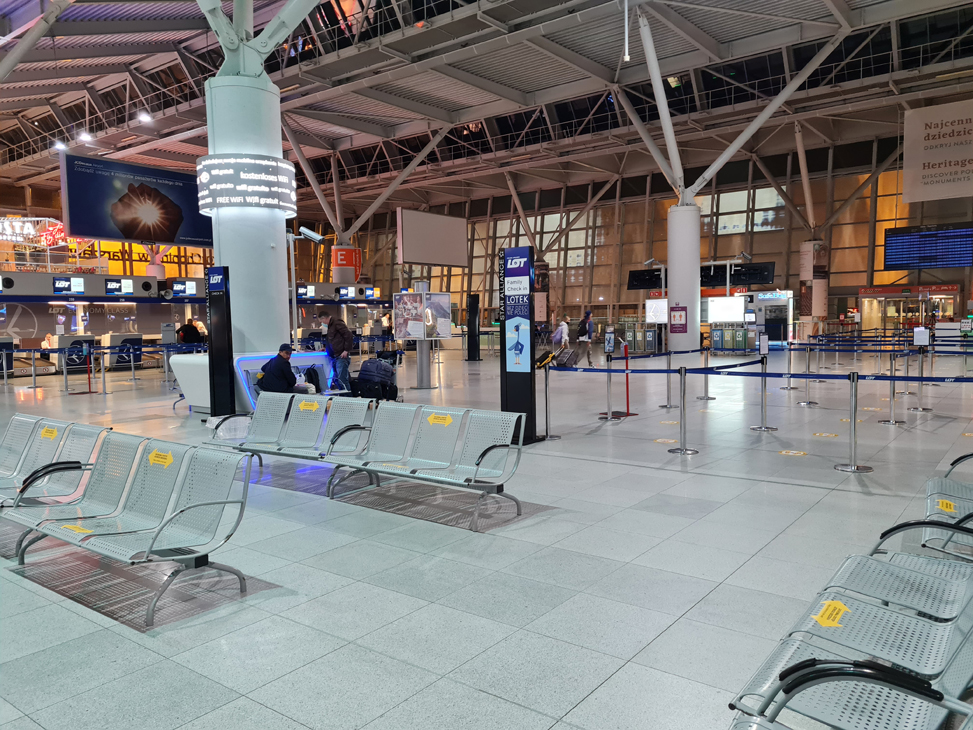 Warsaw Chopin Airport during COVID-19
COVID-19 Airport Ratings are based on scientific study and analysis by Skytrax and involve no element of self-testing or evaluation by an airport – this is not simply a virtual analysis of procedures an airport hopes to be implemented. The analysis of hygiene protocols includes reference to ICAO, EASA and ECDC COVID-19 Aviation Health Safety guidelines.
» A-Z Index of COVID-19 Airport Ratings
» COVID-19 Airport Rating levels explained
ABOUT THE COVID-19 3-STAR AIRPORT RATING
The 3-Star COVID-19 Airport Safety Rating indicates an average standard of airport cleanliness and maintenance procedures. Airports achieving 3-Star have Best Practice systems for cleanliness but do not apply the necessary cleaning and hygiene protocols on a regular or consistent basis. 3-Star rated airports deliver reasonable visual cleanliness and terminal presentation standards, and the disinfection and hygiene measures have been scientifically evaluated.
All COVID-19 Airport Rating requires Skytrax audit teams to physically visit each airport and carry out the hygiene analysis, and airports in the Middle East, Asia and North America are expected to be covered from October 2020, subject to border opening regulations.
For more details about the COVID-19 Airport Rating, use our Contact Us form.