Low-Cost Airline Star Ratings
Explaining Low-Cost Airline Star Rating levels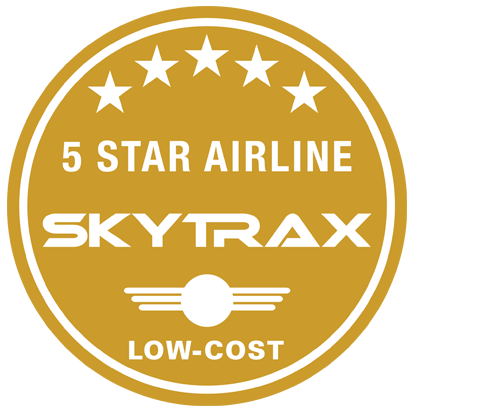 Skytrax Low-Cost Airline Rating uses a quality scale from 1-Star through to a potential 5-Star Low Cost Airline rating. Star Ratings are based on evaluation of airport and onboard product and staff service standards, using a unified and consistent system. The ratings use specific criteria for grading low-cost airlines, and if a low-cost airline delivers very high standards of service, core low-cost product and quality consistency to customers, there is nothing to prevent it from achieving 5-Star Low-Cost Airline status
Rating topics for low-cost airline includes analysis of different price levels, optional / extra items and relative value analysis of these areas.
(Airline Star Ratings are not associated in any way with customer reviews or feedback, and are based on research by Skytrax Audit Office.)
A brief explanation of Low-Cost Airline Star Rating levels is shown below:

To achieve a top 5-Star rating, the airport and onboard staff service and product standards must be either meeting or setting global best practice for low-cost airlines. For product analysis this includes price/value analysis for ancillary options, and service assessment looks at all aspects of excellence supported by true consistency. (It is not necessary for a low-cost airline to achieve 5-Star for every element of the rating criteria).

The 4-Star rating represents where the airport / cabin staff service and/or product standards are meeting a good quality level (but not the best) for the different rating items. In some instances, a potential 5-Star rating may be lowered to 4-Star if proper consistency is not being delivered.

The 3-Star rating is applied where staff service standards or product standards are classified as fair or average. This may reflect inconsistency or weakness in staff service, or poorer product standards in areas such as seating, cleanliness, buy-onboard etc.

The 2-Star rating is used where the service and/or product standards do not meet required quality levels for the typical operation format of a low-cost airline. For the airline's staff service, a 2-Star rating is applied where service is poor, inconsistent and/or unfriendly.

The 1-Star rating is rarely applied, but it signifies that product and/or service standards are totally unacceptable (ie. very poor). In some cases where a specific product or service item required to meet international expectation is not provided, we may apply the 1-Star rating.
---

Skytrax is the international air transport rating organisation based in London, United Kingdom. Established in 1989, Skytrax certified airline ratings are recognised and respected throughout the world.
Airline Star Ratings are known as a global benchmark of world airline standards, developed through many years of professional experience and Skytrax specialist, qualitative knowledge of the airline industry.
The World Airline Audit that may be used as part of a rating analysis delivers a complex quality analysis across all areas of Product and Service that customer experience across the airport and onboard travel experience, with rating accuracy supported by the Skytrax unified and global approach.