Singapore Changi Airport receives the 5-Star Airport Hygiene Rating
By Peter Miller, Skytrax – London, UK
Singapore Changi Airport is the first airport in the world to receive the highest 5-Star Airport Hygiene Rating in the SKYTRAX Airport Hygiene Rating Accreditation programme.
The Airport Hygiene Rating evaluation process confirms that Singapore Changi Airport is providing a safe airport experience for customers by delivering robust hygiene and cleanliness measures that meet industry best practices.
As most of the world resumes a more normal approach to travel after the impact of COVID-19 during the last two years, whilst some COVID-19 safety protocols (e.g. social distancing, airport terminal access) have been lifted in many countries, the long term priority of maintaining the highest hygiene and cleanliness standards across the airport environment remains critical for all airport operators.
The Hygiene and Cleanliness inspections, testing and evaluations were conducted at Terminals 1 and 3 at Singapore Changi Airport in June and July 2022 by Skytrax Hygiene Safety teams. (Terminals 2 and 4 are expected to reopen later in 2022). Applying a unified subject listing, the teams carried out physical examination and assessment of standards across the Terminal 1 and Terminal 3 environment.
» Singapore Changi Airport 5-Star Airport Hygiene Rating details
Edward Plaisted of Skytrax said: "The Airport Hygiene Rating was developed to try and ensure that the hygiene, safety and cleanliness improvements introduced by airports during the COVID-19 pandemic are maintained long into the future. Customers now have a heightened awareness of hygiene and sanitisation standards in many walks of life, and in the airport environment their expectations for the highest standards of cleanliness and hygiene have been pushed much higher up the agenda. We congratulate Singapore Changi Airport on achieving our highest Airport Hygiene Rating, which is a symbol of excellence that enables airports to demonstrate their ongoing achievements."
A critical feature of the Airport Hygiene Rating is that all evaluations and analysis are based on physical inspections, testing and assessment of cleanliness and hygiene standards, before the final Rating is awarded. For the airport (and their customers) to have trust in such accreditation, we believe it is important that the Airport Hygiene methodology uses physical testing of actual standards.
The hygiene checks are conducted across customer facing facilities in the airport for landside and airside areas, and includes ATP testing of key areas. This includes areas such as customer seating, waiting areas, security / immigration processing, toilet facilities, food and beverage outlets, contact surfaces for escalators, elevators, travelators, ATM's, vending machines, airline lounges.
A mark of Airport Hygiene Excellence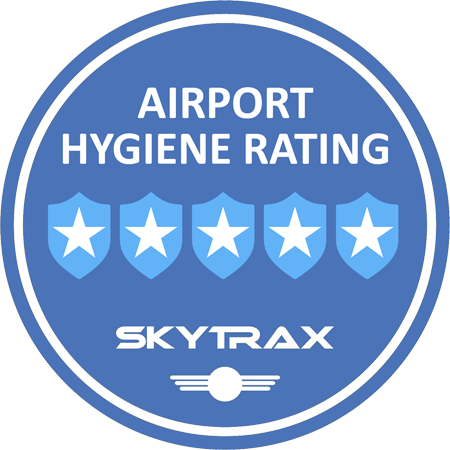 For more Information about the Airport Hygiene Rating please » Contact us