Why are UK airports not meeting the highest COVID-19 safety ratings?
Skytrax have announced that Manchester Airport has been certified with the 3-Star COVID-19 Airport Safety Rating, which means that all the major United Kingdom airports (London Heathrow, London Gatwick, London Stansted, Birmingham and Manchester) are currently classified with this mid-level standard for COVID-19 safety procedures.
*Luton, Edinburgh and Bristol Airports have yet to be evaluated and rated.
Edward Plaisted of Skytrax said: "Based in London, it is disappointing we haven't yet been able to award the 4 or 5-Star COVID-19 Airport Safety Rating to a UK airport, but there is hope that standards are getting better. London Heathrow Airport has been improving COVID-19 procedures since our first detailed evaluation in September 2020, and we hope this may support a rise to the 4-Star COVID-19 Airport Safety Rating later this year. The control of face mask usage and social distancing are key areas we had concerns about, which seemed to reflect the more laissez-faire attitude to face mask usage in the UK compared to many of our European neighbours. I am hopeful that changes at Heathrow Airport will improve overall customer and staff safety in these areas."
While there is a lot of talk about increased cleanliness and sanitisation methods such as anti-bacterial treatments and disinfectant spraying, Skytrax are not seeing as many tangible gains in some UK airports as we have in other countries. Are customers seeing extra staff cleaning? Do terminals look visually cleaner than pre-COVID-19 times? Unfortunately, our research suggests this is not always the case, and while technology can help, the airports cannot shy away from the fact that to provide truly enhanced cleaning requires higher benchmarks being set. Skytrax point out that it is no surprise Tokyo's Haneda Airport is the perennial winner of the World's Cleanest Airport award when one looks at the cleaning discipline and systems they use, and Skytrax hope for the day such higher, controlled standards are introduced to UK airports.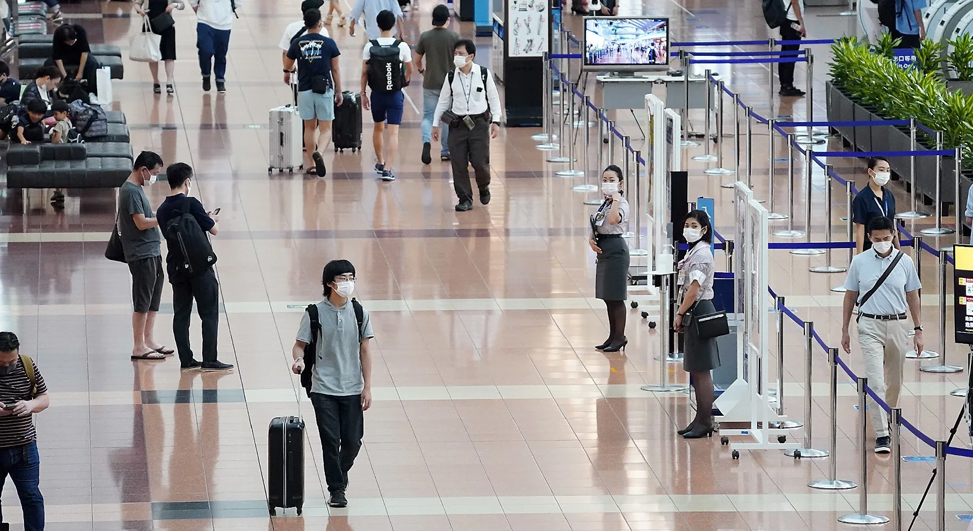 Achieving world's cleanest airport status requires focus, discipline and dedication (Tokyo Haneda Airport)
Another area that is less robust in UK airports is the visual information to guide customers on COVID-19 safe behaviour. Apart from the frequency for which this is displayed for departures and arrivals, there needs to be more emphasis on the visibility of this guidance. How engaging is it? Is it noticeable amongst other information signage and wayfinding? Is it delivered consistently through the terminal? We know from experience that customers need reminding of the three simple rules of face mask use, social distancing, and hand hygiene, and delivering Best Practice is essentially confirming, reconfirming, and confirming this again.
From the 12th September, Heathrow Airport introduced a Restrictive Access Plan for satellite trains at Terminal 5 (Track Transit System). This has limited the number of passengers per carriage, and the flow will be restricted when on the platforms. Passengers are queued and restricted to flow onto the satellite trains, and Heathrow Airport teams are used during peak times to instigate this plan.
Heathrow Airport also recently commenced a trial of COVID Marshalls within the landside areas of both Terminal 2 and Terminal 5. These Marshalls patrol every 15 minutes and are speaking with passengers and colleagues when Heathrow's social distancing and face-covering policies are not being followed.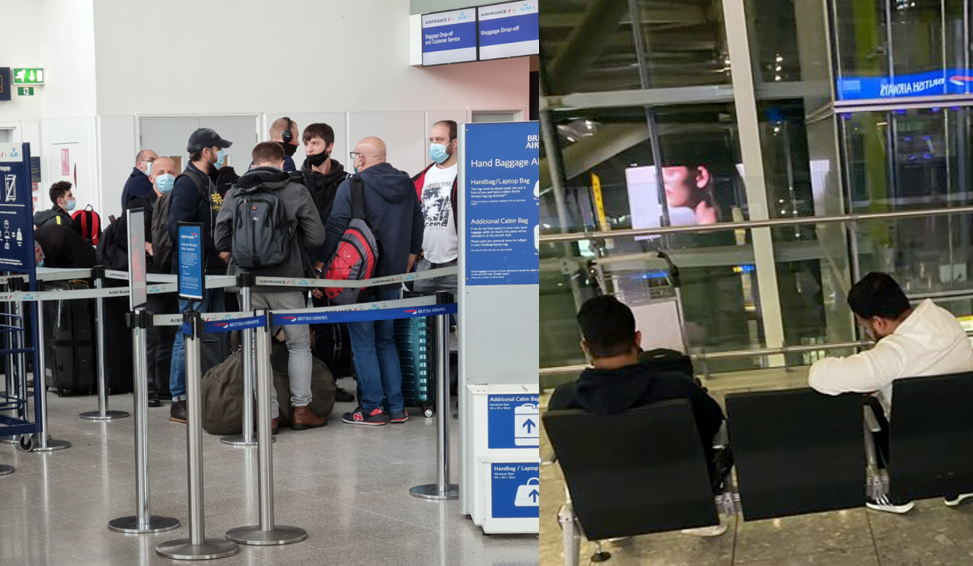 Social distancing ignored …. lack of face mask not controlled
COVID-19 GLOBAL BEST PRACTICE IS NEEDED
COVID-19 is a global pandemic, and airports and airlines must be striving to apply global Best Practice and ensure they are delivering the best and most consistent COVID-19 Safety standards where possible. Global best practice is a core feature within the COVID-19 Airport Safety ratings, which were launched in Europe and have recently rolled out to cover airports in the Middle East, Central and South America.
Whilst each country's airports must adhere to their own Government's COVID-19 regulations and recommendations, the Skytrax COVID-19 ratings integrate a global set of standards that make necessary allowances for country or regional variations which may be government inspired.
COVID-19 standards and systems
"Airlines and Airports need to earn the trust to travel from today's customers to restore confidence, and our COVID-19 Safety Ratings provide an independent assessment of how standards are performing in coronavirus prevention and hygiene procedures. We are fortunate to now be examining COVID-19 standards and systems in different parts of the world, and be able to identify Best Practice. There can be a disconnect between theory and practice, and while our evaluations will identify shortfalls, our primary task is to guide airports towards delivering Best Practice. Customer demographics and behaviour are different according to which world region you are in, and this has an impact on how well rules are followed, but I see no reason why the UK cannot have a 5-Star COVID-19 Airport, and I hope that can happen," added Edward Plaisted.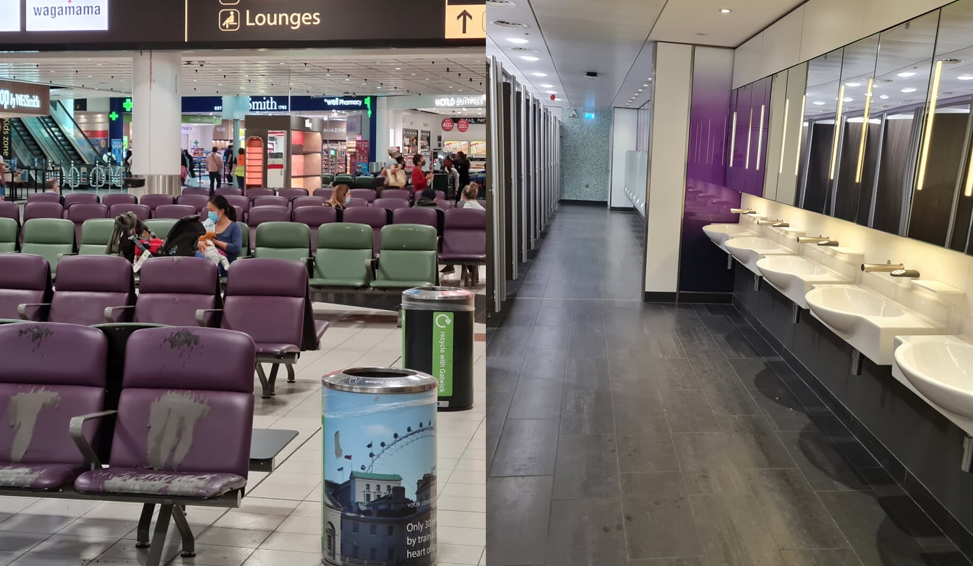 Gatwick lacks social distancing markings in key areas
» London Gatwick COVID-19 Safety rating
» London Heathrow COVID-19 Safety rating
» London Stansted COVID-19 Safety rating
» Manchester Airport COVID-19 Safety rating
» Birmingham Airport COVID-19 Safety rating
About COVID-19 AIRPORT SAFETY RATING
The COVID-19 Airport Safety Ratings are based on an amalgam of procedural efficiency checks, visual observation analysis and ATP sampling tests, with consistency being a key determinant in the final rating applied.
To provide transparency, accuracy and consistency, COVID-19 Airport Safety Ratings are based on scientific study and analysis by Skytrax audit staff, and involve no element of self-testing or evaluation by an airport. Credible COVID-19 airport ratings and accreditation require actual testing, analysis and evaluation, not simply an inspection of procedures an airport hopes to be implemented.