The world's best airlines during COVID-19
There is never going to be a world's best airline or airport in terms of classifying health and hygiene performance during COVID-19. However, some are performing better than others say Skytrax, who provide the world's only assessment and certification of airline health and safety measures during the coronavirus pandemic that is based on professional and scientific investigation of the actual standards being provided at the airport and onboard flights.
The speed and efficiency with which most airlines and airports reacted to and continue to cope with the challenges of the COVID-19 crisis is praiseworthy and demonstrates a true commitment to delivering excellence in hygiene and safety measures to protect customer and staff wellbeing. Air travel around the world is currently littered with travel restrictions, quarantine requirements and COVID-19 testing. Still, for those that want, or have to travel by air, the experience is now very well protected by the actions taken by airlines and airports to enhance customer and staff safety.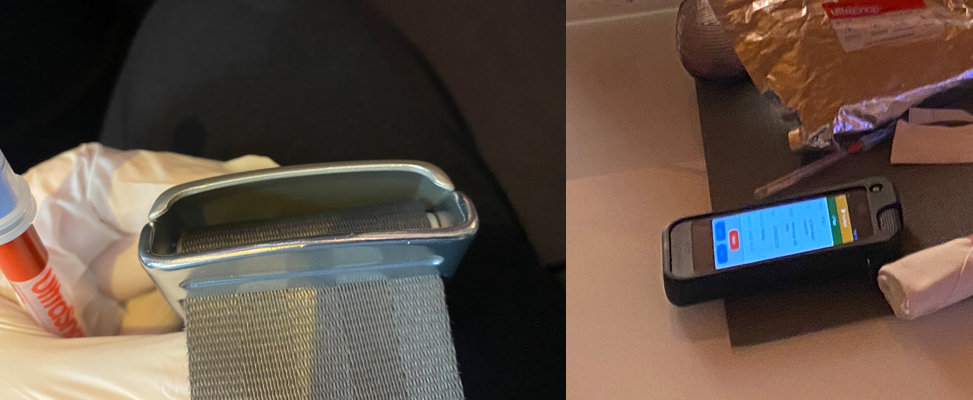 Skytrax COVID-19 Rating: testing seatbelt buckle and lounge table
Face masks, social distancing, and hand hygiene are the three key elements of coronavirus prevention in everyday life, and these remain the critical factors that travellers should remember when catching a flight. In the airport environment, the "hands, face and space" safety concept has been applied well, with high visibility signage and guides, social and seat distancing marking, frequent hand sanitisers and face mask usage controls. The success of such implementations has tended to vary regionally say Skytrax, with different customer demographics seeming to have varying levels of adherence or understanding of regulations. The level of control over customer Covid rule adherence by airport staff is similarly varied, and the airports achieving better standards here are implementing polite but robust enforcement of mask use and distancing. They may also deliver reminders regarding hand hygiene at high-contact points.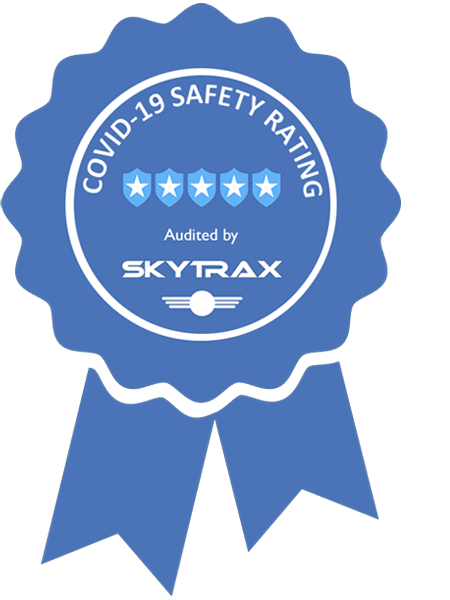 Airline and airport lounges are cleaner, but there has been a mixed response in terms of adapting the spaces for distancing, removing reading materials and closing areas such as prayer rooms, smoking facilities and children's play equipment. The other key variables are the changes to the food and beverages in the lounge. In some countries, Skytrax has observed quite sharp cutbacks in choice and simplification of the service systems to reduce contact. Similarly, the changes implemented by some airlines to provide online ordering systems and table service are actually increasing service quality.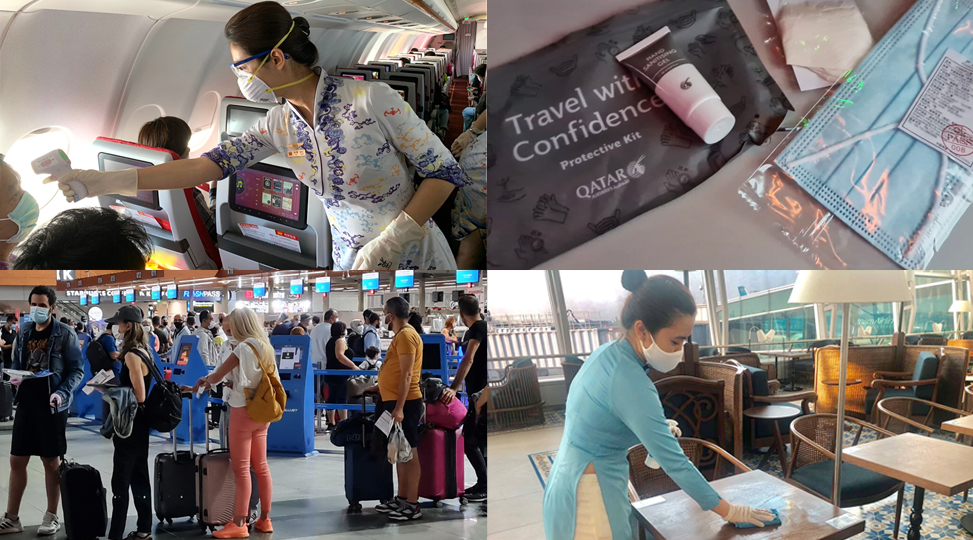 The airline industry has excelled at introducing hygiene, cleanliness and safety improvement.
A similar scenario can be observed onboard flights, where airlines have really upped their game in terms of cabin cleaning and created a safer Covid service environment. The key distinguishing areas are the levels of customer guidance and control of health regulations by the cabin staff. Again, this is an item that can be regionally, or country-specific say Skytrax when assessing customer behaviour onboard. In some areas, customers will remain seated after landing and follow regulated deplaning procedures, whilst on many flights, there is the usual mad rush for the exit and absolutely no chance for customers to socially distance. Similar variations apply to face mask use and the control of this onboard flights. After nearly one year of the coronavirus pandemic, it is surprising to see a small minority of customers that still disregard this.
However, Skytrax has been impressed with the speed that some airlines have rolled out customer hygiene kits which often include hand sanitisers, replacement face masks, and table wipes.
The Covid rating analysis focuses on hygiene, cleanliness, and safety protocols. While some airlines have cut back some onboard product amenities and food and beverage service, this does not impact their Covid safety performance. Skytrax adds that it is heartening to see those airlines that have maintained near full product standards, despite the financial crisis they have all faced.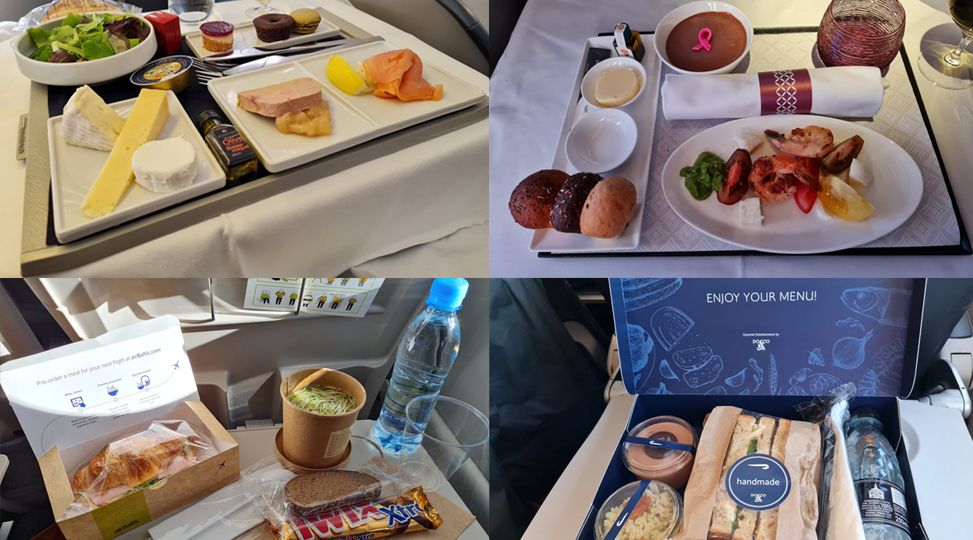 Meal standards have been well maintained by many airlines
The COVID-19 Airline Safety Ratings were introduced in 2020 to evaluate the actual standards being provided at the airport and onboard flights. The results underline that customers can have increasing confidence in safe air travel rather than it being a cause for concern. The ratings evaluate the front-line reality which is critical to rating credibility, rather than Covid health certifications that simply ask airlines to complete an online box-ticking exercise to state what their Covid measures are, or should be.
Airlines that have already been Certified with the COVID-19 Airline Safety Rating include Aegean Airlines, airBaltic, Air France, Anadolujet, Blue Air, British Airways, easyJet, Emirates, Iberia, IndiGo, KLM Royal Dutch Airlines, LOT Polish Airlines, Lufthansa, Pegasus Airlines, Qatar Airways, Ryanair, Turkish Airlines, Vueling Airlines and Wizz Air.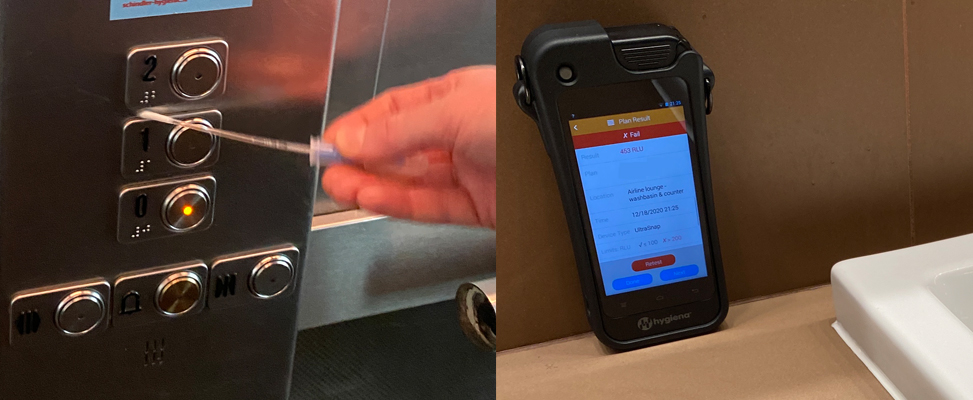 Skytrax COVID-19 Rating: testing elevator buttons & lounge washroom
More COVID-19 Airline Safety Ratings will be announced in the coming weeks as the audit safety analysis is completed.