Safe air travel during COVID-19
The guide on how to travel safely in airports and on aircraft during COVID-19.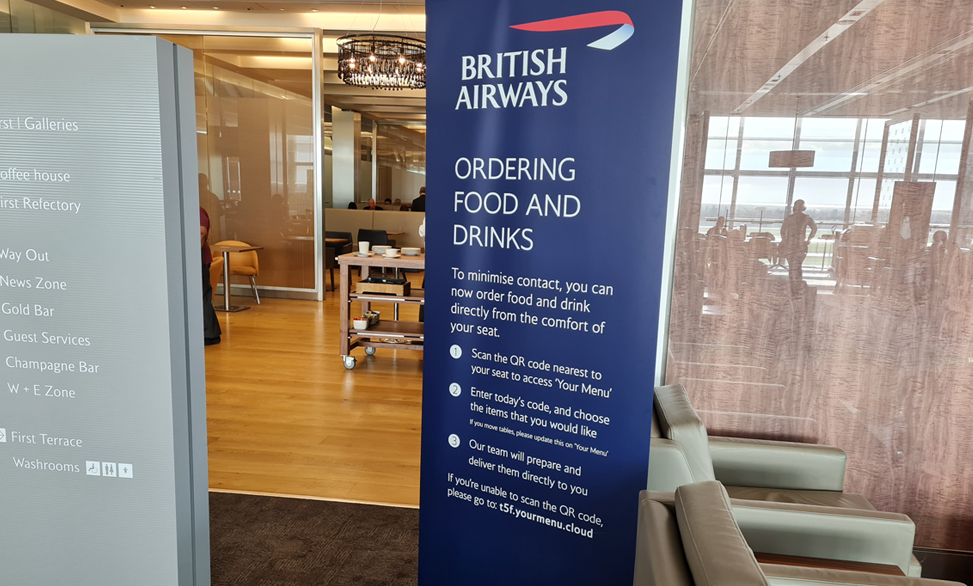 This "Safe air travel for passengers during Coronavirus" guide has been prepared by our audit team members who have been travelling frequently by air during Coronavirus (COVID-19), and provides detailed advice about preparing for and undertaking your trip by air to ensure you can enjoy the safest possible conditions.
You can also check our Guide to Airline COVID-19 policies to see the safety policies and measures that different airlines have introduced.
PREPARING FOR YOUR TRIP
Check that your Travel Insurance offers the cover you need for your trip and for your destination.
If travelling overseas, check the destination entry requirements (eg. PCR test, quarantine etc)
If you are travelling alone and can select a seat, we recommend choosing a window seat to maximise your privacy.
Use online check-in or the airline APP to check-in and receive the boarding pass – either on your mobile or to print off at home.
Pack spare face masks in your hand luggage.
Check that the type of face covering / face mask you plan to use is acceptable for use at the airport, onboard the flight and at your destination.
Pack a bottle of hand sanitiser (100ml or less) in your hand baggage.
Pack some antibacterial / disinfectant wipes in your hand baggage – for use at the airport and onboard the flight.
Pack a small plastic bag in your hand luggage for your used face masks, rubbish etc during your trip.
STAYING SAFE AT THE DEPARTURE AIRPORT
You may have to pass through a temperature screening as you enter the terminal.
You will need to be wearing your face mask (correctly!) as you enter the terminal – and keep this on all the time.
Limit contact with frequently touched surfaces, such as handrails, elevator buttons and kiosks. If you touch these surfaces, use hand sanitiser or wash your hands.
If you have hand luggage only and already have your boarding pass, head straight for security. (Check that the airline permits hand luggage, because some airlines are insisting you check in your carry-on).
If you need to drop check baggage, find the correct airline counter. Remember to observe social distancing. Wash your hands for at least 20 seconds (or use hand sanitiser if necessary) after using self-service check-in, luggage trollies and other frequently touched surfaces.
At security, do your best to ensure you observe social distancing – it doesn't make security processing any slower!
At security, you will need to place your boarding pass (paper or on mobile) on the scanner and then hold it up for inspection by staff if required,
Use the hand sanitiser when you have collected your hand luggage / personal items from security screening.
Boarding for your flight may start earlier than normal, so check the time / distance to your boarding gate.
Remember to use the airport washroom and you can avoid using the toilet onboard the flight. Wash your hands with soap and water for at least 20 seconds after using the bathroom. If soap and water are not available, use a hand sanitiser.
If you use the shops or F&B outlets, where possible, pay by contactless card
If you use a café, restaurant etc in the departure lounge, use an antibacterial / disinfectant wipe on the table / seat. When you leave the outlet, use a hand sanitiser before proceeding to your departure gate or the washroom.
If you use an airport or airline lounge the key watchwords remain "Hands, Face, Space". Use the hand sanitisers provided, use the washroom to wash your hands, keep your face mask on (except when eating or drinking) and try to maintain good social distancing from other lounge users. Many lounges have stopped F&B self-serve options and provide menus, QR code options etc to order your choices.
Most airports have special disposal bins for used face masks, gloves etc, and look out for these if you change your face mask.
When you get to your boarding gate, try to keep well distanced from your fellow travellers whilst waiting.
Most airlines have adapted their boarding policy / boarding sequence, so listen to the PA announcements carefully and follow the instructions. It is likely you will scan your boarding pass yourself at the boarding gate.
Social distance in any boarding queues or in the airbridge to the aircraft – bunching up in a queue does not make it any quicker and it is not necessary.
STAYING SAFE ONBOARD THE AIRCRAFT
If you need access to your hand luggage during the flight, keep it under the seat in front of you rather than the overhead compartment. Do not expect cabin staff to assist stowing hand luggage because this is strictly off limits.
Airlines have all introduced extra plane cleaning, but there is no guarantee that every surface will always get the full treatment. Use your antibacterial / disinfectant wipes (the airline may provide you with a wipe) to clean your seat belt buckle, seat armrest and tray table. You may want to wipe the seat-back pocket, air vent control, seat back screen / IFE remote, and window blind.
After this, use your hand sanitiser before touching anything else.
If there is an overhead air vent control, adjust it to point straight at your head and keep it on full.
Ensure your face mask is properly covering your mouth and nose, and remember to keep it on throughout the flight – unless you remove it to eat or drink if permitted.
Listen carefully to the cabin PA messages, Pilot information, as it might offer useful guidance to you.
Avoid touching your eyes, nose and mouth, and cover coughs and sneezes.
Avoid talking loudly, and try to restrict conversation throughout the flight.
You should remain seated as much as possible.
Many airlines have a reduced food and drink / buy onboard service. If you are buying anything onboard the flight, use contactless payment where possible.
If you have food and beverages during the flight, remember to use your hand sanitiser when you're finished.
Some travellers like to stagger eating and drinking with their co-passengers, which avoids everyone taking off their masks at the same time.
If you have used your plastic bag to dispose of used face mask etc, and there is no specific rubbish clearance during the flight, remember to take the bag with you on deplaning and dispose of it in an appropriate airport disposal bin. Don't just stuff it into the seat pocket on the plane!
Before landing, check that you have any required arrival forms completed or available on your mobile phone if appropriate.
Listen carefully and follow the cabin staff instructions about the deplaning procedures. Even if other passengers ignore this, your health safety is more important than rushing to get off the plane.
STAYING SAFE AT THE ARRIVAL AIRPORT
Remember to maintain social distancing as you exit through the airbridge, and pass through the airport arrivals area.
If you are bussed to the terminal from the aircraft, try to maintain as much social distancing as possible, and use hand sanitiser when you enter the airport terminal.
If you have checked luggage to collect, observe the social distancing markers in the baggage hall. If you use an airport baggage trolley (these should have been disinfected before use) remember to clean your hands with sanitiser when you return the trolley.
Once you are re-united with your luggage, leave the terminal quickly and remember to social distance from other customers and people in the arrivals area.
REMEMBER!
1. Wash your hands frequently
2. Wear a face mask
3. Use hand sanitiser frequently
4. Avoid crowded parts of the airport
5. Keep social distancing
USEFUL TRAVEL SAFELY LINKS
» COVID-19 Airline Safety Ratings
» Airline COVID-19 safety policies
» COVID-19 Airport Safety Ratings
Thank you for reading our guide on how to travel safely in airports and on aircraft during the coronavirus (COVID-19) outbreak. We hope it has been helpful.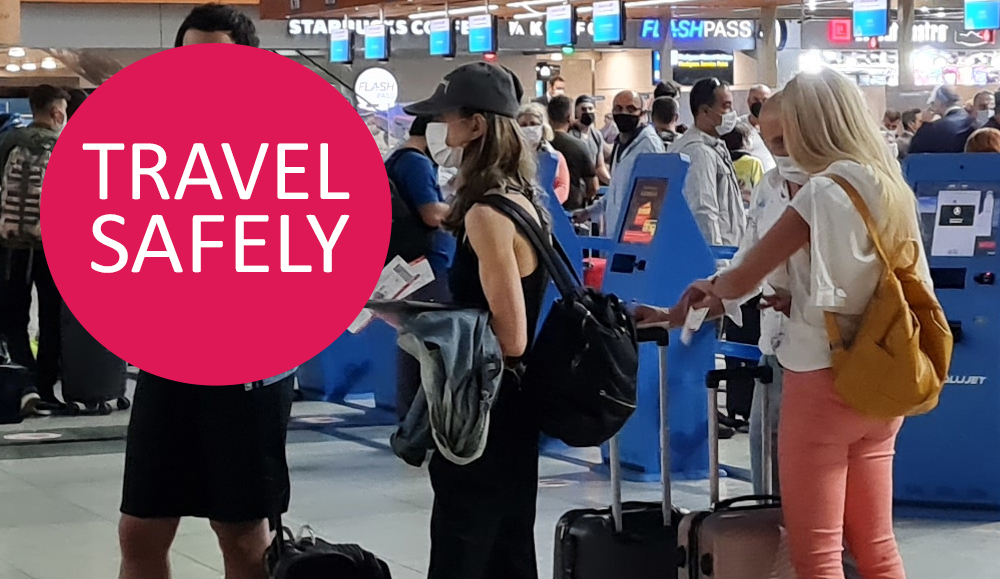 This article is brought to you as part of the Skytrax Travel Safely programme.